Tangent Online 2019 Recommended Reading List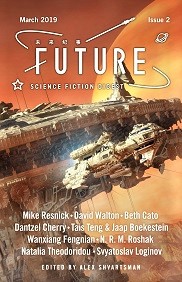 As with previous years, this list is not meant as comprehensive, there being a number of items we didn't see. As was the case with the last several years, we narrowed our focus (with some exceptions) to those stories published in professionally paying markets as defined by SFWA.
There are 372 stories on this year's list (up 22 from last year's 345): 313 short stories (up 36 from last year's 277), 49 novelettes (down 4 from last year's 53), and 10 novellas (down 5 from last year's 15). As with any such list—especially ours with its ever-changing review staff—different reviewers bring different perspectives on how to approach stories and how they are measured; and of course the stories themselves are of varying "quality," if such a thing as quality can be measured by any objective standard. However, it does seem as if each year has its own nebulous, general level of quality, with some years being commented upon in retrospect as great years for quality fiction and others not so much. There are just too many variables to nail down as to why any given year—or recommended reading list—has more or fewer stories placed on it by a different cast of reviewers, each of whom brings their individual set of standards to the fiction they read.
Read More...