Photos from Libertycon 32
Chattanooga, TN, June 28-30, 2019
Guest of Honor: Sarah A. Hoyt
Artist Guest of Honor: Mitch Foust
Science Guest of Honor: Arlan Andrews
Special Guest: Uncle Timmy Bolgeo
Master of Ceremonies: John G. Hartness
Location: Downtown Marriott and Convention Center
This was my first Libertycon and I have my good friend, Steve "Tully" Roberts, to thank for getting me there. I had heard many good things about Libertycon over the past couple of years, but Tully's endless powers of persuasion finally won me over and I bought a membership for this year's con on July 4, 2018, the morning they went on sale at the Libertycon website. And it was a good thing that I did, because something unheard of took place that morning of July 4, 2018 that I have never before experienced in my 45 years of buying convention memberships: all 750 memberships (the convention charter prohibits a limit on memberships) sold out in 5 hours, 52 minutes, and 50 seconds. Yes, in less than 6 hours Libertycon 32 was sold out. The convention committee was stunned and in shock. As were those of us who purchased memberships and watched hypnotized as the sales numbers were reflected minute by minute on Facebook. Someone would post that there were X-number of memberships left, and by the time they could post that number another follower was reporting a new number, that now another 5, 10, or 25 had been sold. And so it went in an ever-escalating panic as friends called friends, or wives called husbands or vice versa, telling them that they had better get to the website pronto before all the memberships were sold. The countdown to zero memberships remaining was a miraculous thing to behold, and bets were placed to see who would come closest to the time of the final membership being sold. It was a truly unique phenomenon and I am sure many of us are holding our breath to see how it will go this year, for those 750 2020 memberships (which go on sale at the Libertycon website at 8 AM EDT on Saturday, July 13, 2019–exactly one week following the posting of this photo gallery) will be sold at an even more record pace. And there are no free memberships for anyone. Guests, committee members, staff, and fans all pay the full $50 membership fee. Anything over costs goes to charity.
I arrived on Thursday around noon and hung out in the lobby of the Marriott until Tully arrived later that day. We were sharing a room but it was in his name so I spent some time watching fans arrive early and taking a few photos. Unfortunately, of the two dozen or so photos I took over the coming weekend that turned out just fine, about half a dozen never materialized even though I took several shots (for backup) of most everyone. I therefore apologize on behalf of my camera to Julie Pascal, Jonna Hayden, and Martin. L. Shoemaker (and probably one or two more who I've forgotten) whose smiling faces will not appear here. I don't want to single anyone out as it was a pleasure to meet everyone I'd only come to know through a few Facebook groups the past few years, but I do feel especially bad about not having a pic of Martin. We had several opportunities to chat, most notably on the Uber drive to the airport Sunday afternoon he was kind enough to let me share with him, and another while he ate pizza while we waited for our flights. His new book, Today I Am Carey (Baen, March 2019) is not to be missed, will be one of the most talked about books of the year, and I recommend it highly.
Without further ado, here are a few photos from Libertycon 32. I apologize for a few less than sharp photos.
[Below Left: Dan & Sarah Hoyt. Both delightful people. This was Sarah's second con in as many weeks and she was a real trooper, though it had to be tiring being GoH at this second one. She still managed to pull off a genuinely funny story at the Saturday banquet for her GoH talk. I'm formally dubbing it her "I flashed Libertycon" story. – Right: Arlan Andrews, another delightful gentleman with the kind of inquiring mind to which I am automatically drawn. Just after one of his panels (replete with slide show) he and I had a dandy conversation about several subjects that fascinate both of us, one of which veered into the Theory of Knowledge.]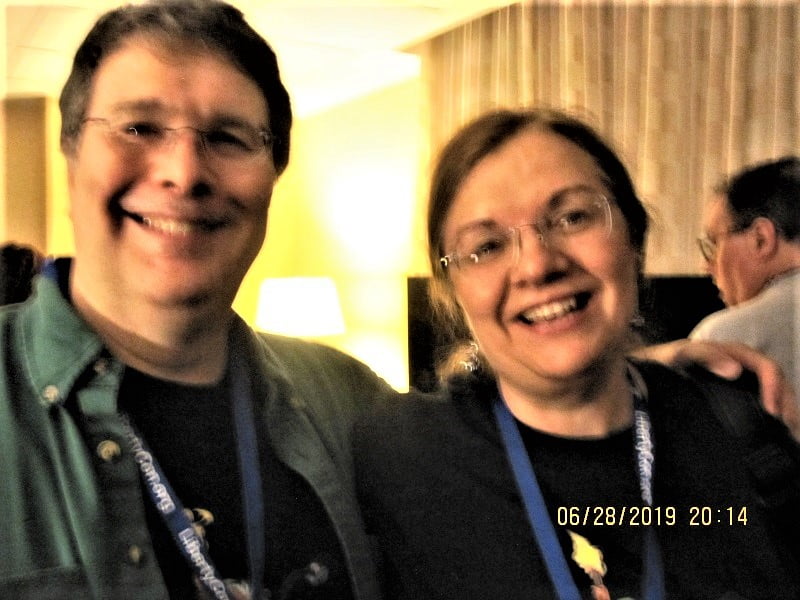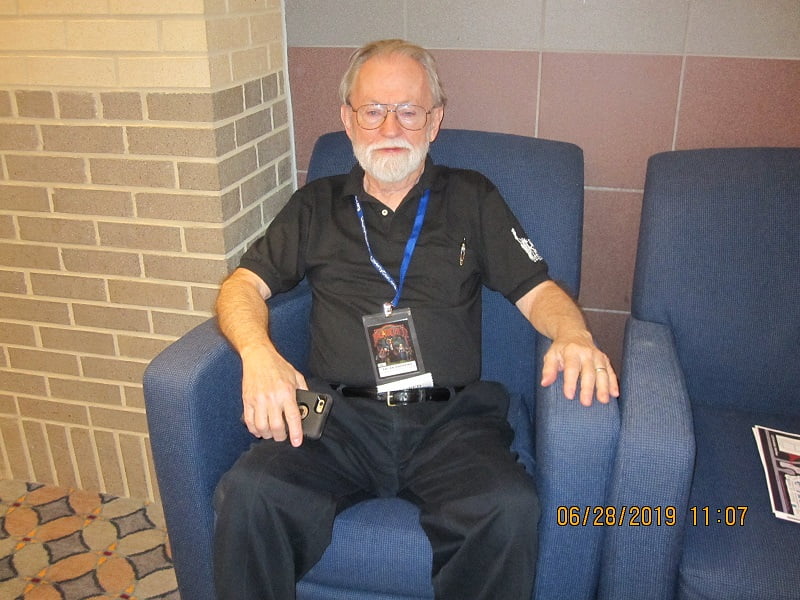 [Below Left: Sarah Hoyt & Steve "Tully" Roberts – Right: Dave Truesdale (me) & Sarah Hoyt]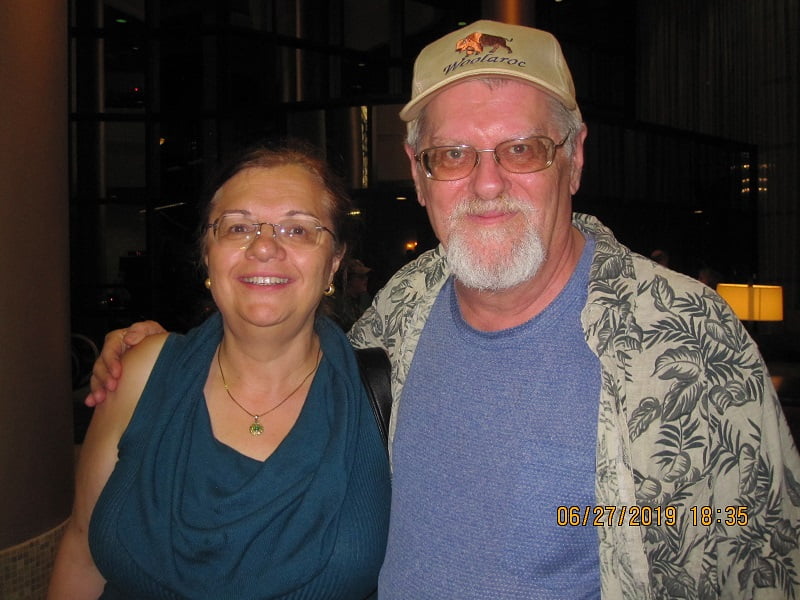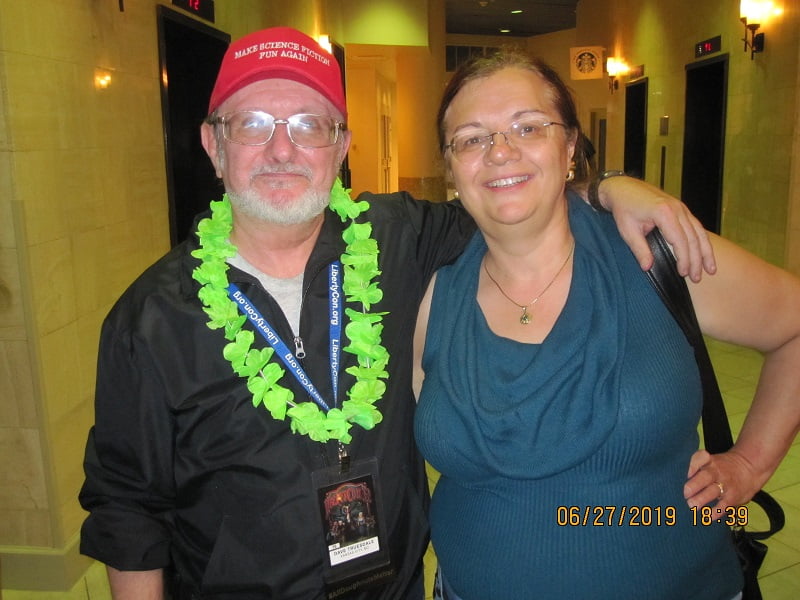 [Below Left: Tom Tinney outside the famous (and close by) City Cafe. We shared a Uber on the way to the Marriott on Thursday, and though he'd just eaten he kept me company Saturday morning while I had breakfast. – Right: From back left we have Paul Clithero and Tom King. Front from right to left are Connie Elliott, her husband Roy Sutton and Ivy Sutton.]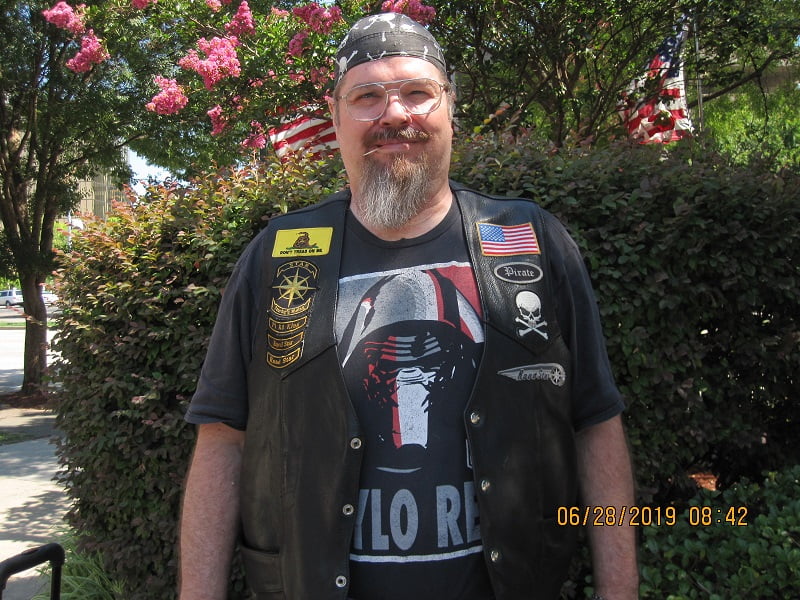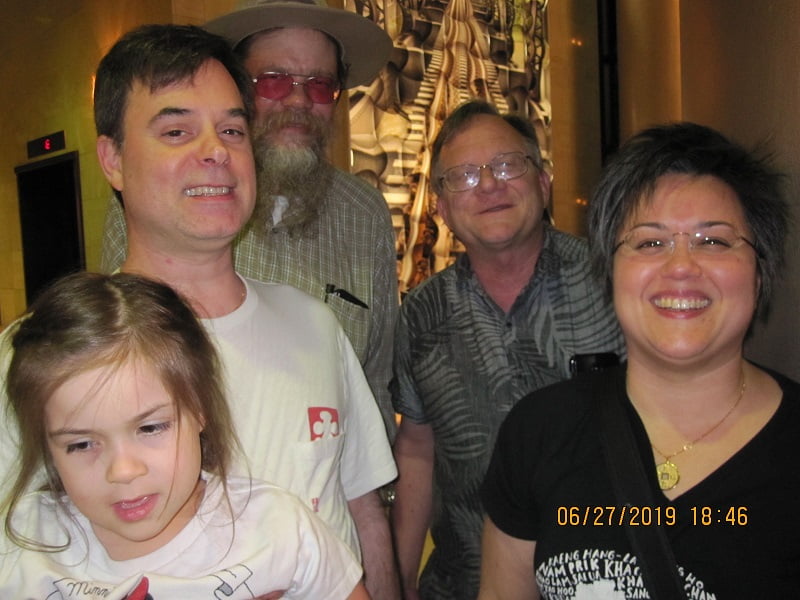 [Left: Unidentified – Right: Ben Yallow, well deserved recipient of the Big Heart Award at the 2015 Worldcon in Spokane, WA.]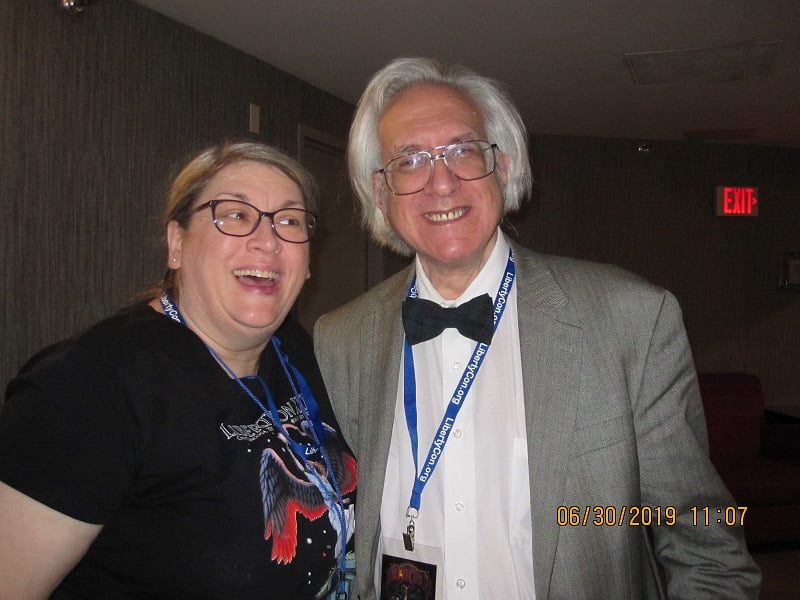 This next series of shots depicts various pros and fans in the company of the famous Wendell. To be seen with Wendell marks one for good fortune amd is a distinct honor. But just who is Wendell you ask? The following explains all. Thanks go to Jesse Barrett and Jack Wylder for permission to reprint. It has been altered very slightly but with no loss of meaning or context.
Wendell D. Manatee
Wen-duhl dee ma-nə-ˌtē
(Proper Noun)
by Jesse Barrett and Jack Wylder
"Wendell is originally from the alternate universe of the Christmas Noun and Tom Stranger short stories of Larry Correia. Since that universe allows for interdimensional travel, Wendell often appears in this universe where he is practically worshiped by the citizens of MHN (Monster Hunter Nation). Wendell got an MBA from Harvard, before serving several years in the Florida state legislature. That, coupled with his logistical and tactical genius during the manatees' war against the Deep Ones, put his resume at the top of the pile when CorreiaTech started looking for a new CFO. Then he just blew them away with his eloquence during the interviews. Although he is primarily a CoD player, he still regularly beats Larry Correia at World of Tanks. Wendell usually travels in a mobile tank that bears a passing resemblance to the Spice Tanks used by Guild Navigators in Dune but has also on occasion made appearance in his prototype tank walker suit. In every known universe, Wendell is unanimously recognized as the most interesting Man(atee) alive. Fun fact: General Mattis and Wendell hang out. Once he retired, Wendell taught the General how to snorkle, and he introduced Wendell to home brewing."
But first, and before we get to the Wendell photos, it is necessary to show what fueled the impromptu Wendell party. As always, thanks go to Steve "Tully" Roberts for supplying the joy juice fit for only the most discriminating palates. And I love my hat. The two go together, do they not?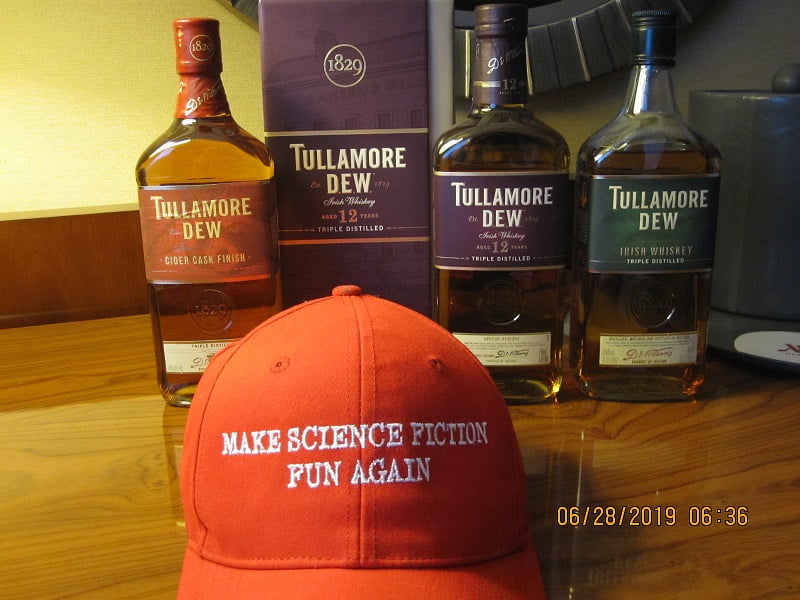 [Below: Front shot of Wendell with hat.]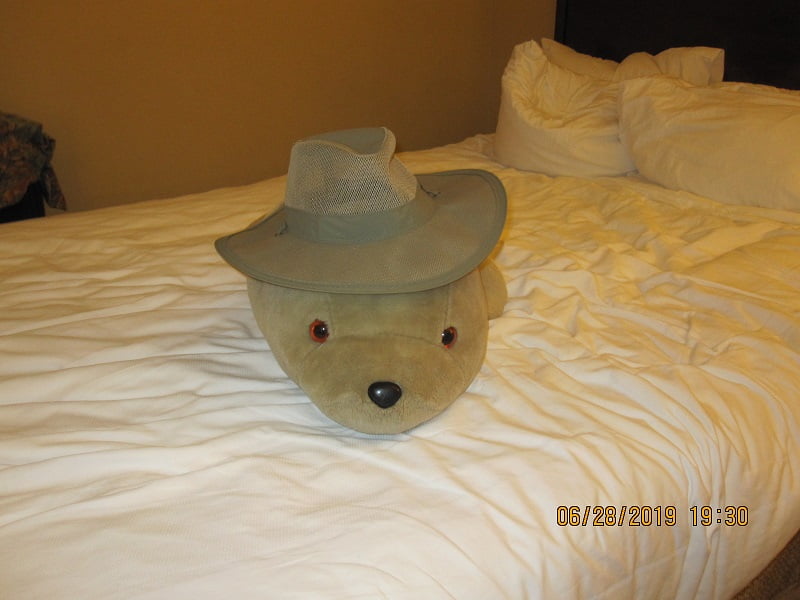 [Below Left: Dave Truesdale – Right: Jeff Duntemann ]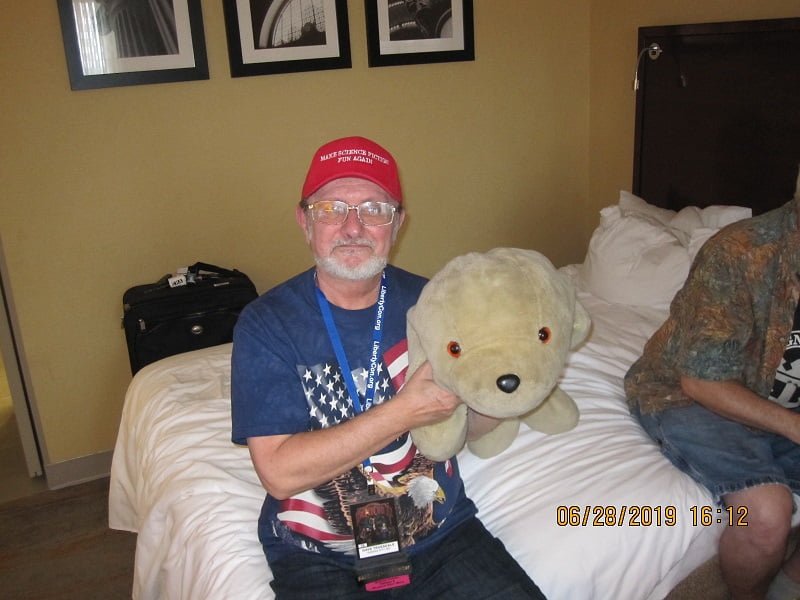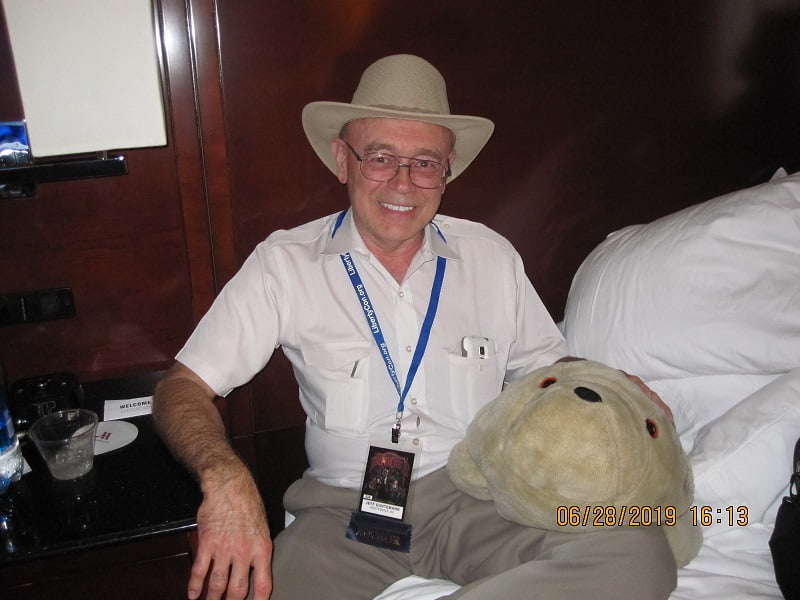 [Below Left: Jim Bellmore – Right: Sarah Clithero]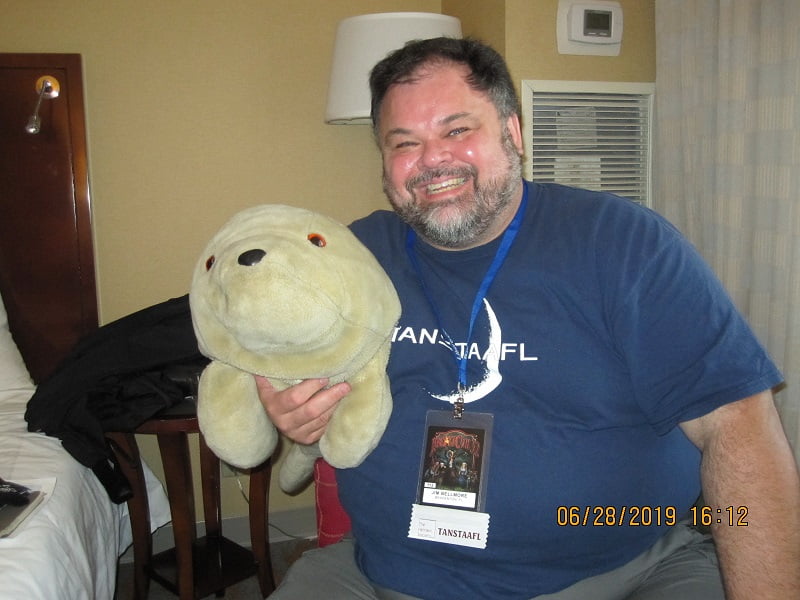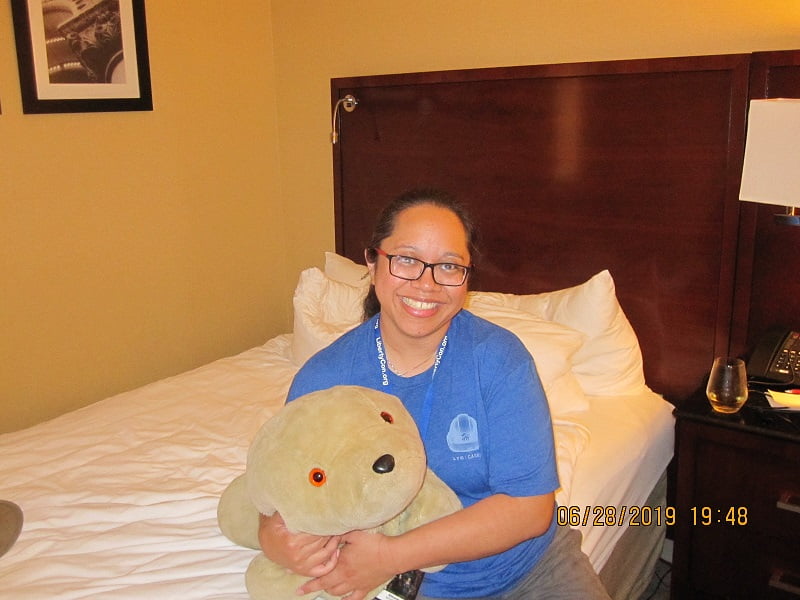 [Below Left: Tom Knighton – Right: Tom & Tully.]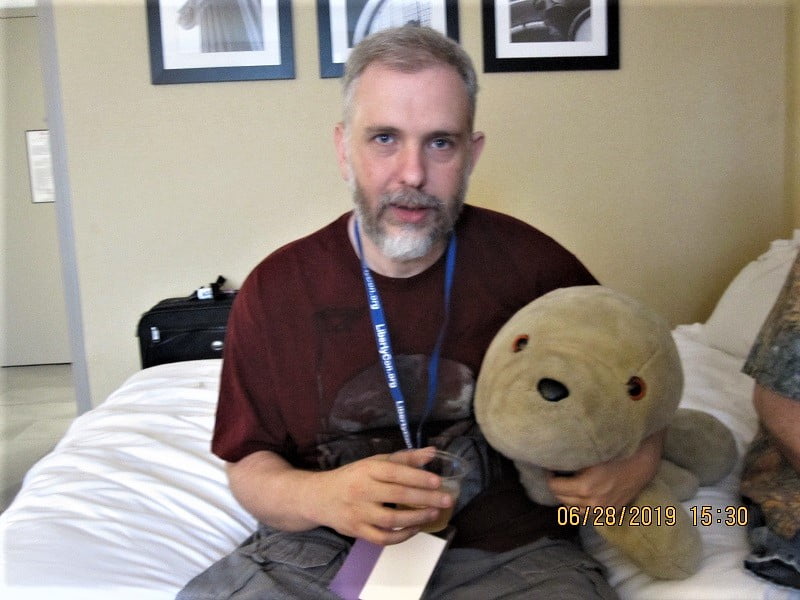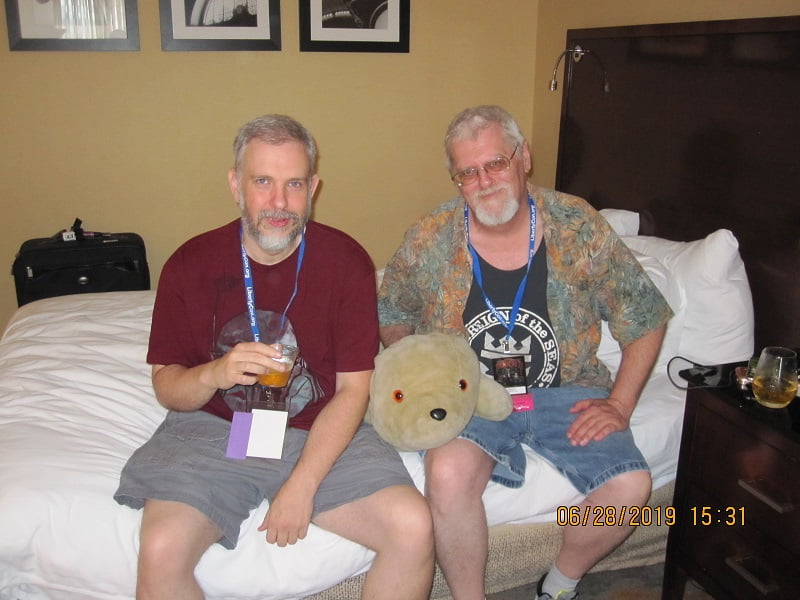 Needless to say, the following pair of Wendell pics were not taken at the Friday night party, but much earlier in the day after one of the larger con activities.
[Below Left: Gary Poole – Right: Kacey Ezell]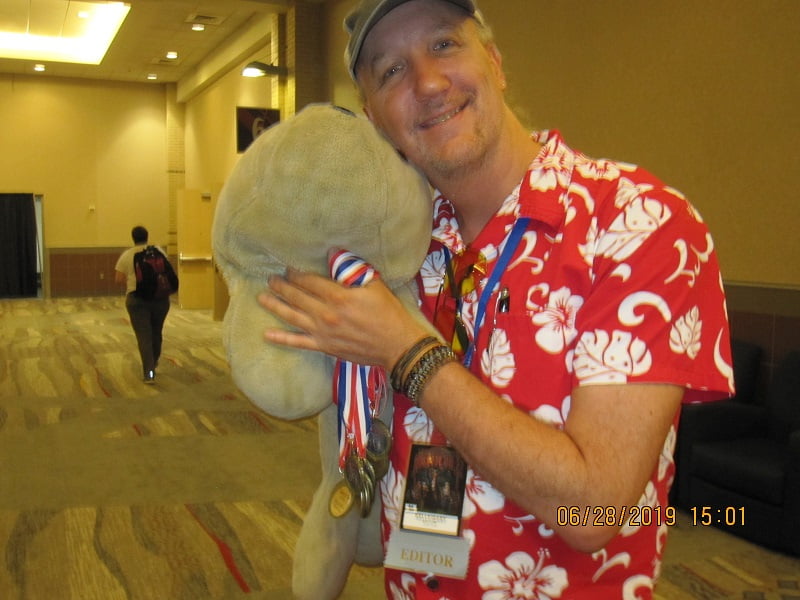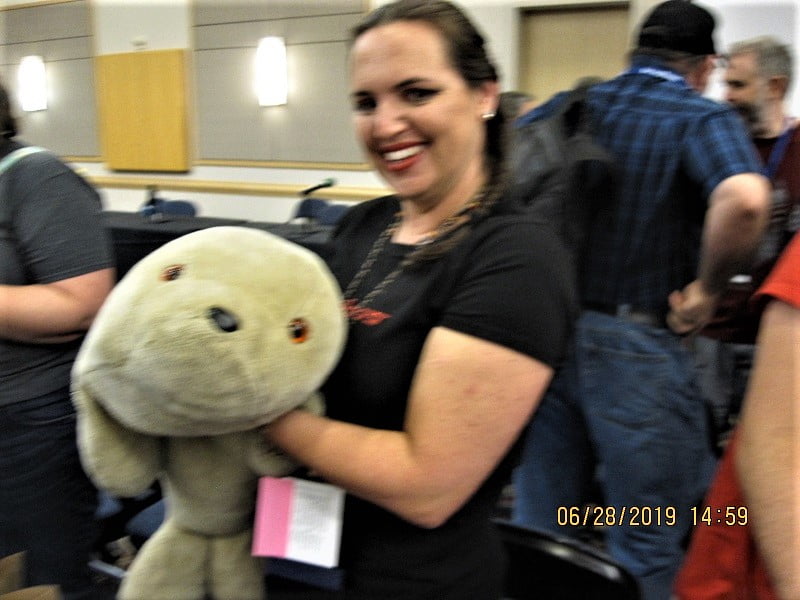 This last pair of photos was taken as I was making one last pass through the convention center on Sunday, before heading for the airport.
[Below: Dave Truesdale & Mike Massa.]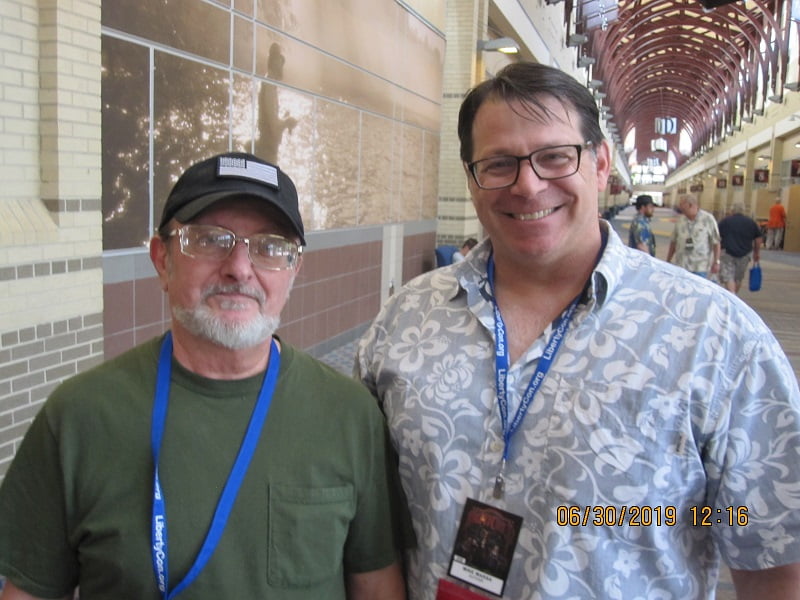 [Below: Michael Z. Williamson.]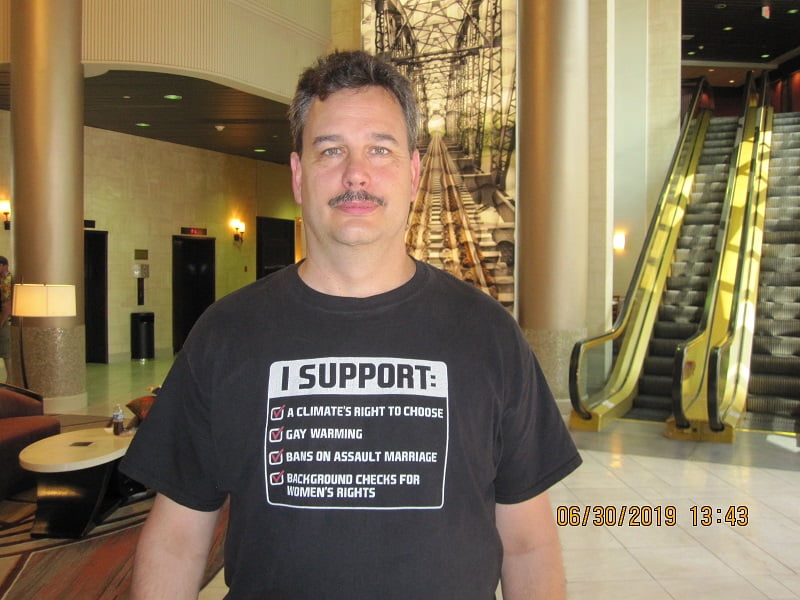 Finally, I would like to thank the entire Libertycon convention committee and staff for a terrific, good old fashioned science fiction convention. Smiles and friendly faces ruled the days and nights, without exception. The Rules of Conduct were minimal and in essence boiled down to Obey state and local laws, hotel rules, and don't be a butthead. No one was. A special Thank You I believe is appropriate to Libertycon 32 Chairman, Brandy Bolgeo Spraker, for not only did she shepherd a smooth transition to the new hotel at the relatively last minute and through no fault of her own, but her father passed away not long before the con. Her dad, the much beloved Uncle Timmy Bolgeo, founded Libertycon and was Chairman for 25 years. So while this convention brought much joy to many it also brought with it its own measure of sadness. More than one of Uncle Timmy's many longtime friends found themselves with a lump in their throat and a tear leaking down their cheek during some of the formal festivities. It was a special con in more than one way and it will be one of the ones I will fondly remember.
A few of the authors shown above may not be familiar to everyone, so below you will find titles and links to some of their most recent works. I especially wish to again express my frustration that none of my Martin Shoemaker photos were available.
{Today I Am Carey by Martin L. Shoemaker, Baen, March 2019. One of the best SF novels of the year.}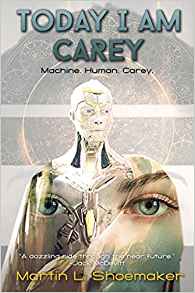 {Voices of the Fall, ed. John Ringo & Gary Poole, Baen, March 2019. Stories set in Ringo's popular Black Tide Rising series.}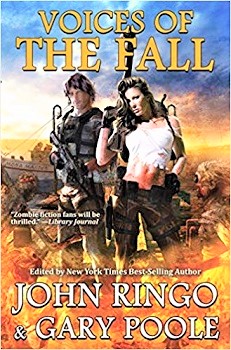 {The Valley of Shadows by John Ringo & Mike Massa. Baen, November 2018. The 5th in Ringo's BTR (Black Tide Rising) series of novels. This time Massa does a bang up job and doesn't miss a beat in capturing the excitement and danger of the previous novels, and deftly adds his own touches to this killer series.}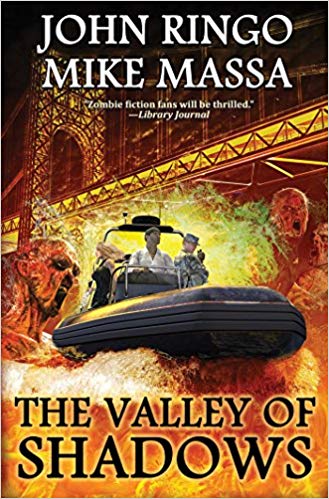 [Noir Fatale, ed. Larry Correia & Kacey Ezell. Baen, May 2019. For those unfamiliar with the name Kacey Ezell, the bio information on the back flap of this book tells us that she is "an active-duty USAF helicopter pilot who also writes sci-fi/fantasy/alt history/horror fiction. Her first novel was a Dragon Award finalist in 2018, and her stories have been featured in Baen's Year's Best Military and Adventure Science Fiction…in 2017 and 2018. In 2018 her story "Family Over Blood" won the 2018 Year's Best Military and Adventure Science Fiction Reader's Choice Award."]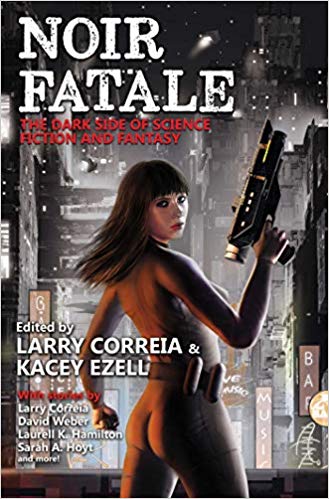 [Freehold Resistance, ed. by Michael Z. Williamson. Baen, December 2019. Stories set in "Mad Mike's" highly popular Freehold universe, where an Earth bent on domination goes to war to secure its collective of planets, but the world of Grainne is a libertarian holdout and must be brought back into the fold. Authors in this collection include Larry Correia, Michael Z. Williamson, Brad R. Torgersen, Mike Massa, Kacey Ezell, Robert E. Hampson, John F. Holmes, Marisa Wolf, Justin Watson, Jason Cordova, Jamie Ibson, Jessica Schlenker, Christopher Dinote, Philip Wohlrab, Rob Reed, and Chris Smith.]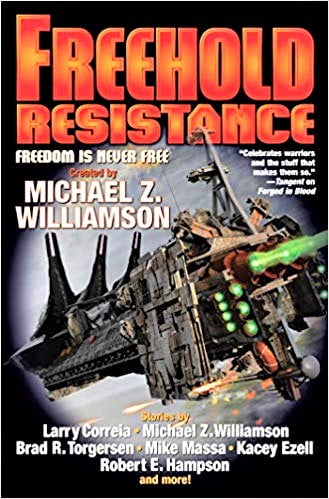 Photos and text copyright
© 2019, Dave Truesdale