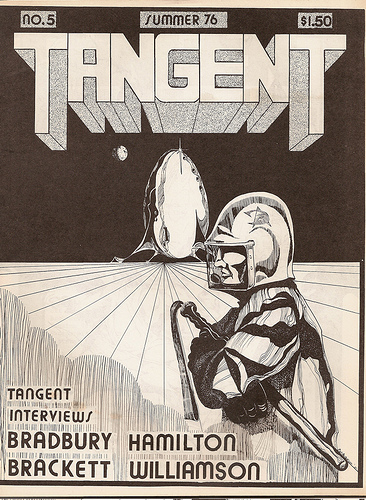 Tangent was resurrected in July of 1993 (from its original 1970s incarnation as a highly regarded general interest SF/F review magazine focusing on interviews and book reviews–see cover at left from the Summer 1976 issue) with the purpose (crazy and impossible some said, since no one in the history of science fiction had attempted it before) of reviewing as much of the professional short fiction venues in the fields of science-fiction and fantasy as possible. With its new focus on short fiction, Tangent (and now Tangent Online) has published thousands of reviews, garnered six Hugo award nominations and one World Fantasy Award nomination, and has been praised by the likes of Gardner Dozois (numerous times in his The Year's Best Science Fiction Summations), James Patrick Kelly (in his "On the Net" columns for Asimov's), and Ellen Datlow (in her Year's Best Fantasy & Horror Summations).
Tangent went online in 1997, and continues to carry out its original mission, reviewing the ever-expanding number of science fiction and fantasy publications including (but not limited to) The Magazine of Fantasy & Science Fiction, Asimov's, Analog, Galaxy's Edge, many online and electronic publications, plus original and reprint collections and anthologies. It also features insightful and sometimes controversial editorials, as well as intellectually stimulating articles and essays by some of science fiction's most well known names.
Described as a "one-stop clearinghouse for information on the good, the bad and the ugly in the short-story jungle" by Paul Di Filippo, it provides insightful, in-depth coverage of the width and breadth of the short SF/F field, from startup magazines featuring the possible SF/F pros of the future to the most established, long-running, award-winning magazines the genre has to offer.