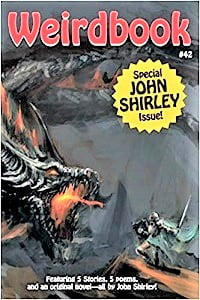 Weirdbook #42, February 2020
"Anvil Rock" by John Shirley
"Broken on the Wheel of Time" by John Shirley
"Nodding Angel" by John Shirley
"Calaphais and the Demon Malchance" by John Shirley
"That Ambulance Again" by John Shirley
"Swords of Atlantis" by John Shirley (short novel, not reviewed)
Reviewed by Tara Grímravn
Weirdbook #42 is a special issue—every piece comes from author John Shirley. I have to say, he's a great choice for a single author special issue. I'm familiar with some of his work from other publications and have long been a fan. In this issue, Mr. Shirley gives us a total of five stories and one novella that span the genres from fantasy to horror. Of course, it's not just stories. There are even a few pieces of poetry, too, should readers care to indulge. Since the short novel is a bit too long for Tangent Online's guidelines, this review will be focusing on the five short stories.
"Anvil Rock" by John Shirley
Grigsby has a ghost problem. Of course, it's not the usual kind one might expect. No, he's haunted by the memory of a tragic event. In his closet is the machine, the means, to go back and change it but it's never worked before. Still, he could give it one more try. Maybe, this time, he can save her.
To be honest, this story was quite a bit shorter than I expected going into it but it's a great tale, nonetheless. The ending is entirely unexpected, thanks to the twist on the nature of Grigsby's character on which the entire narrative hinges, climax and all. I highly recommend this story.
"Broken on the Wheel of Time" by John Shirley
Through a series of diary entries, young Glyneth documents her growing concern over the increasing melancholy and mad obsession from which her husband, Ben, seems to be suffering. Locking himself away in his workshop and foregoing all manner of hygiene or social interaction, he whiles away his time alone, working towards some unknown purpose. One day, his disposition changes entirely, emerging from his lab as if he were a completely different person. This sudden personality change has Glyneth wondering if Ben has suffered a blow to the head or if something more sinister is at work.
I quite liked the author's decision to write this Lovecraftian story as a series of journal entries. True, we lose the sense of immediacy that comes with the usual first-person narration, but this makes the story feel far more intimate which seems especially appropriate considering the subject of Glyneth's entries is something as personal as the relationship between a married couple. The story is an imaginative take on several Lovecraftian themes, such as detachment, helplessness, and the fragility of sanity, as well as the notion of soul transference like that found in Lovecraft's "The Thing on the Doorstep." Again, it's another great tale.
"Nodding Angel" by John Shirley
After the death of her Aunt Dora with whom she'd lived the past several years, Beth has been forced to come home to her mother. Now, as she stands over the grave of a man that mama just murdered, she has to decide whether the story about her family's legacy and their "divine" call to do God's work against the wicked is real or not.
Another quite short tale, "Nodding Angel" is in the vein of the horror-thriller movie Frailty (2001). The one deviation from this formula that I quite liked (but might be easily missed) is comprised of both subtle and not-so-subtle hints that maybe it's not God's work after all. Overall, this is an okay story; not groundbreaking by any means, but definitely worth reading.
"Calaphais and the Demon Malchance" by John Shirley
After spending some moments observing the merchant Calaphais negotiate a much-too-high price for dates sold by Mustapha of Caesarea, the demon Malchance becomes increasingly irritated by the former's benevolence and generosity. Considering Calaphais to be an aberration of nature, the demon is determined to show the merchant the error of his ways and the truth of the world as he sees it, taking great delight in his torture. After the man dies without breaking his faith, however, Malchance can't help but follow the soul upwards out of curiosity, learning a harsh lesson in the process.
This story brings to mind such archaic tomes as the Lesser and Greater Keys of Solomon and the like. With themes like keeping one's faith despite great suffering and how a change in one's perspective can make all the difference in the world, the overall subject matter may be just as heavy as that found in those ancient books, but this was still quite a fun read.
"That Ambulance Again" by John Shirley
Like clockwork, every time Syd and his wife, Allie, leave the casino to drive home, the same ambulance is waiting for them. Although they usually pay it no mind, tonight Syd's had a little more than his share of liquid courage and it's time to call the ambulance driver out on his stalker-like behavior.
This very short story wraps up our review of Weirdbook #42. I have to admit, I loved the rather ironic ending. It was one that I really did not expect but which left me with a rather amused smile. Of course, I'm not certain if I should feel bad about that fact, considering the actual events in the story. All in all, though, it's another tale I'd gladly recommend.