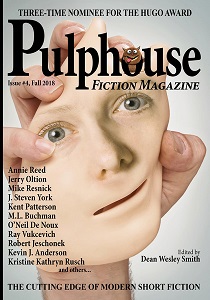 Pulphouse #4, December 2018
"The Coyote Equation" by J. Steven York
"The Apple Tart of Eden
" by
M. L. Buchman
"The Dead on Somerset Hill
" by
Chuck Heintzelman
"For the Love of Killer
" by
Mary Jo Rabe
"Crossing Over the River
" by
Sabrina Chase
"Graymatters
" by
David Stier
"The Chicken Time Machine
" by
Valerie Brook
"Wishful Thinking: A Dan Shamble, Zombie P.I. Adventure
" by
Kevin J. Anderson
Reviewed by Kevin P Hallett
The 4th issue of Pulphouse has nineteen short stories, of which twelve are original publications. Tangent Online has reviewed the eight originals in the speculative SF/F genres.
"The Coyote Equation" by J. Steven York
York's short fantasy reveals a demolition expert who issues a joke curse on a tardy customer buying a lottery ticket. But the ticket buyer isn't joking when he seeks revenge and promises to kill the joker that very day.
At first nonplussed, the joker is soon convinced that the fates have aligned against him because of his curse. Can he find a way to turn the tables on the lottery ticket buyer?
This had a nice pace to it, but the speculative elements were light, and ultimately, it ended predictably.
"The Apple Tart of Eden" by M. L. Buchman
This short fantasy tells a latter-day story of the Garden of Eden. Hera, the Greek goddess, has married Joshua, the one god of the Jews, when she meets a short and obnoxious man in the doorway to another world.
When Hera confronts Joshua about the encounter, he is evasive. But soon she catches them both meeting through that doorway and realizes the mystery revolves around the apples in the Garden of Eden.
This was a slow story that had little discernible purpose to it.
"The Dead on Somerset Hill" by Chuck Heintzelman
The mother of a six-year-old boy sees the apparition of a dark man in the cemetery at Somerset Hill in this horror short. Her husband is convinced it's an omen, meaning a male she loves will die in a few days, placing her husband and autistic son in danger.
Though scared, the mother drives to the cemetery to confront the dark man. She finds the man talkative, even helpful in a strange and unexpected way.
This story easily engaged the reader, and though it offered little that was new to the genre, it was a pleasant read.
"For the Love of Killer" by Mary Jo Rabe
Cathy, along with other scientists, is studying an alien pond in this SF short. Nothing living can get near the pond, and anything mechanical is immediately consumed by the strange liquid.
Cathy is dog-sitting her friend's rascally dog, Killer, that makes life torture for neat loving Cathy. One day, Killer gets away from Cathy and runs for the pond. But, this time, something unexpected happens.
Although this story was nicely crafted, the story theme was another rerun of the 'alien intelligence finds humanity immature except for a few exceptions' plot.
"Crossing Over the River" by Sabrina Chase
This short fantasy involves an old cowboy, Rusty, who's dying and wants to find a good home for his horse. Several people are willing to give him a couple of dollars for the old horse and then sell it for dog meat.
Rusty is near the end when someone tells him about a special ranch with a river-fed pasture where his horse can live out its last days. But can Rusty find the ranch, hidden in the canyons, before he dies?
This was a curious short story, nicely structured but light on the speculative elements.
"Graymatters" by David Stier
This is a short SF story about Colin, who can read a person's mind and even implant some ideas. It takes Spock-like contact to execute his skills, and Colin has learned not to use it on his girlfriend.
Colin uses his talent unselfishly, but it comes with a price and his moral compass is sometimes suspect. Then things start to take a strange turn for him and his girlfriend.
This was an engaging story that left the reader wondering. Life is always shades of gray, and this story reflected that reality.
"The Chicken Time Machine" by Valerie Brook
Mr Dungaree has messed up in this SF short when he mistakenly zaps himself into the past. Hoping to transport an extinct chicken to the future, he has, clumsily, sent himself back instead.
Since he can't transport anything non-biological, he must use local resources to build a return time machine. But can the ultimate klutz find a way to get himself back, with a chicken?
This was a character-driven take on time travel.
"Wishful Thinking: A Dan Shamble, Zombie P.I. Adventure" by Kevin J. Anderson
Anderson's tongue-in-cheek fantasy novelette has Dan Shamble working to solve the case of the missing teenage werewolf. A distraught mother asks the P.I. to find Aldo, her teenage son, who has fallen in with some bad genies.
Shamble tracks down the miscreant Baba brothers and discovers they have been hired to pass some cursed artifacts through a dimensional portal to a mundane parallel universe. The genies had conned Aldo into helping them, but he passed through the portal and never returned. Now Shambles must find a way to rescue the naive boy.
The story was slow at first and predictable at the end.