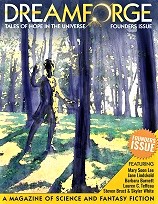 DreamForge #1, February 2019
"Sing! & Remember" by Lauren C. Teffeau
"Born from Memory" by Jane Lindskold (reprint, not reviewed)
"I Am Not As Young As I Once Was" by Jean Martin
"Con Man" by Paul Dellinger
"Anthromorphile" by Chris Sumberg
"Walker in Leaves" by Scot Noel
"The Old Man Who Hid Music" by Tom Sheehan (reprint, not reviewed)
"The Spiral Ranch" by Sarena Ulibarri
"Glass Roses" by Terra LeMay
"Z-Spot" by Barbara Barnett (reprint, not reviewed)
"Smith's Point" by Steven Brust & Skyler White
Reviewed by Tara Grímravn
I believe it was 18th-century poet Alexander Pope who penned the now well-worn words "hope springs eternal from the human breast." It is with these words in mind that editor Scot Noel and his staff at DreamForge Magazine, a brand new quarterly print and online speculative fiction publication, laid the course for launching this literary endeavor. The vision they've created for the magazine is based around hope and a belief that mankind isn't doomed to a bleak, apocalyptic future, one so frequently described in modern tales. The stories they've chosen to publish in this flagship issue of DreamForge reflect those ideals. Alongside these tales, which range from the fantastical to the science fictional, readers will find poetry by Mary Soon Lee, an interview with David Farland, editor of Writers of the Future volumes, and an editorial piece on early science fiction writer and poet Stephen Vincent Benét by Dr. Eric Leif Davin, all nestled within beautifully illustrated pages.
"Sing! & Remember" by Lauren C. Teffeau
Sister Kalira is a member of the Zasita Order, a group of female warriors dedicated to traveling the world and wiping out monsters wherever they may hide. Some time ago, she lost her partner Jassan, a warrior-poet, in battle. The grief and guilt forced her to leave behind a life on the road and take on a new role as a scribe for the Order, recording the deeds of other Sisters. Still in mourning after all this time, Kalira hums the songs Jassan used to sing in order to keep them alive and pay homage to her friend's memory. Not knowing the reason she chose to leave battle behind, a couple of younger Sisters ridicule her for being unworthy of the Order, and so Kalira ventures out on her own for one more fight.
Teffeau's is a somber fantasy tale of loss and grief. The story is told from Kalira's point of view, throughout which she talks to the reader as if she's speaking directly to her lost companion Jassan. In addition to flashbacks showcasing their friendship and Jassan's death, this makes the entire reading a rather poignant one, since Kalira's sorrow is constant throughout. As for the ending, it served to drive home the tale's morality lesson about passing judgment on someone without knowing what they've been through.
"I Am Not As Young As I Once Was" by Jean Martin
After spending years fighting Nazis during World War II, Russian immigrant Masha moves to Castle Shannon, Pennsylvania to live with her cousin Anna. She has seen a lot of things over the course of her life, so when she sees the strange-looking man with glowing eyes jump over the cemetery wall, she knows exactly what he is. Soon, a series of grisly murders confirms her suspicions. Fortunately for the neighborhood, Masha also knows what to do about vampires.
I must admit to grinning at the thought of an old woman wearing a babushka as she hunts vampires in Pennsylvania. Much like the first story, though, the author is reminding us not to judge a book by its cover. From the beginning, Martin makes it clear that Masha isn't just any old woman. She fought Nazis and defended Leningrad before escaping to Finland when it became clear her military service was no longer considered an honorable thing. In short, even though she may not look like it, Masha's a tough old bird, so it's hardly surprising that killing vampires is in her repertoire.
"Con Man" by Paul Dellinger
Gideon Warburton is a "con man" in every sense of the word. Not only is he a frequent sci-fi convention attendee but he's also a social swindler, hailing himself as the creator of a non-existent trilogy and television series which earn him spots as a convention panel guest. When a girl shows up with a copy of the book he never wrote, Gideon has to decide whether or not he'll accept the deal of a lifetime that she offers—one that will affect the future of the world.
One of the things that made this story enjoyable was how Dellinger has presented it almost like history as if it actually happened and our modern world is the result. The story explores an interesting question on what would happen if time travel was a reality. Like any other technological advancement, various groups would surely seek to use it to their advantage, changing events to suit their agenda. The only real issue I had with the story is that what's at stake is never fully explained. Georgia says that a rival group was closing in on Gideon, the insinuation being that they are trying to stop him from publishing the book series which leads to the discovery of time travel. It's never divulged why they wouldn't want that to happen. If time travel is so useful for eliminating troublemakers and stopping wars, then why is the "other side" trying to eliminate Gideon before he publishes the book? What was the point?
"Anthropomorphile" by Chris Sumberg
There's not much to say about Sumberg's story simply because it's so short—which, by the way, doesn't mean it's bad. To the contrary, it made me smile because everyone who's ever lived is guilty of anthropomorphizing the things around them. In this case, a man saves a beetle from drowning in a toilet and imagines how grateful the beetle's family will be. The only problem is that it isn't really speculative fiction.
"Walker in Leaves" by Scot Noel
Long after humans have gone extinct, Maya wakes from a dream that has lasted for half a year. Once a living woman, she is the last human consciousness in existence and is housed inside an automaton fueled by a failing underground engine. Her only mission is to ensure the survival of humankind's last project, the creation of a new sentient race of beings from lemurs through genetic manipulation. When the lemur Walker-in-Leaves doesn't return from his adventures, his mate Giver-of-Corn, who carries the necessary DNA from the experiment, refuses to eat, forcing a quickly fading Maya to face the prospect of her own failure.
Noel's story is a bittersweet exploration of a world after humans, who've long burned out and faded away, and the legacy they tried to leave behind. In keeping with the magazine's theme, hope and rebirth play central roles throughout the tale, found in Giver-of-Corn's stubborn vigil in the belief that Walker-in-Leaves will return, humankind's hope that the lemurs will become the next dominant species after they're gone, and what waits for us after death.
"The Spiral Ranch" by Sarena Ulibarri
At the end of the 2ist Century, Piper works for the Spiral Ranch, a business she co-founded with friend Adrianne in Austin, Texas. When someone starts stealing cows from the company herd, she's determined to find out who's responsible.
Seeing the age-old problem of cattle rustling being dealt with in a big-city high-rise was certainly intriguing. What struck me the most about Ulibarri's story, however, was that there seemed to be a lot of well-thought-out science in it. Ulibarri definitely put a lot of thought into how this might work and did a great job of explaining it in the story. That being said, it does summon a few humorous mental images when one thinks of cattle being raised in what amounts to little more than a grass-carpeted, open-air parking structure and drones coming in and spiriting them away.
"Glass Roses" by Terra LeMay
Elderly Mildred is searching for a particular item, one lost long ago—a rose-colored crystal lens that makes everything in the world look better. To that end, she spends her time searching through pebbles and other things that the local fishwives and their children bring her, for which she pays them in stories, candy, and the occasional coin. Today, Mildred tells the story of the rose-colored lens she's hunting to an ugly, unpleasant little girl named Rebeckah. But how much of Mildred's story is true?
LeMay's story is a nice twist on the old adage about looking at the past through rose-tinted glasses and Mildred herself is something of an unreliable narrator. Throughout the story, she points out where she's blatantly lying to Rebeckah but it's unclear if the rest of the events are a fabrication as well. The girl's revelations about her grandfather end up further blurring the line between reality and fantasy, making the reader even more unsure which parts, if any, of Mildred's story, are true until the very end.
"Smith's Point" by Steven Brust & Skyler White
An old couple take turns telling their grandchildren the story of how they first met. It starts with a young boy on an errand to the blacksmith, only to find the smith dead and the magnificent sword he had been commissioned to make as a gift for the king lying on the ground near him. Just a few days earlier at the castle, a young girl, the castle witch's apprentice, learns that a jewel of dark magic is being sent to the smith as part of the creation of this kingly gift and is instructed by her mentor to keep on the watch for it. When the boy arrives at the castle, intent on completing the deceased smith's delivery in hopes of reward, the lives of both him and the girl become intertwined by destiny and magic.
While I enjoyed all the tales in this magazine, none had quite the zing that Brust and White's did. I really liked this tale, especially the "dueling banjo" effect of the dual points of view. When the perspective change first happened, it was a little disorienting but once I realized what was going on and why, it became quite entertaining and one of the things that really made the story shine.