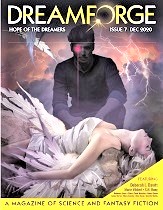 DreamForge #7, December 2020
"Monsters Beautiful and Bright" by Sherri Cook Woosley
"At the End of All Things" by Chris Cornetto
"The Wishbone" by Nemma Wollenfang
"These Expeditions" by Todd Honeycutt
"Countryside" by Chris Bannor
"On the Way There" by Evan James Sheldon
"The Limits of the Human Heart" by Rebecca Roland
"Broke Down & Starside" by Jennifer Shelby
"The Android and the Fallen Angel" by Alice Towey
"Myself" by Rebecca Enzor
"In the Leaves' Embrace" by Deborah L. Davitt
"Blink If You Love Me" by Marie Vibbert
"The Winds and Waters of Mars" by C.H. Hung
"The Flight of the Brolga" by Henry Gasko
"The Entropy of Isfahan" by Scot Noel
Reviewed by Chuck Rothman
DreamForge has produced a December issue chock full of short stories, all worth a look.
"Monsters Beautiful and Bright" by Sherri Cook Woosley tells the story of Brigit, a witch who lives on the edge of the forest fighting the inroads of the rot, a fungus that destroys everything it touches. A girl and her younger brother show up at her cottage, afraid of the stories that she is evil, and she slowly works to win their confidence. The story is reminiscent of "Hansel and Gretel," as the two children learn the importance of not taking things at face value and the importance of family.
Chris Cornetto's "At the End of All Things" is a short tale of King Aurelian, who, after a long battle with the gods, knows the end is near. The idea is that you should enjoy life, even facing certain death. Nicely done overall.
"The Wishbone " by Nemma Wollenfang shows the young girl Poppy and the issues with making wishes. Kind of slight, even for flash fiction.
"These Expeditions" by Todd Honeycutt is only a few paragraphs where the narrator is asked a question about what they find interesting about forgotten planets. It's just an idea that might have worked better if there were a story around it.
"Countryside" by Chris Bannor shows Jackson and Merick arriving on the planet Promise, where they are met by Avie, a teen girl who gives them a lift to their new home as she fills them in on the background. Then the story ends. This reads like the first chapter of a longer work and really doesn't stand on its own.
Evan James Sheldon "On the Way There" is flash fiction about a mother and son running away from some unnamed monsters as she tells him their goal is a field of flowers. It's basically a parable about courage and how people help each other out in difficult situations.
It's another bit of flash fiction with "The Limits of the Human Heart " where Florence has a heart condition, and her husband Dan promises to go running with her one more time and she is given dragon's blood to make it happen. Rebecca Roland comes up with a poignant image of long-time love.
"Broke Down and Starside" by Jennifer Shelby is, at base, a love story, though it works out to something more. A spaceship pilot uses a "Missed Connections" feed to thank the woman who sent help to his ship when its life support failed, breaking the rules of the corporation, Starship Assistance, that provides the life support systems. This causes the corporation to try to track down the woman. The love story plays out against the background of corporate greed, and is truly satisfying in all respects.
Alice Towey contributes "The Android and the Fallen Angel," the story of Michael, the android in the title. Raised to be human, he finds a literal angel on a mountain while hiking, injured from a fall. Michael, a veterinarian, nurses her back to health and she looks for a way to repay him. It deals with a common theme of stories about traditional androids in science fiction and comes to a solid conclusion.
"Myself" by Rebecca Enzor is told from the point of view of a witch of the sea who grants wishes and is surprised by an odd request: a woman named Delilah, who wishes to love herself. It turns out she is married and the self-love helps her to grow and deal with her husband. Interesting story about empowerment, not only for her, but also for the witch.
Rowan sees a mysterious boy in the opening paragraphs of "In the Leaves' Embrace" by Deborah L. Davitt. When her grandmother—a witch—goes off to die, she follows into the woods and sees the boy again and learns the secret: the boy, Eidskal, is the spirit of the aspen trees and she begins to learn about taking care of the grove he comes from. Lots of charm and poetry as the decision to follow the boy has a strong and positive effect on her life, but I found the story a bit too predictable.
"Blink If You Love Me" by Marie Vibbert is set on a space colony, where Nati is the only vet, working to study fireflies as a source of light. She is asked to treat the colony's cat Genevive, who is sick with a disease that is simple to cure—if you were on Earth. And her fireflies have been mysteriously disappearing. Charming story about a surprise solution to the problem.
C.H. Hung contributes "The Winds and Waters of Mars" about Vicky Wen, a second-generation Chinese American who is chosen to be part of a Mars colony. Her grandmother insists she bring a feng shui compass as a way to keep her emotional bearings. Vicky thinks it a silly superstition that would be useless on Mars, which has no magnetic field. But there are difficulties and prejudices that make Vicky's life difficult even on a new planet. I liked the way it portrayed how groups become insular and how you need something to keep yourself grounded.
"The Flight of the Brolga" begins with the death of Dean Maitland after he plummets to the ground out of a clear sky. His friend, Trevor Siddons, tells his story. Dean was a mountain climber in Australia who lost his legs after a car crash. He learned to find ways to still be active, most importantly by developing a device enabling him to fly. Henry Gasko postulates an aerial ecology that creates a strong and moving story.
"The Entropy of Isfahan" by Scot Noel is flash fiction set in the far future where Isfahan waits to be executed for being a memory thief. But he has an important reason for stealing the memory information. Interesting concept, concentrating on how memories degrade over time.
The magazine packs in a lot of fiction (the issue also contains two reprints, poems, and the second part of a serial) and of generally high quality.
---
Chuck Rothman's novels Staroamer's Fate and Syron's Fate are available from Fantastic Books.