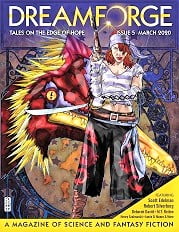 Dreamforge #5, March 2020
"An Infinite Number" by David Amburgey
"Answered Prayers" by Scott Edelman
"Pterrors of the Caribbean Part-1" by Deborah L. Davitt
"Climbing the Motherman" by Henry Szabranski
"Counterclockwise" by Jamie D. Munro
"Summit Attempt" by Floris M. Kleijne
"Robot Princess" by M. T. Reiten
"The Dryad's Smile" by H. Orion Kim
"House of Bones" by Robert Silverberg (reprint, not reviewed)
Reviewed by Kat Day
Issue 5 of Dreamforge features a group of tales loosely themed around ideas of family, loss, and the idea that we often don't know what someone else is trying to cope with. It's an excellent crop of stories, and well-worth picking up.
"An Infinite Number," by David Amburgey, is a short piece of flash fiction which takes the form of a letter, written by the main character to their deceased child. There is a speculative element here, but being such a short piece I don't think I can describe it without spoilers. Suffice to say, this is a thought-provoking story which, I think, might provide a strange sort of comfort to anyone trying to cope with a loss.
"Answered Prayers," by Scott Edelman, begins with the main character explaining that he sometimes can't deal with the world, and when that happens he gets into his car and drives until he ends up in some small town, telling no one where he's going. On one such outing he discovers a mysterious bookshop, full of strange, winding shelves and a bookseller who is very reluctant to deal with customers. So far, you might say, so cliché, but what's rather lovely about this story is that our protagonist recognizes all this for what it so obviously is, and pushes back, trying to beat the cryptic bookseller at his own game. It twists, like the shelves in the bookshop, into a poignant little tale about coming to terms with loss. This is a wonderful, moving spin on an old fantasy trope.
"Pterrors of the Caribbean Part-1," by Deborah L. Davitt, begins in Port Royal, Jamaica, in 1721. Calico Jack Rackham is standing at the gallows, a noose around his neck, awaiting his fate, when six, huge flying beasts appear on the scene. We then skip forward to Santo Domingo in the year 2170, where a woman named Ruby Chiyoko Estevez is staring at an alarmingly empty glass-walled enclosure that had, until very recently, housed a group of adult pterosaurs. From there the story hops back and forth between the past and the present as we begin to learn how, and why, the two stories are intertwined. This is a great start to a rollicking adventure story, and I look forward to the final installment next issue.
In "Climbing the Motherman," by Henry Szabranski, we find ourselves watching the world from the point of view of a "climbling" named Percher who lives in, or on, a giant called the Motherman. It's not quite clear whether the Motherman is alive—there is a hint that we might be in some kind of apocalyptic future when the main character's Da tells him that "we woke the Dragon and it covered the world with mist." In this sort of short word count it's easy to get the balance between complex world-building and characterization wrong, but here it works. Percher's character is well-developed and we quickly find ourselves caring about what happens to him and Skink, an adopted, disabled member of his tribe whom he ends up travelling with after a razorbug attack. There are reflections on disability and assumptions here, and the story ends on a positive, hopeful note.
"Counterclockwise," by Jamie D. Munro, tells the story of Dave, a man dying of cancer in a hospital where, we learn, his son recovered from cancer many years before. In a moment of frustration he throws his phone across the room and it hits the clock on the wall, at which point the hands start turning counterclockwise. A number of things happen after this, and there's some doubt over what's real and what's not—how reliable a narrator is OxyContin-popping Dave, anyway? In a similar vein to "Answered Prayers" this story reflects upon loss and family, and ponders whether we can find our way back to a happier path.
"Summit Attempt," by Floris M. Kleijne, is a short piece which centers around Seeker Josec, trying to climb some sort of enormously high mountain called The Spire. Far below, a crowd of observers wonder if she will be successful and earn the High God's favor for the tribe. This story ponders what counts as trying, what the difference is, really, between success and failure, and what it means to reach a goal. It's all a rather lovely metaphor for the sorts of struggles we've all experienced. Nicely done.
"Robot Princess," by M. T. Reiten, tells the story of Anu, a robot childcare unit who is looking after a little girl called Rosy. The girl's parents are referred to throughout as "the mother" and "the father" and seem, at least from Anu's point of view, to have absolutely zero relationship with their child. Anu is a delightful character and this story will break your heart into a million pieces. Read with tissues on hand.
In "The Dryad's Smile," by H. Orion Kim, a dryad who lives in the oak tree in an elderly couple's yard decides to leave her tree one day, and speaks to the man, Richard. His wife, Maggie, resents her sudden appearance and questions the dryad's motives. Although the description is beautifully-done, this short piece is the one story in this issue which didn't quite hit the mark for me—Maggie's initial behavior felt odd given what is later revealed.
---
Kat Day is an associate editor at pseudopod.org, writes a mixture of both fiction and non-fiction, and can be found generally hanging around on social media. You can follow her on Twitter @chronicleflask.