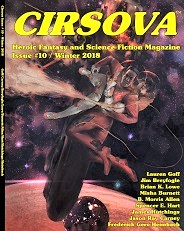 Cirsova #10, Winter 2018
"Jeopardy Off Jupiter IV" by Spencer E. Hart
"The Best Workout" by Frederick Gero Heimbach
"A Song in Deepest Darkness" by Jason Ray Carney
"Amsel the Immortal" by Lauren Goff
"An Interrupted Scandal" by Misha Burnett
"Crying in the Salt House" by B. Morris Allen
"The Sword of the Mongoose" by Jim Breyfogle
"When Gods Fall in Fire" by Brian K. Lowe
Reviewed by Tara Grímravn
The latest issue of Cirsova, a quarterly magazine that specializes in heroic fantasy and science fiction, features one novelette and seven short stories. This is the second opportunity I've had to review Cirsova, and it was just as much a pleasure this time as it was the first time.
"Jeopardy Off Jupiter IV" by Spencer E. Hart
The crew of the guard ship Nevada receives a distress signal from another ship, the Masuyo, trying to enter orbit around Jupiter's moon. Their engines have failed and they require assistance before they drift further into space. Junior Lieutenant Osiris Jackson boards the crippled ship, only to discover that there's more to the Matsuyo's downed engine and special passenger than meets the eye. I really enjoyed this bit of science fiction. It's got a little bit of everything that makes a story enjoyable—adventure, an exotic setting, political intrigue, a touch of romance, and danger. The story has something of a 1950's science fiction flair that was quite nice.
"The Best Workout" by Frederick Gero Heimbach
After starting a new job, Cedric visits a strange gym called the Primeval Combat Club with his coworker Clayton, who is a regular patron. The gym boasts a workout like no other, promising participants a virtual reality experience tailored to their liking. Cedric's understandably nervous for his first time, not to mention a bit skeptical, but once in the virtual world, he finds out just why the workout is so addicting. I really liked the premise for this metafictional-style story. The imagination that went into this was great and if there really was a gym like this, I'd absolutely be a regular. The exact theme or message the author was going for is where I struggled, though. I got that his message has something to do with race but I never got a clear sense of what the actual point was other than a refusal to acknowledge or discuss racism. The ending didn't really help resolve this question, either.
"A Song in Deepest Darkness" by Jason Ray Carney
Bellik is killed after learning a secret—the hidden name of their order's godlet—and dies before he can share it with his brother Pardew. He leaves behind only a strange inscription written in his own blood. Enlisting the help of a sorcerer named Ka, Pardew searches for a relic that will enable him to speak to his dead brother and learn the secret himself. I found Carney's tale to be most exciting and incredibly well-written. He pays a lot of attention to the details of the setting, which really helped bring the story to life. I also quite liked the pattern of the dialogue and the writing style. My only complaint about this story is that it ended too quickly. I found myself taken with the character of Ka and Carney whisked me along (quite enjoyably) at a break-neck speed only to slam on the brakes at the end before Pardew achieves his goal, leaving me on the side of the road wanting more.
"Amsel the Immortal" by Lauren Goff
Having found the key to immortality, Lord Oskar Amsel was being held prisoner at the Royal College and used as a test subject. Freed by a young thief named Nita, the pair make their escape. Amsel plans to find a way to kill himself while Nita wants to study in the Eastern Kingdoms. Unfortunately, things don't go quite according to plan. Goff's fantasy story was definitely an entertaining read. The pursuit of immortality is a theme that pops up quite frequently in the genre and I really enjoyed the author's twist on it.
"An Interrupted Scandal" by Misha Burnett
Inspector Vetch and Dr. Fell are sent to the penthouse of a murdered man to determine who killed him. After grilling the guests of the dead man's overnight dinner party, they finally unmask the killer. The general premise of Burnett's story is something of a cliché, being the usual "whodunit" type of tale. With the passing mention of things like Witchfinders and the Bureau of Unlicensed Magic, I really expected this to go a totally different way.
The one saving grace that makes it somewhat interesting is the chemical Dr. Fell uses to accelerate his mental faculties, but even this is almost mentioned only as if it were an unimportant detail. When he first injected himself, I assumed the doctor was simply a junkie—and a crass, ill-mannered one, at that—because his taking of the drug is treated as if it's an insignificant personal habit until the last few lines of the story.
In terms of style, I tend to be a fan of high-brow language, and I appreciate the attempt at a Sherlock Holmes-esque narrative, but the way in which it was used here muddled the plot. Another odd and rather befuddling issue is that half-way through the story, the name of Mrs. Tanner suddenly changes to Mrs. Turner for the rest of the narrative, forcing me to go back and search through the text to see if I'd missed the introduction of a character somewhere.
"Crying in the Salt House" by B. Morris Allen
After his father is accused of soliciting a noble, a young boy finds himself a ward of a man known only as the Master. Put to work in the salt mines, he makes a friend named Rula who is eventually sent to work at the Salt House, where the Master resides. Finally obtaining his own position there as well, he searches for his friend. Much to his dismay, he's told that she's "in the salt," eventually discovering for himself exactly what that means. Allen's story is the only novelette on offer in this issue of Cirsova and it really was a great choice for inclusion. From the barren landscape to the drudgery of being forced to work in a salt mine as a slave, and finally being subjected to insane experiments, Allen has covered all the bases in this dark fantasy and crafted a horrifying tale. Of particular note was the ending which I found quite satisfying.
"The Sword of the Mongoose" by Jim Breyfogle
After winning a game of chance, a losing player pays the game's winners, Mangos and Kat, with directions to a hidden, and very precious, sword. Racing other would-be treasure hunters to the location, they find that an easy prize often carries a much heavier cost. Breyfogle's story is a decent entry to the fantasy genre. It was definitely an engaging read, holding my interest till the end—and not just because I have a soft spot for necromancers. This sword-and-sorcery type adventure was just fun to read.
"When Gods Fall in Fire" by Brian K. Lowe
Lairc, a slave feared for his fighting prowess, accompanies his royal master Ciero to the fabled city of Galtoun, which houses a god called Amad-ad-Yomat that fell from the sky a hundred years earlier. Ciero plans to take the treasure rumored to lie in the god's city and use it to make himself king now that his brother is dead. When they arrive, they find that neither the treasure nor the city are quite what they expected to find. All in all, Lowe's tale was quite enjoyable and, although not meant to be horror, ever-so-slightly unsettling. From the moment the two men arrive in Caltoun, it's pretty clear there's more at work than meets the eye and that they aren't necessarily there of their own free will and Lairc's status as a slave takes on far more meaning by the end.