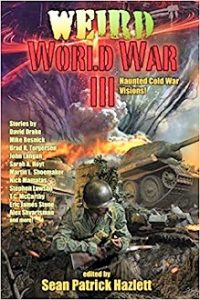 Weird World War III
Edited
by
Sean Patrick Hazlett
(Baen, October 2020, pb, 184 pp.)
"The Price" by David Drake
"Shadow Rook Red" by Brian Trent
"The Third World War" by Mike Resnick
"Where You Lead, I Will Follow: An Oral History of the Denver Incident" by Erica L. Satifka
"All Quiet on the Phantom Front" by Brad R. Torgersen
"Anastasia's Egg" by Kevin Andrew Murphy
"Tap, Tap, Tapping in the Deep" by Dr. Xander Lostetter and Marina J. Lostetter
"The Ouroboros Arrangement" by Martin L. Shoemaker
"Last Chance" by Sarah A. Hoyt
"Oderzhimost" by Deborah A. Wolf
"No Plan Survives First Contact" by Stephen Lawson
"The Scholomance" by Ville Meriläinen
"It's a MUD, MUD World" by Peter J. Wacks and Bryan Thomas Schmidt
"A Thing Worth a Damn" by Alex Shvartsman
"Evangeline" by C. L. Kagmi
"Bleak Night at Bad Rock" by Nick Mamatas
"Zip Ghost" by T. C. McCarthy
"Deniability" by Eric James Stone
"Second Front" by John Langan
Reviewed by Kevin P Hallett
This anthology contains nineteen science fiction stories themed around an alternative history of World Wars. Two of the stories are novelettes. A fascinating way to see how different authors of speculative fiction approach a similar theme.
"The Price" by David Drake
The army sends Jesse Cathcart to find a Khmer Rouge demonic infiltration in this short fantasy. Jesse has a remarkable ability to sense hidden people. His skills are critical to this special mission into the Cambodian jungle.
The small reconnaissance unit gets close to the demonic source when Jesse warns the others that the enemy is closing in. But he is trapped until his comrades rescue him. Or at least that is what appears to happen.
The author told the story as a flashback, keeping the mystery going until the unexpected and precipitous ending.
"Shadow Rook Red" by Brian Trent
In this inter-dimensional short SF story, Kiernan is a CIA operative for NATO fighting the Russians in the 1970s. Kiernan is in neutral Switzerland to meet and debrief an expert on the 'other' dimension, Arali.
When he gets to the location, the Russians have kidnapped the expert through an inter-dimensional hole. Within moments, Kiernan's escort group pulls him into a rescue mission inside Arali. But in Arali, this location is above a three-thousand-foot-deep canyon, and Kiernan doesn't like parachuting.
This action-packed short story read fast and easy.
"The Third World War" by Mike Resnick
The United States finds itself the target of a revolt in this future-based story. Several developing countries have banded together to harass and blackmail the USA. The President's advisors tell him how much it would cost to go to war. But the President's response is unexpected.
This story was barely longer than flash fiction but left the reader with an interesting take on international bullying. Fans of SF will sorely miss Mike Resnick.
"Where You Lead, I Will Follow: An Oral History of the Denver Incident" by Erica L. Satifka
Satifka's SF short explores the use of games on smartphones. The author asks, 'Can bad actors use an augmented reality game to harm another country?'
The augmented game Follow the Leader sets goals for its players and gives instructions three or more times a day. With hundreds of millions of people playing, the vast majority of instructions are benign or even socially friendly. But what if someone splits a nefarious task into hundreds of innocent appearing steps? Would anyone be able to see the big picture before it's too late?
The story was an intriguing read, using an engaging way to spin out the unusual plot.
"All Quiet on the Phantom Front" by Brad R. Torgersen
Captain Brown is part of the NATO force battling Russia in this horror-fantasy novelette. Russia is conducting demonic warfare through a lower dimension. The only person who can understand what Russia is doing is Danute, an old witch in the local village.
After a failed séance where three NATO soldiers disappear, Captain Brown goes back to get better instructions from Danute. She listens to their description of the pentagram they created. She tells them that she must do it correctly. But will the NATO brass allow an old witch inside the compound's perimeter to even try?
The author created a well-structured and paced story. And though it was a pleasant story to read, it broke no new ground.
"Anastasia's Egg" by Kevin Andrew Murphy
In this short fantasy, Yevgeny is drinking at a Moscow bar when Vasilisa confronts him. The green-eyed woman of some beauty has known the old man for many centuries, for Yevgeny is the wizard known as Koschei the Deathless, who hid his death in an egg and claimed the mantle of immortality.
Vasilisa still bristles at Yevgeny's role as Rasputin in the death of her descendants, the Romanov family. She is here for revenge since she now holds the knowledge of where Yevgeny's death is hidden. Despite the risks, the old magician decides to play into her game.
This story felt cumbersome as it tacked together pieces of Russian folklore and history into a fantasy plot.
"Tap, Tap, Tapping in the Deep" by Dr. Xander Lostetter and Marina J. Lostetter
Chief Petty Officer Marie O'Reilly finds herself moving over the seafloor's mud off the Russian coast in this SF short. World War III is underway, and orange mushroom clouds have already done their damage to both sides. Her mission is to replace the wiretap on a Russian communication cable.
Petty Officer Hart is her diving partner as they make their way from a US nuclear submarine. They carry a ten-foot wiretap sleeve through the freezing murky water. Hart is in the lead when he makes a bizarre discovery about the Russian cable. In seconds, Marie is in a fight to get back to the submarine alive. But that thing that took Hart is fast.
This was an easy to read story steeped in the knowledge of diving at crippling depths. But the characters were underdeveloped and failed to engage the reader.
"The Ouroboros Arrangement" by Martin L. Shoemaker
Shoemaker's SF short occurs during the Cold War. Curtis, a security analyst, is invited to have lunch with his mathematical genius college friend Leonard.
Leonard begins to spin an elaborate tale about how the Mutually Assured Destruction of the Cold War standoff has holes in it. Primarily, the fact that no false positives have materialized to cause a war. Leonard claims that a higher entity must be overseeing the quantum universes. Curtis listens to his friend's theories, but if he's right, then surely that same entity would stop Leonard from revealing the secret, wouldn't it?
The story read slow, and the author did not reveal its real premise until a third of the way through the plot.
"Last Chance" by Sarah A. Hoyt
Mike is under a compulsion to visit the town of Meeker in this SF short. As he nears his destination on a snowy Colorado day, his car loses all power and function at the Last Chance ranch entrance. Joe, the ranch owner, comes out to rescue him, claiming the power loss is a typical local phenomenon.
Inside the ranch house, Joe introduces him to several other individuals whose nearby cars have also stopped working. The group conversation soon slides into talk about Stargate, with Joe claiming the story exists as a coverup for the real thing.
Mike discovers the others were also following a compulsion. And staying the night in a guest room with drawers full of clothes that match his style and size does nothing to calm Mike's concerns.
The author has condensed a novelette into a short story, leaving the sense that the tale was rushed at the end.
"Oderzhimost" by Deborah A. Wolf
In this curious short fantasy story, a despondent Victor meets Zoya as he prepares to jump into a Russian lake, heartbroken over a lost love. Zoya seems half spirit as she talks the teenage Victor down from ending his life. Many more times, Zoya intercedes love-sick people, gaining a reputation for killing the faithless. Victor was different. Victor was innocent in her eyes.
Many years later, Victor has developed an artificial intelligence system capable of directing Russia's defense systems. He names and models its interface after the mysterious Zoya, who he met for only one magical evening. But when he demonstrates Zoya to the Russian generals, things take an unexpected turn.
Initially, this story was heartwarming and promised to be a fascinating fantasy, but it ended as a typical treatment of the dangers of AI.
"No Plan Survives First Contact" by Stephen Lawson
Lieutenant Amos finds himself behind enemy lines during World War III in this SF short. The new Soviets have acquired advanced technology from a recently crashed alien spacecraft, and now they occupy a chunk of the northern states.
After energy rays shot down the mission helicopter, Amos and Mongo, a swarthy operator, are the sole survivors. They were on a futile operation to gather intelligence on a Soviet radio facility in Kansas. Continuing the mission against the enemy who has cloaking devices and energy weapons would seem to be equally futile, but Amos and Mongo have nowhere else to go.
This was an enjoyable action-packed story with an unexpected twist at the end.
"The Scholomance" by Ville Meriläinen
Set in a Russian school of the occult, this short horror tale describes when Vasilyev of the KGB visits the mysterious school. The Soviet General Secretary has disappeared, and suspicion falls on the Scholomance.
Vasilyev had reluctantly sent his daughter, Luna, to this same school seven years before. And even if he finds no news of the General Secretary, he can at least see Luna again. But Luna isn't so glad to see her father and only reluctantly lets him stay. But to everyone's surprise, his presence disturbs the local demons.

The story moved at a good pace. However, while it was a decent story to read, it broke no new ground in this genre.
"It's a MUD, MUD World" by Peter J. Wacks and Bryan Thomas Schmidt
Steve has just escaped from Hawaii with his sister Rhonda on a seaplane in this SF short. He saw American ICBMs fired from Russian waters and targeting the naval base at Honolulu. But how could that be? Rhonda is a game-playing computer geek, a female Matthew Broderick, but wasn't sure what it meant either.
Now at the naval base in California, Steve sees the same scenario being played out. American ICBMs are targeting the west coast, and now Soviet ICBMs are targeting Russian bases. Programming code scrolls across his screen. All he can hope is that Rhonda and her friends from Berkeley can find a way to stop the real war game.
In this story, any similarity to the movie WarGames was entirely intentional. The plot was simplistic, like the early SF pulp fiction stories in the fifties and sixties.
"A Thing Worth a Damn" by Alex Shvartsman
In this short alternative history SF story, Russia has stationed Olag in the Socialist Republic of California. He's getting old and doesn't care much for the assignment. His superiors order him to take a prisoner, Sterling, to Cuba. They had caught Sterling trying to cross the border into US Nevada, and the only reason they didn't summarily execute Sterling was because of his scientific background.
On the drive through the California backroads toward Sacramento, Olag's truck is attacked by starving locals, desperate from the two-year famine. Olag finds himself caught between the desperate locals and a scientist who claims to know a priceless chemistry secret.
This short story was interesting to read, though its plot contained few unpredictable twists.
"Evangeline" by C. L. Kagmi
Evangeline has the Second Sight in this short fantasy. Given a picture of someone, she can sense if they are alive or dead. It is a heartwrenching gift to have, and people come to her seances with photos of loved ones stationed overseas in the war. Most times, she senses they're alive, but too often, she finds herself transported to their death.
The government wants to exploit her abilities for its own purposes and has placed a spy in her midst. When the army arrests Evangeline, a general coerces her to use her Second Sight to capture details about executed Russian traitors. But the US general has no idea of the bigger picture or the source of Evangeline's power.
This was a nicely constructed story that kept the mystery until the end. And the author left the reader to decide what the ending meant.
"Bleak Night at Bad Rock" by Nick Mamatas
Set in Cyprus, this short fantasy tells the story of an unusual incident during the war between Greece and Turkey. A Greek captain hears that a giant grey wolf attacked his command of eight men, leaving two survivors.
Captain Kiriakou doesn't believe the surviving communist sympathizer who brought back the other mortally wounded survivor. The sympathizer claims the wolf can't harm him because it was a djinn, and he doesn't believe in such things. Exasperated at the communist's lies, the Captain takes him outside to execute him but first decides to prove his guilt by calling on the djinn to appear. It is a poorly judged decision.
The story was confusing at times and seemed too long for the plot's complexity.
"Zip Ghost" by T. C. McCarthy
A special investigation unit works in the Cambodian jungle in this SF short. Spencer has a new partner from special forces, and the rugged man is confused, believing Spencer is doped up.
But Spencer is fighting a multi-dimensional war and is going into the jungle to find Ivan, a Russian genius working on opening new universes looking for demons. Spencer has been searching for Ivan for the last two years and recently detected telltale signs of Ivan's work. Can Spencer manage his confused partner and Ivan's latest weapons to complete his mission?
The prose was a little slow initially, but the plot was intriguing and kept the mysteries and action going until the end.
"Deniability" by Eric James Stone
In this intriguing story, Talia is a gifted psychic involuntarily employed by the CIA. After the assassination of JFK, the USA and Russia have fought an assassination war of tit-for-tat. And after the death of four Presidents and three General Secretaries, the CIA wants Talia to kill General Secretary Gromyko through apparent natural causes.
Talia uses her telekinetic powers to induce Grpmyko to suffer a heart attack, killing the General Secretary remotely. After the apparent natural death, President Reagan calls the next General Secretary and offers a truce. Realizing they cannot stop this new weapon, the Russians agree to stop the assassination war, and Talia is free at last. But then John Hinckley Jr. waits for President Reagan outside the Washington Hilton.
The pace was steady, and telling the plot in flashbacks was intriguing, keeping the reader engaged until the end.
"Second Front" by John Langan
Astronaut Sandy Anderson finds herself at the Armstrong lunar base in this alien-invasion novelette. Earth is still in the throes of a 'limited' nuclear war between the superpowers, leaving the moon-base looking down on a partially blackened home planet.
When the alien 'red lobsters' suddenly arrive and attack the rival Russian base, Armstrong base watches, hoping they won't be next. When they find some dead aliens on the surface, they collect parts of their red exoskeletons and discover these shell-like parts are still alive.
After destroying the Russian base, the aliens turn their attention to Armstrong, and Sandy finds herself fighting for humanity's survival.
Though the prose was a little slow in places, the plot was engaging and the ending unexpected.
This was an enjoyable collection of speculative fiction presenting several interesting takes on WWIII scenarios between the US and Russia. The overall quality was high.