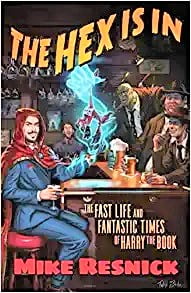 The Hex Is In:
The Fast Life and Fantastic Times  
by 




Mike Resnick
Edited by Alex Shvartsman/Foreword by Lezli Robyn
(UFO Publishing, August 18, 2020, 270 pp., pb)
"Occupational Hazard"
"Visitors' Night at Joey Chicago's"
"The Hex Is In"
"Christmas Eve at Harvey Wallbanger's"
"A Very Special Girl"
"A Most Unusual Greyhound"
"Snatch as Snatch Can"
"A Very Formal Affair"
"The Blimp and Sixpence"
"A Weighty Affair"
"The Kid at Midnight"
"The Evening Line"
"The Fastest Dragon"
"The Mayoral Stakes"
"The Great Manhattan Eat-off"
Reviewed by C.D. Lewis
The new Mike Resnick collection The Hex Is In gathers fifteen short stories, including one new story, "The Fastest Dragon," the only story reviewed here. In the Introduction, Carol Resnick explains that she and Mike shared a love of Damon Runyon's stories and that Mike made the stories in this collection for Carol because she begged for more Runyon after reading all the extant Runyon. So it is that Harry the Book inhabits the Mob-run Manhattan that inspired Guys and Dolls–itself inspired by a Runyon short. Maybe Guys and Dolls had fewer zombies, I'll grant. Resnick's trademark humor makes the collection a treat for anyone who likes mobsters, urban fantasy, or comedy.
Mike Resnick sets the comic urban fantasy "The Fastest Dragon" in the alternate Manhattan wherein dwells Harry the Book, whose criminal associates are more worried about magical hijinks than federal agents. The strength of "The Fastest Dragon" lies—as it does in the rest of the collection—in its humor: unexpected turns lead a hapless protagonist into peril while he's doing business taking bets on a dragon race even as the contestants are changing. Colorful gambling-addict customers, criminal race patrons, and sorcerous scumbags add color. As often occurs, Harry the Book takes bets that leave him in a precarious position when a contest develops unexpectedly. In the resolution, logic meets magic to resolve a puzzle involving racing rules. Clever, funny.
---
C.D. Lewis lives and writes in Faerie.