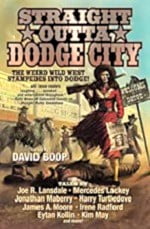 Straight Outta Dodge City
Edited
by
David Boop
(Baen, February 2020, 270 pp., tpb)
"The Hoodoo Man and the Midnight Train" by Joe R. Lansdale
"As Long as Grass Shall Grow" by Mercedes Lackey
"A Simple Pine Box" by James Van Pelt
"Fang for Fang, Fire for Blood" by Ava Morgan
"Junior & Me" by Harry Turtledove
"The Dead Can't Die Twice" by Samantha Lee Howe
"The Adventures of Rabbi Shlomo Jones and the Half-Baked Kid" by Eytan Kollin
"Rara Lupus" by Julie Frost
"Stealing Thunder from the Gods" by Kim May
"Kachina" by James A. Moore
"Finding Home" by Irene Radford
"The Murder of the Rag Doll Kid" by David Boop
"Hell-Bent" by Tex Thompson
"Ghost Men of Sunrise Mesa" by Jonathan Maberry
Reviewed by Chuck Rothman
Straight Outta Dodge City is the third and final installment of a series of horror anthologies set in the old west.
"The Hoodoo Man and the Midnight Train" by Joe R. Lansdale starts it off with James, the apprentice to Zach, a gunmaker and magic man who owes a hundred good deeds. A strange man comes to the gunshop asking for a hoodoo man like Zach in order to rescue Jenny, who due to him, was taken onto the Midnight Train, where she is lost. Zach agrees to help out the man, but the stranger is not exactly telling the truth. Nice setting and some good twists keep the story moving.
"As Long as Grass Shall Grow" hints at its general idea from the title. Set at the Oklahoma Land Rush, Andy Falk is an Elemental Master, able to summon spirits. He is charged by Henrich Baumgartner, an Earth Master, to lay claim to a certain section of land by any means. He also meets Alice Brown, an Air Master who has the same goal, but cannot make the claim herself. Of course, they run into problems by claim jumpers and other unsavory people. Mercedes Lackey writes a strong story where Andy is tested and has to hold off the land until it can be registered. Nice adventure with very appealing characters.
James Van Pelt contributes "A Simple Pine Box," where Emmanuel Sprig is a photographer specializing in death photos and who carries a coffin in his wagon. He begins to discover that the coffin has miraculous abilities, letting the deceased awake refreshed and happy. The story is science fiction and reminiscent of a certain SF film of the 80s. I think the problem here is that the story merely reveals its origins, which isn't particularly surprising. It does, however, touch upon a little romance.
"Fang for Fang, Fire for Blood" by Ava Morgan introduces Cora Bishop, a Kansas restaurant owner who is working when a preacher's son is killed in a particularly brutal manner. It appears to be a wolf, but Cora knows better, as her husband had been killed in precisely the same manner. But it turns out that Cora has abilities of her own and a plan for revenge. Good characterization makes the story more than just a twist.
"Junior & Me" by Harry Turtledove is easily the most unusual in the book. It's a version of the old west in an alternate world where dinosaurs are the dominant species. Rekkik is traveling after being jilted by a female he was sweet on, and is asked by a friend to ride blunderbuss (no shotguns) on a coach. Rekkik takes on the job, and, of course, runs into trouble. The worldbuilding here is top-notch and the world is precisely delineated. Part of the fun is seeing how Turtledove puts things together and uncovers the world seamlessly and without getting bogged down in explanation.
Samantha Lee Howe's "The Dead Can't Die Twice" is the story of Sheriff Deane, who investigates the death of a man in his town. The victim is carrying a gun that fascinates him and he takes it with him. But other people begin dying and the gun is always involved, even after the sheriff locks it away. Creepy concept with an interesting background, but its payoff is only just OK.
"The Adventures of Rabbi Shlomo Jones and the Half-Baked Kid" is a reworking of the golem legends. Shlomo Jones is traveling in the west with a coffin full of dirt and is asked by some dubious cowboys to help oust some Indians who have taken over a gold mine. He forms the golem out of the dirt and goes to help, with conditions: the golem is not allowed to kill, since once it starts, it will never stop. But the Indians have their reasons for their actions and things get complicated. Eytan Kollin has created some very appealing characters and seems to be setting up a series that could be fun to follow.
The title of "Rara Lupus" by Julie Frost gives away that it is a werewolf story. Channie is one, and works in a circus, turning into a wolf as part of the sideshow. One night a strange man comes to the show. His name is Ramon Lanahan and he offers her a chance to escape from the demeaning role and have some control over her changes. But the procedure goes wrong. I liked Channie and found the resolution satisfying, as well as the rationale for the werewolves.
Kim May's contribution, "Stealing Thunder from the Gods," is set in an alternate version of the West where airships are common. Anli Wong-McKinnon works with her husband Josiah carrying passengers and cargo. Two of their current passengers, Richard Carter and his wife Delphinia seem suspicious, and when the ship is attacked by a giant bird—bigger than their ship—they are forced to reveal their secret. Definitely not run-of-the-mill fantasy, with a threat that is both frightening and sympathetic.
In "Kachina" by James A. Moore, John Crowley, who hunts monsters, discovers a terrible massacre and goes to find the cause with the aid of Lucas Slate (a skinwalker) and the ghost of an old man who wants revenge. They come face-to-face with the cause, and go after him. Very good characters and mythology, but the resolution is just a battle scene. I think it needed something more.
Irene Radford's "Finding Home" is the story of Katie Murphy, who, despite her name, comes from a family from Siberia that long ago moved to America. Her house god, Kormos, is not happy with their home or the fact that Katie is trying to use steam power for her loom. But all seems especially bad when they are menaced by a giant hairy humanoid monster—yeti/bigfoot. The best part of the story was the portrayal of the monster, and the resolution, where it is revealed to be more than just a rampaging evil.
"The Murder of the Rag Doll Kid" by David Boop is a ghost story, where the title character, Matthew Ragsdale, sees himself dead and goes to avenge himself. The Kid slowly searches for the person behind it in a story that has enough twists to keep it interesting.
Tex Thompson is the perfect name for a contributor to this anthology (not to mention the name of one of the first comic book superheroes, debuting with Superman) and his "Hell-Bent" is a top-notch story. Holly is a patent medicine salesman who, after surviving an accident, goes into the town of Hockit to try to sell his wares. Holly thinks he's more clever than the hicks in the town, much to his horror. A good example of a man getting his comeuppance due to the flaws in the character. Sounds like tragedy, I suppose, but the story is too much fun for that..
"Ghost Men of Sunrise Mesa" by Jonathan Maberry follows Red MacGill, a man who handles strange jobs involving ghosts and other supernatural beings. He travels to the farm of Mathew Hollister, who is seeing some strange creatures in a nearby cave, human shaped but not human. When investigatiing, Red comes across a young woman with a strange story to tell, one that ties in with a classic novel of science fiction. The concept works quite well, and the story is generally well made, but I found the ending disappointing, since it cuts away from the climax—one where Red is in serious danger—to reveal him surviving it without telling how.
I've now read two of the three books in the series and both were first-class collections. No real duds here and some major gems.
---
Chuck Rothman's novels Staroamer's Fate and Syron's Fate are available from Fantastic Books.