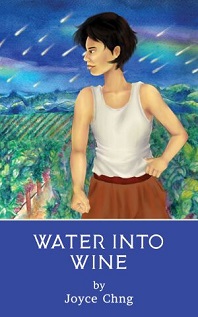 Water into Wine
by Joyce Chng
(Annorlunda Books, September 27, 2017, 62 pp., pb)
Reviewed by Christos Antonaros
Even if humankind colonizes other planets people will always be at war, for war is eternal. A recently widowed mother inherits a vineyard on planet Tertullian VI, where she is trying to make a new start with her three children and mother. Along with the workers who assist with her vineyard comes Galliano, with whom she falls in love. When the war literally reaches their doorstep, each character must make crucial decisions, creating deadly secrets which will affect the people attached to them. Most importantly, it will affect everybody's perspective of the present situation and of what the future promises for them.
This novella has a lot of romance, dramatic tension and suspense due to the backdrop of the war setting, and eloquent symbolism; though not as much of the integral science fictional elements as one might have expected. The family's need of a father figure to maintain the family unit is presented brilliantly, with the mother receiving hormone pills to transform her into a father. An initiative she regrets later when she meets Galliano.
The war is brutal and dehumanizing. It guides the plot and creates a sense of uncertainty and insecurity for the mother and her family to the very end.
As mentioned above, while the SF element is present it is rather weak, for we read about space travel and planetary colonization all the time. Other than this science fictional setting the story could easily be seen as a war romance story, set anywhere on Earth and at almost any time.
In conclusion, if you're looking for a romantic, suspenseful tale then you won't be disappointed with Water into Wine.