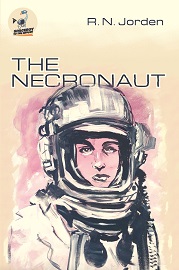 The Necronaut
by
R. N. Jorden
(Spaceboy Books, April 2017, pb, 120 pp.)
Reviewed by Chuck Rothman
Spaceboy Books is a small press that is getting off the ground by publishing science fiction chapbooks. One of their first offerings is "The Necronaut" by R. N. Jorden, the story of Major Karen Keller, an astronaut who is about to be sent up to a mysterious object in space. Others have tried, with disastrous results, and Karen is worried about suffering the same fate. It's even worse because Mission Control is keeping her in the dark about important parts of the mission.
The voice of the story is excellent and kept me wanting to read more as the background of Karen and her family is slowly revealed. I'm afraid that I didn't care too much for the ending, which attempts to be profound but is little more than silly. Still, there's a lot here to like and it's certainly an entertaining read.
This is a promising way to start out a line of books, though, and I'd keep an eye on Spaceboy to see what comes next.
---
Chuck Rothman's is currently writing a fantasy novel. His novels Staroamer's Fate and Syron's Fate are available from Fantastic Books.