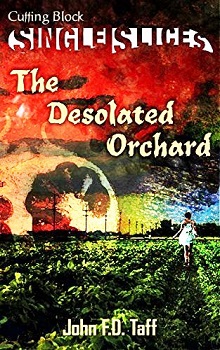 The Desolated Orchard
by John F. D. Taff
(Cutting Block Books, kindle edition June 2016,
print edition forthcoming)
Reviewed by Chuck Rothman
"The Desolated Orchard" is part of what seems to be a series of short chapbooks, but this particular novelette is certainly not amateur work. John F. D. Taff tells the story of Houghton Reef, an itinerant farm worker who befriends the (much) younger coworker Tim McCurry. Reef seems a bit mysterious, with a young girlfriend, and when Tim starts to become enamored of the daughter of the farm owner, Reef begins to tell his tale—about how in the Depression he was doing farm work and ended up falling in love with a particular farmer's daughter named Percy. She also becomes attracted to him, first in a purely sexual nature, but slowly into something more—which brings out some scary forces. I had not expected a lot from this, but it turned out to be an engaging story that turns into a dark version of the old joke about the farmer's daughter. It's something that stuck in my mind after I finished reading.
---
Chuck Rothman's novels Staroamer's Fate and Syron's Fate were recently republished by Fantastic Books.