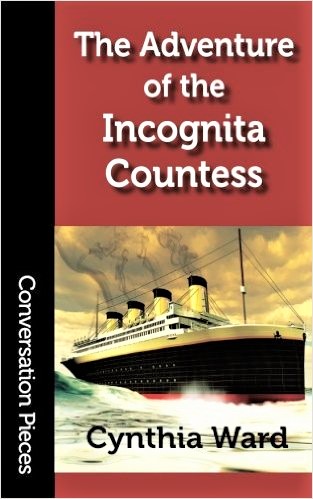 "The Adventure of the Incognita Countess"
by Cynthia Ward
(Aqueduct Press, January 2017, pb, 126 pp.)
Reviewed by Michelle Ristuccia
"The Adventure of the Incognita Countess" follows secret agent Lucy Harker onto the Titanic of 1912, post-Martian invasion. Harker trails American Major Archibald Butt to ensure that the scientific secrets of Prince Dakkar's the Nautilus stay out of German hands. Her job is complicated by her position as an unattached woman in 1912 European society—oh, and by the discovery of a vampire on the ship, which she must quietly dispatch with her own supernatural powers, if she can convince herself that she's not in love with vampiress Countess Karnstein.
Cynthia Ward brings readers an entertaining historical fiction enhanced by references to various fandoms alongside actual historical figures: Major Archibald Butt, Sherlock, Captain Nemo, Countess Karnstein, and let's not forget heat rays and other Martian technology. Ward deftly incorporates details that heighten the realism of Harker's bizarre cross-genre world, from Harker's dismissal of classism, to the clean energy of the Martian-inspired Titanic engines. Lucy's philosophical musings and delectable vocabulary recall the style of Sir Arthur Conan Doyle while delving into questions of emotion and personhood, responsibility and morality, in a way that emphasizes the dehumanization of the other—the other species, the other class, the other gender.
---
Michelle Ristuccia enjoys slowing down time in the middle of the night to read and review speculative fiction, because sleeping offspring are the best inspiration and motivation. You can find out more about her other writing projects and geeky obsessions by visiting her blog.