Past Masters: & Other Bookish Natterings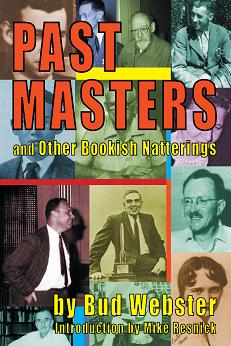 by Bud Webster
Introduction by Mike Resnick
(Merry Blacksmith Press, June 2013, tpb, 402 pp.)
Reviewed by Chuck Rothman
For the past several years, Bud Webster has been writing his "Past Masters" columns in various places on the Internet: short essays on science fiction authors of the 1950s and 60s. These, as well as other of Webster's works on books and writers, have now been collected by Merry Blacksmith Press into one volume.
Webster chooses authors whose accomplishments have been obscured by time, but whose influence during their lifetime was immense. Most worked in short stories, and reprinted short stories are much harder to find (not to mention that the many fine writers working since the 60s can crowd out the older stuff). All of his choices are familiar names to older readers: Cyril Kornbluth, William Tenn, R. A. Lafferty, Fredric Brown, Henry Kuttner, C.L. Moore, Leigh Brackett, and Zenna Henderson, to name a few. His choices are impeccable; I grew up about the same time as Webster, and nearly all the authors covered were either major favorites of mine, or had written at least one story that I fell in love with.
The essays are part biography, part personal history. Webster grew up reading these authors (so did I, for that matter), and not only explains what made them great writers, but also what makes them great to him. This is clearly a labor of love. You can sense Webster's joy in reading in the way he talks about the stories and book. He's more than willing to throw in a joke or pun (especially in the chapter titles like "A Kuttner Above the Rest (But wait, there's Moore!)").
I found a lot here that was new. Webster's first discussion is about Nelson Bond, a name that rang no bells for me – until I happened upon an old anthology of mine and discovered he had written one of my favorite stories in it. He gives tidbits such as the origin of the "M" in Cyril M. Kornbluth, how Leigh Brackett got started in films, and how Clifford D. Simak pronounced his last name. His analysis of R. A. Lafferty brings out facts about his conservative politics and staunch Catholicism that makes a contrast between the wild New Waviness of his stories.
This isn't pure hagiography, though. Even while loving an author, Webster is willing to point out flaws and admit what elements of their work are dated.
The book also collects other essays on writing and books, including some of his short pieces for the "Curiosities" column in Fantasy and Science Fiction. Each bio comes with an extensive bibliography of the author's works.
If you have any interest in the lesser known geniuses of science fiction of the 50s and 60s, this book is a must, and even if you don't, this is a great place to discover new favorites.
---
Chuck Rothman's novels Staroamer's Fate and Syron's Fate were recently republished by Fantastic Books.