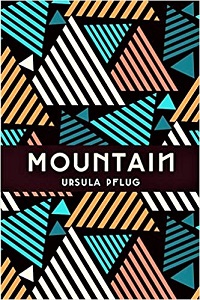 Mountain
by
Ursula Pflug
(Inanna Publications, May 24, 2017, pb, 99 pp.)
Reviewed by Victoria Silverwolf
The speculative content of this novella is subtle. Small hints reveal that it takes place in the near future, and that modern technological society is slowly falling apart. There is no sudden apocalypse, but it becomes apparent that large numbers of people have to live as squatters in abandoned buildings or on public land. Certain events seem fantastic, giving this story the feeling of magic realism.
The narrator is a teenage girl, the daughter of divorced parents. Her father, who does not appear until the end, is a successful musician. With him, she leads a life of credit cards and shopping malls. Her mother travels to communal gatherings, where she uses her technical skills to help those who live there survive off the land with do-it-yourself technology. During one such excursion, she leaves her daughter behind, promising to return in a few days. While the daughter waits, she becomes friends with a boy who has secrets, which remain unrevealed until halfway through the novella. She also records the stories of other young people who have come to the gathering. (These narrations incorporate writings that the author published previously.) Some of these stories are realistic, while others are fantasy. At the end, the narrator finds out what happened to her mother, and matures from adolescence to adulthood.
This is a quiet story, with futuristic and magical details far in the background. It seems intended for young adults, although it contains themes that are not appropriate for children. Readers seeking a thoughtful work of literature with believable characters, written in a simple but elegant style, are sure to be pleased.
---
Victoria Silverwolf believes this is her last review for 2017.