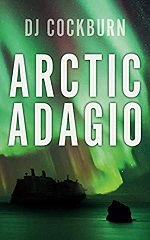 Arctic Adagio
by
DJ Cockburn
(Annorlunda Books, May 2019, pb, 35 pp.)
Reviewed by Victoria Silverwolf
"Arctic Adagio" by DJ Cockburn is a murder mystery set in the near future. Extreme income inequality results in an elite set of the wealthy, a middle class who work for them, and a large number of people who barely survive. The narrator is a former policeman who works as a security officer aboard a heavily armed, luxurious cruise ship for the elite.
During a voyage to the Arctic, a surveillance camera records a disguised figure tossing a passenger overboard. The narrator is under pressure from both the Japanese government, which wanted the victim for attempted bribery, and the powerful company that owns the ship, which will exile the crew into poverty if they do not find the killer.
As a mystery, the story is logical, with fair clues and enough misdirection to lead the reader astray. As science fiction, it creates a plausible dystopian future, with a provocative point of view concerning the consequences of deregulation. The author's style is clear and readable, and the characters come to life as fully developed individuals.
---
Victoria Silverwolf has never been above the Arctic Circle.