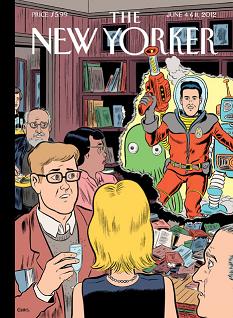 The New Yorker, June 4 & 11, 2012
(Special Science Fiction Issue)
"The Republic of Empthy" by Sam Lipsyte
"My Internet" by Jonathan Lethem
"Black Box" by Jennifer Egan
"Monstro" by Junot Diaz
Reviewed by Chuck Rothman
Satan and his demons are having a snowball fight with a squadron of flying pigs under an azure moon: The New Yorker has published a special science fiction themed issue. The magazine has always been indifferent or openly hostile to the genre, and the cover reflects this breakthrough, showing an astronaut, an alien, and robot crash what looks like a literary party, to the dismay of the people there. They have published some SF in the past (along with a few non-genre stories by Stephen King), but this may be the first time they truly embrace the genre.
"The Republic of Empathy" is the first of four short stories in the issue. It's told by multiple viewpoints, each independent but with a connection with each other. It starts with William, whose wife wants another baby and his misgivings about it and circles around via other characters. Despite its title, I didn't have a lot of empathy for the characters in Sam Lypsite's story; too much of it was mundane and covering old ground. The science fiction element seemed limited to a single section of conversation between a sentient bomb and its controller — interesting, but too arid.
Jonathan Lethem is the only short story author in the issue with genre credits (though Ray Bradbury, Anthony Burgess, William Gibson, and Ursula K. LeGuin do contribute essays). His "My Internet" is an idea story, with the idea being that there is a separate, secret, "members only" Internet, limited to only 100 people, of which the narrator is one. But there's not much here other than the idea and a few philosophical points. Generally unsatisfying.
"Black Box" seemed to have its origins in a series of tweets trying to tell a story using that limitation. The story itself is a series of instructions, exhortations, and philosophical musings. But the plot is something far different: a surprisingly slam-bang action story about a woman sent as a high-tech spy to seduce a bad guy (terrorist or drug dealer, perhaps; she doesn't know) in order to gain vital information. Each instruction obliquely describes the action, painting a vivid picture by giving a dry bit of information whose implications for the character and the story are far more vivid than what is actually said. It takes a little bit to understand what Jennifer Egan is doing, but once you catch on, the story sweeps you along into the adventure.
The final story is Junot Diaz's "Monstro," a literary story that clearly shows a real feel for the SF genre. It's about "the Darkness," a strange fungus-like disease that crops up on Haiti. The narrator is from the Dominican Republic, ignoring the disease as one of many that seem to have run wild in the world of the story. He's more interested in his friend Alex, a mad photographer, and Mysty, a woman who fascinates him. The disease becomes more and more frightening and turns into something far more scary and dangerous than a fungus. The story is clearly the beginning of a novel; it ends with the mystery deepening and the characters just beginning to look into it. I also think that too much time is spent on describing Mysty and Alex; they are sketched in long, leisurely strokes that overstate the point if this were a short story, and which frontloads too much information for the first chapter of the novel. However, I liked a lot about the story. The SF elements do not seem tacked on, and I would look forward to seeing the complete work.
So the scorecard is two very good stories and two duds. Not too shabby for a magazine that's been so hostile to the genre for decades. And when The New Yorker speaks approvingly of my two favorite current TV series' — Community and Doctor Who — it's clear that science fiction has truly crashed this literary party.