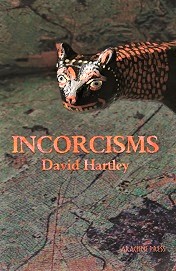 Incorcisms: Strange Short Stories
by
David Hartley
(Arachne Press, May 2021, pb, 66 pp.)
"The Incorcist" (reprint, not reviewed)
"Mayday"
"Silver Birch" (reprint, not reviewed)
"Load Bearing" (reprint, not reviewed)
"Mothering" (reprint, not reviewed)
"Daylight Savings" (reprint, not reviewed)
"Scaffold"
"Preserved"
"The Midnight That Never Came"
"Turning Mermaid"
"A Remnant Low"
"Help Yourself" (reprint, not reviewed)
"The Thrower and the Catcher"
"'No' Has Too Much of a Habit of Knowing in Advance"
"Wakes Week" (reprint, not reviewed)
"Different, Somehow"
Reviewed by Victoria Silverwolf
The subtitle of this collection is quite accurate, because all the tales included are very odd, and vary in length from two paragraphs to barely over six pages.
"Mayday" is the name of a village, from which more than five hundred people have vanished. In reverse order, the reader learns of the strange history of the place. The author creates a haunting mood, but the explanation for the disappearance remains opaque.
"Scaffold" is a surreal account of a woman with construction equipment and laborers on her face. The premise is certainly original, although the purpose of this tiny story is difficult to see.
In "Preserved," an unknown one-armed man shows up in every picture taken by a photographer. The resolution is eerie, although a pun on armless and harmless seems out of place.
"The Midnight That Never Came" may be the collection's most mysterious tale, as it describes two people working in a strange car park. The narrative is full of words from foreign languages, some of which may be imaginary, adding to the difficulty of understanding the story.
"Turning Mermaid" is, by far, the shortest piece in the book. In one hundred words, it tells of a woman who claims to know a way to become a mermaid. There is no real plot, and this little work is best considered as a prose poem.
"A Remnant Low" features elephants that are raised like crops. The main character must pull her beasts from the ground in order to avoid a cyclone. Like many of the stories in this collection, the premise is more interesting than the plot.
"The Thrower and the Catcher" is the book's longest and most fully developed story. It tells of a man who hurls rainbows, in the form of large balls, into the air, and of the man who retrieves them. What might have seemed an overly whimsical, even silly notion comes to life through the use of a realistic narrative style.
"'No' Has Too Much of a Habit of Knowing in Advance" is a confusing account of an unexplained something that makes it necessary to lock houses inside giant chains. Even in a collection full of bewildering tales, this one is notable for its ineffability.
"Different, Somehow" features a family that returns from a vacation, only to find that their home is strangely altered. The explanation is a chilling one, even if this story is a minor one.
---
Victoria Silverwolf thinks brief reviews are appropriate for brief stories.