Fiction River #36: Dark and Deadly Passions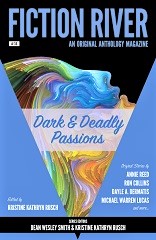 edited by
Kristine Kathryn Rusch
(WMG Publishing, March 30, 2021, pb, 236 pp)
"Some of This Is True" by Ron Collins
"Missing Carolyn" by Annie Reed (not genre, not reviewed)
"Zero Tolerance" by Dayle A. Dermatis (not genre, not reviewed)
"Lost and Found" by Laura Ware (not genre, not reviewed)
"Tilting at Windmills" by Lauryn Christopher (not genre, not reviewed)
"Not Getting Away With It" by Michael Warren Lucas (not genre, not reviewed)
"With This Ring" by David Stier (not genre, not reviewed)
"Twisted but Never Broken" by Rob Vagle (not genre, not reviewed)
"What Breaks a Man" by Kari Kilgore (not genre, not reviewed)
"Grief Spam" by Kristine Kathryn Rusch (not genre, not reviewed)
 Reviewed by Victoria Silverwolf
Most of the stories in this collection of tales featuring characters dealing with strong, unpleasant emotions are crime fiction, often violent. For a change of pace, there is also a tearjerker about a private investigator looking for a sick child's beloved teddy bear, and historical fiction set during the American Civil War. A single work qualifies as borderline fantasy.
"Some of This Is True" by Ron Collins is narrated in a disjointed fashion that leaps back and forth in time, as well as interrupting the storyline to discuss the main character's background. The most important section deals with the narrator as a boy, returning from the funeral of an uncle. During the road trip, he plays a game with his brother, in which dice determine the events in an imaginary baseball game. Years later, as an adult with a teenage daughter, he looks back on this journey. The ending reveals the narrator's actual situation.
What qualifies this story as fantasy is the fact that, as a youngster, the narrator entered the universe of the fictional baseball game, interacting with the players as if they were real. It is possible to interpret this as strictly the boy's imagination, but it is described in such a detailed and vivid way that it seems more likely that it is actually happening. (The story's title is indicative of its ambiguity.)
The work features major allusions to Ray Bradbury's classic story "The Veldt," adding to the theme of a blurring between the real and the imaginary. Readers familiar with Robert Coover's novel The Universal Baseball Association, Inc., J. Henry Waugh, Prop. will notice a strong similarity, as both works feature baseball games, simulated with dice, that become real.
The author writes very well, and the shocking climax carries a powerful emotional impact. Some sections of the narrative, labeled as "asides," offer deeper insights into the main character, but may not be entirely relevant to the plot. The resemblance to Coover's novel, presumably coincidental, may make the story seem less original to some readers.
---
Victoria Silverwolf is surprised that she only had to review one story.