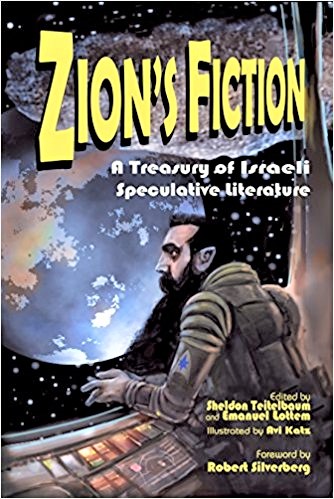 Zion's Fiction: A Treasury of Israeli
Edited by
Sheldon Teitelbaum and Emanuel Lottem
(Mandel Vilar Press, September 25, 2018, pb, 320 pp.)
"The Smell of Orange Groves" by Lavie Tidhar
"The Slows" by Gail Hareven
"Burn Alexandria" by Keren Landsman
"The Perfect Girl" by Guy Hasson
"Hunter of Stars" by Nava Semel
"The Believers" by Nir Yaniv
"Possibilities" by Eyal Teler
"In the Mirror" by Rotem Baruchin
"The Stern-Gerlach Mice" by Mordechai Sasson
"A Good Place for the Night" by Savyon Liebrecht
"Death in Jerusalem" by Elana Gomel
"White Curtain" by Pesakh (Pavel) Amnuel
"A Man's Dream" by Yael Furman
"Two Minutes Too Early" by Gur Shomron
"My Crappy Autumn" by Nitay Peretz
"They Had to Move" by Shimon Adaf
Reviewed by Victoria Silverwolf
This volume collects science fiction and fantasy by Israeli authors. Although the stories are reprints, many are translations from Hebrew or Russian, and will be new to readers of English. The book also contains an appreciative foreword by SFWA Grand Master Robert Silverberg; a long and informative introduction by the editors, detailing the history of Israeli speculative fiction; and an informal afterword by Aharon Hauptman, editor of Fantasia 2000, now defunct, which was the first Israeli science fiction magazine. Israeli artist Avi Katz provides illustrations for each story.
"The Smell of Orange Groves" by Lavie Tidhar shifts back and forth in time, which is appropriate to its theme. Through advanced technology, a man passes his memories down to his descendants. Although there is little plot beyond this single event, the author creates a complicated, high-tech future, requiring careful reading.
In "The Slows" by Gail Hareven, most people have children who grow almost instantly into adults. Those few women who bear ordinary infants live in special preserves as second-class citizens. Although simple, this story is a powerful allegory of the oppression of one group by another.
"Burn Alexandria" by Keren Landsman is a complex story, often difficult to follow. Two characters, their true nature unrevealed for some time, fight to protect Earth from multiple alien invasions. A time-traveling library containing all human knowledge arrives, leading to mutual revelations and a crisis. The many speculative elements in the plot require dense exposition, which may frustrate some readers.
In "The Perfect Girl" by Guy Hasson, some people are able to read the thoughts of the recently deceased by touching their bodies. A young woman at a school for such persons comes to identify too closely with a dead woman, and must learn to recover her own selfhood. The idea is an intriguing one, but the story is too long for a straightforward plot.
"Hunter of Stars" by Nava Semel is a brief mood piece. An unexplained atmospheric phenomenon dims the Sun and Moon, and makes the stars invisible. The narrator is a child born after this event, who knows the stars only as a legend. This is a gentle, appealing character study.
"The Believers" by Nir Yaniv takes place in a world where God violently punishes those who violate His rules in any way. Accidentally mixing milk and meat, for example, results in the bloody death of the sinner. There are also fallen angels living among mortals, and a machine designed to carry human beings to Heaven in order to confront their wrathful deity. This is a daring theological fantasy, which is likely to seem blasphemous to persons of faith.
"Possibilities" by Eyal Teler is a confusing tale, involving an author who kills himself via a time machine and a woman who can perceive alternate realities. A famous writer of fantasy is also involved. This story seems to be a tribute to the power of fiction, although its intent is not entirely clear.
The protagonist of "In the Mirror" by Rotem Baruchin is a woman who can change the bad things in her life by breaking a magic mirror. The alternate version of herself within the glass suffers the consequences instead. The plot is simple but effective.
"The Stern-Gerlach Mice" by Mordechai Sasson is a chaotic story, full of robots, super-intelligent mice who can change size, and a narrator who can hear thoughts. These disparate elements do not always work together perfectly.
An unexplained disaster kills all but a few in "A Good Place for the Night" by Savyon Liebrecht. There are also mysterious funnels of air that suck people away. A few survivors gather at an abandoned house. This is a hopeless, depressing story. It begins in a surreal, sedate style, with long sentences and paragraphs. What happens at the end is disturbing, and may upset sensitive readers.
"Death in Jerusalem" by Elana Gomel features a woman who falls in love with a man who is one of many incarnations of death. The author creates a unique modern myth. The story is elegantly written and compelling.
In "White Curtain" by Pesakh (Pavel) Amnuel, the narrator loses a lover to a brain tumor. A man who can manipulate multiple versions of reality is unable to bring the beloved back to life, until a sacrifice is made. Although emotionally powerful, this story suffers from the fact that the man's ability is unexplained, despite much scientific jargon.
"A Man's Dream" by Yael Furman takes place in a world where some people can change reality by dreaming. Against his will, a man keeps bringing his wife's friend into bed with him when he dreams of her. Although the plot begins like a sex comedy, it becomes a tragedy. The theme will remind readers of Ursula K. LeGuin's classic novel The Lathe of Heaven. This comparison is not entirely favorable to the story.
In "Two Minutes Too Early" by Gur Shomron, three children compete in a contest to assemble an extremely difficult three-dimensional puzzle. The elderly man who serves as their coach turns out to play a more important role than they expect. Written in a simple style, this story seems best suited to young readers.
The narrator of "My Crappy Autumn" by Nitay Peretz goes into a fit of depression after a romance falls apart, cutting off all contact with other people. Meanwhile, an acquaintance changes into a strange sort of messiah after a car accident. A UFO and a talking donkey are also involved. These weird happenings do not lead to much of a conclusion, and the story ends where it began.
In "They Had to Move" by Shimon Adaf, the widow of a man killed in a war and her children move in with the woman's sister. The sister gives one of the children a science fiction magazine belonging to an ex-lover. Fiction begins to impinge on reality. The plot of this tale of horror involves stories by two famous SF writers. SF fans familiar with their works will best appreciate it.
---
Victoria Silverwolf notes that this book was published on the sixteenth day of the month of Tishrei, year 5779.