Weird Lies: Science Fiction, Fantasy and Strange Stories from Liars' League
Edited by Cherry Potts and Katy Darby
(Arachne Press, pb September 2013, £9.99)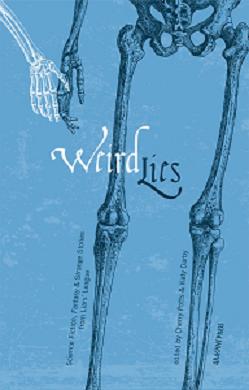 "ChronoCrisis 3000" by Andrew Lloyd-Jones
"Icosi Bladed Scissors" by Alex Smith
"Content Management" by Derek Ivan Webster
"Fuzzby & Coo" by Angela Trevithick
"Derby of Lost Souls" by Barry McKinley
"The Icicle" by C.T. Kingston
"Let There Be Light" by James Smyth
"The Love Below" David Malone
"Haiku Short, Parakeet Prawns, Konnichiwa" by Peter Lee Reynoldson
"Jethro" by Ellen O.Neill
"Antique Shopping" by Lennart Lundh
"Daphne Changes" by Joshan Esfandiari Martin
"Candy Floss" by Maria Kyle
"An Account of Six Poisonings" by Nichol Wilmor
"Free Cake" by Peng Shepherd
"Worms' Feast" by David Mildon
"The Museum of the Future" by Richard Meredith
"Hollow Man" by Rebecca J Payne
"Heriot" by Richard Smyth
"Touchdown" by Christopher Samuels
"What Does H2O Feel Like to the Tadpoles?" by Tom McKay
"The Last Words of Emanuel Prettyjohn" by Jonathan Pinnock
"The Elephant in the Tower" by David McGrath
Reviewed by Cyd Athens
Liars' League is a themed monthly fiction night, where professional actors read new short stories by writers from around the world. Despite an unsuccessful Kickstarter campaign, Arachne Press pressed on with this project, its third anthology. Each of the twenty-four stories in this "best of" collection was originally performed at Liars' League and published on their website between 2008 and 2013. The collection contains a mix of pseudo-documentary, dystopian, fantasy, science fiction, paranormal, and other tales—an eclectic group of short, fast reads. This review will cover only the story first published in 2013.
"The Elephant in the Tower" by David McGrath is the type of epistolary tale you get when one king gifts a bull elephant to another monarch's personal zoo. The animal is given the name Simpleton by his new owner, who decrees that the elephant be fed meat and red wine. This story is told from the elephant's viewpoint. At first confused about being separated from his king, Simpleton imagines that he has been kidnapped. When the truth of his situation settles in, so does depression. Other than his menagerie colleagues, his primary entertainments are being ogled by spectators and watching the witch burnings. Eventually, Simpleton succumbs to the seduction of both the wine and the zebra. If Dr. Doolittle could talk to some of these animals, he would learn of interspecies debauchery. Other beasts would fit in well with the chimpanzees in Dreamworks' Madagascar. Remembering that the Liars' League motto is: "Writers write. Actors read. Audience listens. Everybody wins," this is a tale designed to be performed, which is well done by Ed Cooper Clarke here: http://www.liarsleague.com/liars_league/2013/06/the-elephant-in-the-tower-by-david-mcgrath.html
---
Cyd Athens indulges a speculative fiction addiction from 45ø 29 30.65 N, 122ø 35 30.91 W.