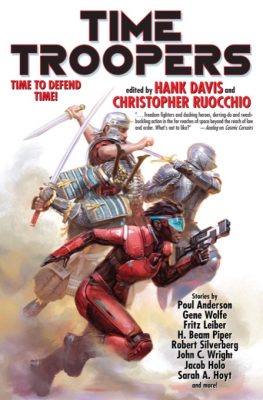 Time Troopers

Edited by
Hank Davis
&
Christopher Ruocchio
(Baen, April 5, 2022, 480 pp, tpb)
Introduction: "From Here to Eternity . . . and Back Again" by Hank Davis
"All You Zombies—" by Robert A. Heinlein (reprint, not reviewed)
"The Archaenaut" by Christopher Ruocchio
"A Long-Remembered Thunder" by Keith Laumer (reprint, not reviewed)
"Delenda Est" by Poul Anderson (reprint, not reviewed)
"Evading History" by Hank Davis
"Recruiting Station" by A.E. Van Vogt (reprint, not reviewed)
"The Oldest Soldier" by Fritz Leiber (reprint, not reviewed)
"House of Bones" by Robert Silverberg (reprint, not reviewed)
"Free Time" by Sarah A. Hoyt and Robert A. Hoyt
"Choosers of the Slain" by John C. Wright (reprint, not reviewed)
"Against the Lafayette Escadrille" by Gene Wolfe (reprint, not reviewed)
"Doctor Quiet" by Jacob Holo
"Remember the Alamo" by T.R. Fehrenbach (reprint, not reviewed)
"Comrades of Time" by Edmond Hamilton (reprint, not reviewed)
"Time Crime" by H. Beam Piper (reprint, not reviewed)
Reviewed by Rick Cartwright
It is a bit odd to review an anthology introduction. Often they are at best a brief overview of the work and, more often still, a laundry list of thanks to the people and organizations that made the book possible. Important yes, but usually not of much interest to the general reader.
Anyone reading Time Troopers is shortchanging themselves if they fail to read "From Here to Eternity . . . and Back Again" by Hank Davis. Mr. Davis leads off the book with a master class on the time travel story, from its historical roots to the gems of the genre, many of which are contained in this volume. It is well worth your time.
Most of the volume is made up of reprints. That's like saying that the Enola Gay just dropped one bomb on Hiroshima. From the classic "All You Zombies—" by Robert A. Heinlein to Keith Laumer's "A Long Remembered Thunder" these reprints are not only outstanding examples of time travel tales, but some of the very best science fiction stories of all time. A.E. Van Vogt, Fritz Leiber, Robert Silverberg, Gene Wolfe, Edmond Hamilton, and H. Beam Piper along with Heinlein and Laumer are the giants that later writers built upon. T.R. Fehrenbach, better known as a historian, put his vast knowledge of Texas history to good use to write "Remember the Alamo."
The joy of rereading so many of the stories in this anthology was the realization (brought home by how many of the tales were published with the permission of "the estate of" ) that the majority of these giants had passed on. Only Robert Silversberg and the excellent John C. Wright are the only living authors in the reprint group.
John C. Wright's "Choosers of the Slain" is an excellent example of his deep writing style where his character encounters a time traveling Valkyrie who makes an unlikely offer that leads to an unexpected answer.
"The Archaenaut" by Christopher Ruocchio is a good story that suffers a bit from his attempt to mask the twist at the end with language difficulties between the present day protectors of an empire from a ship from the past.
Hank Davis postulates the idea of time travel through going to alternate timelines. In "Evading History" the author's main character confronts their other self seeking to swap places. And she makes a compelling case to herself.
Sarah A. Hoyt and Robert A. Hoyt are both published authors in their own right. In "Free Time" they join forces to create a story about fighting tyranny through time travel. Rather than going back in time, the protagonists, a group of scientists, create a bubble of speeded up time to work on the tools of freedom.
"Doctor Quiet" by Jacob Holo is set in the world of the Gordian Division universe that Mr. Holo co-authors with David Weber. New soldiers frequently make errors starting out. One of the nice things about being a time trooper is you can correct those errors through time travel. In "Doctor Quiet," a new temporal agent initially loses her head on an early assignment but redeems herself in the end. One of the enjoyable things about the story is it doesn't take itself completely seriously and there are more than a few laugh out loud moments.
In closing it is important to note that many of these stories were written in the 1950s and very early 1960s. "Comrades of Time" by Edmond Hamilton and "Recruiting Station" by A.E. Van Vogt were written in 1939 and 1942 respectively. It is interesting to note that one of Van Vogt's central characters who played a decisive role in the 1942 "Recruiting Station" was a woman.
It should go without saying that none of those stories of and before the Golden Age were written with 2022 sensibilities in mind and should be read for the storytelling and not for any message.
Time Troopers is an essential addition to the library of any science fiction reader who wants not only to see the development of the time travel genre but to enjoy some outstanding stories.