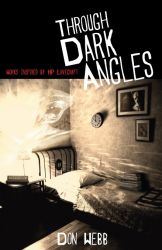 Through Dark Angles:
Works Inspired by H.P. Lovecraft
by Don Webb
(Hippocampus Press, August 2014)
"The Man Who Scared Lovecraft"
"The Doom That Came to Devil's Reef"
"Doc Corman's Haunted Palace One Fourth of July"
"Powers of Air and Darkness"
Reviewed by Lillian Csernica
Don Webb has a singular imagination. Back in the '90s, when Tangent came out in hardcopy, I wrote a column that included reviews of short horror and dark fantasy fiction. In one of my columns, I said that whenever I saw Don Webb's name on a TOC, I knew I was in for a good story. It was true twenty years ago and it's that much more true today. In this collection you will find twenty stories and five poems. They are all worth your time and money.
The collection begins with "The Mythos and I," which is Webb's own account of how he discovered the writings of H.P. Lovecraft and their influence in shaping him as a writer of dark fiction. This piece sets the stage for the fiction and poetry, giving the reader a context in which to enjoy them. Mr. Webb mentions the first Mythos story he ever wrote, which is included in this collection. I defy anyone to top his account of what happened when he first submitted the story for publication.
These are the stories that I consider to be the best of an impressive selection:
"The Megalith Plague" – Dr. Huff comes to Flapjack, TX looking to fill the position once held by his great-grandfather. Having graduated at the bottom of his class, Huff can't afford to be picky about how small the town is, how rural its inhabitants, or how big the palmetto bugs are that pester him every night while he tries to sleep. Richard Scott, the town's resident eccentric millionaire, sculptor, and serious devotee of psychoactive medication, is a distant cousin. Scott rescues Huff when an accident with a bug fogger almost kills Huff and leaves his senses and perceptions skewed. A local farmer discovered a pamphlet buried on his land titled, "How to Worship God Correctly." This involves megalith circles. As Huff watches, the local populace embraces this new catechism with an enthusiasm that's nothing short of alarming. He knows it's time to run for it, but he also knows it's already too late. Tight, suspenseful writing with a a good twist at the climax.
"The Doom that Came to Devil's Reef" – Written in third person omniscient, this is the tale of a journal kept by Julia Phillips, a cousin of H.P. Lovecraft. The journal was found among some of his papers at Brown University. It documents her commitment to a mental asylum, the visions she began having and the paintings she created based on them. A disquieting personality shift becomes evident as the voice in the journal entries begins to speak of a strange underwater dwelling inhabited by alien beings of vast intelligence and expanded consciousness. The particular voice "channeled" by Julia expresses its misgivings about past misadventures and the dangers of the future on this planet the humans are steadily poisoning. The richness and detail of this story will delight fans of Lovecraft, providing insights into what was really going on behind the scenes in "The Shadow Over Innsmouth."
Mr. Webb dovetails his story nicely with the events that occur in Innsmouth, adding even more cosmic horror to what happens to Julia as well as what happens to the source of the voice in the journal. Contrasting the culture of the dwelling under Devil's Reef with the appalling conditions of the mental asylum where Julia lives does a lot to enhance the characterization and sympathetic viewpoint of the voice speaking through the journal entries. The alien perspective on the horrors of human culture makes for some thought-provoking social commentary. The title of the story has to be one of the best I've ever read.
"Emily's Rose Window" – Emily Bishop inherits a house from her wicked uncle Ephraim Bishop. The family knows it's a bad idea to accept gifts from Ephraim due to his twisted sense of humor and his knowledge of the occult. Emily herself has a strange reputation. She has evolved into a beautiful, wealthy, and sought-after heiress after a life spent recovering from being born with a warped spine and other severe birth defects. The truth behind the real purpose of her transformation involves a window set high in the roof of Ephraim's house and a pendant made of rose quartz. Both are shaped like an octopus, and both possess properties not of this world. There are some wicked twists to this plot, powered by strong, fully fleshed characters. Everything a weird tale should be, I believe this story ranks with the work of Ambrose Bierce, Frank Belknap Long, and Seabury Quinn.
"Looking Glass" – Detective Sergeant Blick is called to a crime scene when neighbors start complaining about the smell. Recognizing the stench of death, Blick walks into an apartment living room that has been transformed into an operating room with some bizarre robotic equipment and two very dead bodies. While cataloguing the contents of the apartment according to procedure, Blick discovers the "Magickal Diary" kept by the apartment's occupants, the Tenniels. Holding onto that as a souvenir of the case, Blick follows up on its references. He grows more and more disturbed as he finds unsettling explanations for recent deaths that occur under seemingly impossible circumstances.
There's a noirish streak to Blick's character that brings a familiar sympathy to his character. (It's worth noting that Blick is biracial, his parents Caucasian and African-American. For reasons that are well known, Lovecraft's stories lack people of color.) Blick is a good cop determined to stop whoever is behind the deaths that defy explanation. Mr. Webb makes good use of the mystical properties of mirrors and what a danger they may be. The climax involves imagery and arcane thinking and a real sense of "things Man was not meant to know." I found myself very glad to be reading this story by daylight. There is no greater praise I can give a horror story.
"The Codex" – Robert Barlow teaches a class on Mexican folklore. Among his students are William S. Burroughs and two other "young wild beautiful boys" named Carsons and Smith. After the last class before winter break, the three students ask Barlow for more information about Death, the gods that are not named in any of the official codices, and the occult methods associated with them. Barlow is reluctant on more than one level. The three students are known to be homosexual, and so is Barlow. He's feeling very conflicted about that, having just come out to Lovecraft, his mentor. Barlow weighs his options and decides to allow his three students to accompany him on a dangerous journey of arcane time travel. Excellent story structure, fascinating Aztec lore, and a strong sense of the alien and Other.
This particular story is remarkable for its grounding in fact. It opens with an historical note about Robert Barlow corresponding and collaborating with Lovecraft, and then later teaching at Mexico City College where Burroughs was indeed his student. The element of homosexuality is a pivotal point of characterization. The story is set at a time when being outed could destroy one's career and might even have life-threatening consequences. The choices Barlow faces resonate on more than one level as he tries to see past the snares and delusions to the absolute reality he's searching for. The story is also a good illustration of Lovecraft's belief that in order to tell a good cosmic story one has to ground it in "the minute," the details of the everyday world.
If you enjoy quality horror that takes you above and beyond, if you love a weird tale that makes you look over your shoulder at least once while you're reading it, you want to read this collection. It belongs among the books of anyone who enjoys Lovecraft's work and the legacy of the Cthulu Mythos.