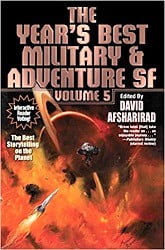 The Year's Best Military & Adventure SF: Volume 5
edited by
David Afsharirad
(Baen, June 2019, tpb, 336 pp.)
"Love in the Time of Interstellar War" by Brendan DuBois
"Going Dark" by Richard Fox
"The Scrapyard Ship" by Felix R. Savage
"Broken Wings" by William Ledbetter
"A Song of Home, the Organ Grinds" by James Beamon
"Once on the Blue Moon" by Kristine Kathryn Rusch
"Crash-Site" by Brian Trent
"Thirty-Three Percent Joe" by Suzanne Palmer
"Hate in the Darkness" by Michael Z. Williamson
"Homunculus" by Stephen Lawson
"Not Made for Us" by Christopher Ruocchio
"The Erkennen Job" by Chris Pourteau
Reviewed by Jason McGregor
The fifth edition of The Year's Best Military & Adventure SF opens with a preface by the editor who muses on the series' five-year voyage before giving way to an introduction by David Weber who again muses on the horrors of war coupled with the benefits of speculating on it and its future.
Despite the introduction, only half of this anthology is military SF, with the other half fitting better under the "Adventure" portion of the title. Stephen Lawson's superb "Homunculus" is a case in point. Want to colonize Titan via a tiny little telepresence robot which you can use to construct habitats out of polyethylene "legos" extracted from the environment? Or at least think it's a cool idea? Then read this story! The crisis in this milieu arises when a kid goes missing and a cryovolcano quake causes him to be trapped in a ruptured and deadly part of the habitat. The only hope for saving him involves those little robots and the powers of chemistry.
Other good adventures include William Ledbetter's sort of neo-pulp adventure "Broken Wings," which involves two unlikely heroes (one overweight and one paraplegic) confronting pirates and Brian Trent's "Crash-Site" in which competing groups of almost larger-than-life adventurers race to recover a biotech prize from a downed starship. I also enjoyed "The Erkennen Job," Chris Pourteau's future-noir tale in which one corporation controls the solar system but is riven with faction. One scientist in the employ of one faction may upset the balance of power in the system if another faction's assassin doesn't complete his mission. That hard-bitten (yet oddly sentimental) assassin forms an unexpected alliance with an idealistic cop as both, for their own reasons, try to get their man. Varying the dark tones, Felix R. Savage's "The Scrapyard Ship" goes for a bit of humor as a couple of shapeshifting traders crash-land on a world where they get involved in interstellar politics while trying to get a replacement ship.
Even among the more restricted form of military SF there are some unconventional pieces. I thought James Beamon's "A Song of Home, the Organ Grinds" was one of the best stories of the year and was amazed that this "year's best" was the only one to select it. No one should miss this alternate history tale of the Crimean War with a street urchin press-ganged into combat aboard an airship crewed in part by vampire attack monkeys. Christopher Ruocchio's "Not Made For Us" is another excellent tale of a soldier more or less compelled to fight. In this case, he and some companions are thrown into battle with a gigantic ship full of horrors and the combat is not the sleek and choreographed violence of Hollywood or the clear morality of political speeches, but is a messy, desperate flailing about full of physical and moral confusion. The editor acknowledges in the preface that he is friends with the author who works for Baen but "challenge[s] anyone to read 'Not Made for Us' and chalk up its inclusion to nepotism." Challenge declined: it's a very powerful piece. While not in the league of those two stories, Brendan DuBois' "Love in the Time of Interstellar War" also dealt interestingly with its young soldier and his efforts to die well, win a lady's favor, and help fend off alien invaders. Suzanne Palmer's "Thirty-Three Percent Joe," like "The Scrapyard Ship," is another story with a humorous element regarding an incompetent soldier's internal prosthetics and their efforts to keep him alive and has received a favorable response from many readers.
One thing readers might like to know is that several of these stories are in series but all those have definite conclusions and only one ("Hate in the Darkess," among other issues) seems to suffer if the reader isn't already familiar with the other tales. That aside, there are certainly stories I'd like to see in here which didn't make the cut and I did scratch my head over the inclusion of a couple that did but some readers may love them and not like some of the ones I've highlighted. Regardless, there are many fine and varied stories here which should especially appeal to those looking for the good ol' stuff but which should also include some gems for those differently inclined.
---
More of Jason McGregor's reviews can be found at Featured Futures.