The Very Best of Fantasy and Science Fiction, Volume 2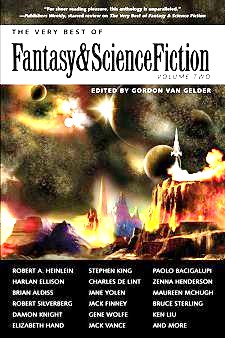 Edited by Gordon Van Gelder
Tachyon Publications (432 pp., June 2014)
"The Third Level" by Jack Finney
"A Kind of Artistry" by Brian Aldiss
"The Cosmic Expense Account" by C. M. Kornbluth
"The Anything Box" by Zenna Henderson
"The Prize of Peril" by Robert Sheckley
"——All You Zombies——" by Robert A. Heinlein
"Green Magic" by Jack Vance
"The Country of the Kind" by Damon Knight
"Narrow Valley" by R. A. Lafferty
"Sundance" by Robert Silverberg
"Attack of the Giant Baby" by Kit Reed
"The Hundredth Dove" by Jane Yolen
"Jeffty Is Five" by Harlan Ellison
"Salvador" by Lucius Shepard
"The Aliens Who Knew, I Mean, Everything" by George Alec Effinger
"Rat" by James Patrick Kelly
"The Friendship Light" by Gene Wolfe
"The Bone Woman" by Charles de Lint
"The Lincoln Train" by Maureen F. McHugh
"Maneki Neko" by Bruce Sterling
"Suicide Coast" by M. John Harrison
"Have Not Have" by Geoff Ryman
"The People of Sand and Slag" by Paolo Bacigalupi
"The New York Times at Special Bargain Rates" by Stephen King
"The Paper Menagerie" by Ken Liu
Reviewed by Chuck Rothman
It's quite easy to find stories to fill out a book entitled The Very Best of Fantasy and Science Fiction. The magazine has over 65 years of stories to choose from. The hard part is cutting it down to a single volume. Gordon Van Gelder edited a first volume in 2009 and is now back with a second.
As to be expected the book is filled with great stories, including some real classics of the genre. Anyone who wants to know the genre should be reading classics like Robert A. Heinlein's "——All You Zombies——" and Harlan Ellison's "Jefty is Five" and this is a great place to find them. It's also a way to see the work of authors whose names are not as well known as they should be, people like C. M. Kornbluth, Zenna Henderson, Jack Vance, R. A. Lafferty, George Alec Effinger, and Kit Reed. In addition, there are 21st Century authors (and perhaps classics to be) with Paolo Bacigalupi and Ken Liu. It's really unlikely a science fiction reader won't be excited by the names.
The table of contents is a nice mix of the famous and the unfamiliar. I was delighted to discover "The Cosmic Expense Account," a Cyril Kornbluth story I had not come across before, and Kit Reed's "Attack of the Giant Baby," which I only knew from the cover illustration. There are favorites of mine like "–All You Zombies–," "Jeffty is Five," "The Aliens Who Knew, I Mean, Everything," and "The Paper Menagerie."
I found it fascinating to trace the evolution of the genre through the stories. The earlier ones were filled with sense of wonder and clever plotting, but characters still hung on to their pulp roots, and often the stories revolved around revealing a clever idea. But as the field evolved, the characters became stronger, and an idea, no matter how clever, was looked at in far more depth. Instead of just introducing it, the more modern authors tried to show more about the personal and social changes it caused.
But there really isn't a bad story in the lot. This is an excellent place to see not only gems from Fantasy and Science Fiction, but also great stories from over 60 years of the field.
---
Chuck Rothman's novels Staroamer's Fate and Syron's Fate were recently republished by Fantastic Books. His story "Ulenge Prime" will appear in an upcoming issue of Analog.