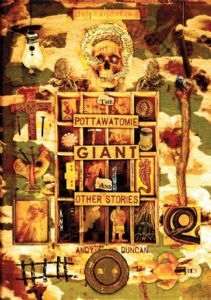 The Pottawatomie Giant and Other Stories
by Andy Duncan
(PS Publishing, February 2012)
"The Big Rock Candy Mountain"
"Daddy Mention and the Monday Skull"
"Unique Chicken Goes in Reverse"
"A Diorama of the Infernal Regions, or The Devil's Ninth Question"
Reviewed by Louis West
The Pottawatomie Giant is a diverse collection of award-winning and award-nominated well-researched fantasy, horror and speculative fiction stories published between 2001 and 2009 along with a new work, "Close Encounters." This author has an unusual style of writing that entices the reader into a world rich in character and setting details. In fact, Asimov's retired editor, Gardner Dozois, has called Duncan a genre unto himself. These are not fast-paced action adventures. Instead, they are thoughtful explorations of strange situations in which a variety of often twisted characters find themselves immersed. Occasionally the plot is overwhelmed by extensive descriptive details or lengthy reflections by the protagonist. And, in a few stories, the ending telegraphs itself so early on that the primary tension is watching the protagonist fail to recognize the inevitable. Still, the more I read the more intoxicating the experience became, as I submerged myself into the incredible richness of each story's unique characters and atmosphere.
"The Pottawatomie Giant," the World Fantasy Award-winning title story, explores Jess Willard's doubts about his worthiness to hold the world heavyweight boxing champ title. This tale deftly examines two outcomes for Jess' life based upon a single decision, whether or not to help Houdini with a staged magic trick in 1915. Part of the story is told from Jess' point of view, the other from his granddaughter's. In the end, he decides that "He is Jess Willard, heavyweight champion of the world, if only for a season, and that was enough. He was content."
"Senator Bilbo" is set in a Halfling Shire reminiscent of a post-Return-of-the-King Tolkien's world. The Senator is a racist, a purist fearful of the effect of the influx of non-Halfling refugees from the war that revisionist history claimed never happened. I found the story well-detailed yet ponderous and the ending unsatisfying. (Although I liked the story much more after reading the author's story notes.)
The beginning of "The Big Rock Candy Mountain" reminded me of the inane craziness endemic to Alice in Wonderland. In fact, it wasn't until the 5th page that I began to see a direction to the story. It's a rambling journey from a weird Charlie and the Chocolate Factory kind of paradise, into reality and back, all necessary for Pete to relearn who he is and why he'd left reality in the first place.
"Daddy Mention and the Monday Skull" ventures into the voodoo mind-set of a black prisoner in a mid-20th century Florida prison deep in the swamps. Daddy Mention schemes to gain his freedom by concocting a deal with the scaly evil, Uncle Monday, who often takes the form of a giant crocodile. His plan works, but just not in the way he'd imagined. (The story notes on this tale are quite revealing.)
"Zora and the Zombie" follows a fictional account of a real-life American journalist and writer, as she seeks to understand and document the mystique and folklore of mid-20th century Haiti. The story's imagery is superb—it makes me feel like I'm there with Zora, among the dust, poverty and Haitian "resigned acquiescence to the world and all its marvels." Zora's sojourn wanders into the dark side of the Haitian soul, after she's introduced to a zombie (based upon an alleged real-life zombie). But she realizes that she's gone too native, when she encounters a Haitian Vodou Loa (spirit).
In "Unique Chicken Goes in Reverse," the child, Mary O'Conner (modeled after a real-life fiction writer), has a frizzled chicken that she's taught to walk in reverse. While this doesn't bother Father Leggett much, it's her naming the chicken "Jesus Christ" that really bothers him, a bother that eventually leads him to abhor all things chicken. While I loved the character of Mary O'Conner, the story, which got Nebula Award and Shirley Jackson Award nominations, just didn't work for me.
"Provenance" is short but powerful, the last paragraph sending chills up my spine. A must read about a man who finally recovers a long-lost Renoir, art that had once belonged to his grandfather, before the Nazi's killed him, before his father frittered away his life and fortune to try and find it. Revenge can drive a man to many things, even twisting him into the very thing against which he had raged.
"A Diorama of the Infernal Regions or The Devil's Ninth Question" is a delightful tale that grabbed me like a bulldog and never let go. Pearleen Sunday is a wizard, although she didn't know she was until long after the day she stepped through Professor Van Der Ast's diorama of the infernal regions and ended up in Mrs. Winchester's ghost-filled, ever-changing mansion. However, she first had to sing a ballad with the Devil's son-in-law and solve the riddle of the Devil's 9th question before she could fully realize her powers. Exceptional story.
"The Dragaman's Bride" details Pearleen Sunday's encounter with an Old Fire Dragaman, a friend of his, the Devil's son-in-law, and a local girl's love for the Dragaman that changed everything. The sheriff is hauling off local teens to the state hospital to be sterilized, per Virginia's eugenics laws (not repealed until 1979) that considered all hillbillies as feebleminded. Pearleen finds herself in the middle of this travesty and uses her considerable talents to craft quite the unusual solution. I look forward to more stories about Pearleen and the way she and the world change each other.
I found "The Night Cache" to be a brilliant blend of love story and detective mystery with a spicy dash of horror. Jenny Jen is drawn into the world of geocaching—a GPS treasure hunting game–by her lover, Destiny Creech. But Destiny is a mystery to Jenny, refusing to reveal much about her personal life. Jenny is devastated when Destiny is killed. But Destiny reaches out to her from beyond death's door through an encrypted message in her private journal. Only by deciphering the clues will Jenny be able to finally put her grief to rest and just maybe understand why Destiny tells her that she's not alone.
"Close Encounters" traverses the course of Buck Nelson's life from avid UFO believer to embittered old recluse, disillusioned because his friend from the skies had long since stopped visiting. He is badgered by Miss Hanes, an Associated Press reporter, to tell more about his experiences with his other-worldly visitors. But Buck refuses–all those who'd originally cared had long since died. She stirs up trouble for Buck, messing around in lots of his old memories. Not until he figures out that she's not a reporter, at least not from AP, does he realize that his old friend had not forgotten him.
"The Chief Designer" grants a truly unique insight into the heart and soul of the Russian space program as seen through the eyes of two major players, Sergei Korolev (a real person), the Chief Designer, and Evgeny Aksyonov (a fictional person), his protégée. The story does an excellent job of capturing the unforgiving power politics of World War II USSR and the grinding rush to space-age superiority during the Cold War. The Chief is revered by all who work for him, but not by those in position of great power, who thought they knew better than he. Cosmonauts died due to that arrogance, as did Russian dreams to put a man on the moon. After the Chief dies, Aksyonov must step into the old man's enormous shoes. To do so, he must first wrestle through his feelings about Korolev—a god to be prayed to, as did some of the local Kazakhs, a pop star to be idolized, as did many of the engineers and professionals working at Baikonur, or just an old friend?
"Story Notes." Read them. They provide wonderful insights into the background from which Andy Duncan's fertile mind created these stories. Thanks for the journey, Andy.
Louis West critiques for Critters.org plus Spacecrafts. He also does volunteer work for the Massachusetts-based ReaderCon. His education and work experience was in biophysics and medical genetics before migrating to international finance. Yet he retains a strong interest in astronomy and sub-atomic physics. He enjoys hard SF, urban fantasy, supernatural and fantasy, and writes in a bio-punk style, focusing on the personal and social impacts of new technologies.