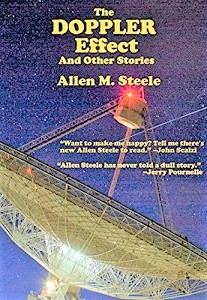 The Doppler Effect:
by
Allen M. Steele
(Positronic Publishing, April 2017, 206 pp.)
"
Frogheads"
(
from
Old Venus
, ed. George R.R. Martin & Gardner Dozois, Bantam, 2015)
"
Einstein's Shadow"
(
from
Asimov's
SF
, January 2016)
Reviewed by Robert L Turner III
"The Doppler Effect" in the book by the same name is a new short novel in a collection of three recent pieces by Allen M. Steele. I want to state from the beginning that I enjoyed the story and think it is well constructed with good characterization and pacing. I says this now, because the remainder of my review is somewhat introspective and I don't want to give the impression that I dislike the work.
In "The Doppler Effect," a disgraced astrophysicist, Dr. Reggs; AKA T-Rex, meets with a journalist to detail the greatest scientific hoax of all time. The story combines elements of detective tales with science, and a well calibrated mocking of the university environment. T-Rex is booted from his tenured position after he makes some careless comments that are used as an excuse by the student population and a conniving colleague to paint him as a paleo-conservative, sexist: this despite the fact that he is a liberal Bernie supporting homosexual. In revenge, he fakes a signal that is picked up by SETI, but things get out of hand.
As previously stated, this is an engaging piece. My area of concern is that the description of college life so easily blends reality with exaggeration (I'm a professor and see these things from the inside), that I feel many readers will either read it as an accurate portrayal of the modern US university, or dismiss it completely as a fiction. It is to Steele's credit that he is able to exaggerate just enough to push the boundary of credibility without moving into outright parody. This nose-on portrayal leads to my other concern. The cultural tides of the university move so quickly that I fear/hope that the story will feel outdated soon. In summary, this is a well-constructed, engaging piece, but does tend to be a little too specific of the university environment, which may throw off some readers.
The other two stories, "Frogheads" and "Einstein's Shadow," are both excellent stories and, together with the title piece, make the book well worth reading.
"Frogheads" is set in a colonial Venus where a private eye is sent to find the lost son of a wealthy man. There he discovers the son doesn't want to be found. Based on historical colonial reality, the story is well structured and engaging. "Einstein's Shadow" is set in a parallel reality shortly prior to the outbreak of WWII. A private eye is hired to escort Albert Einstein from England to the United States where he plans to defect. Nazi's, an angry by-blow and dimensional travelers make the trip less than idyllic.
---
Robert Turner is a professor and long term SF reader.