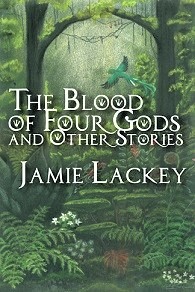 The Blood of Four Gods
by
Jamie Lackey
(Air And Nothingness Press, September 2017, pb, 151pp.)
"Beyond the Reach of Moonlight"
"The Steam Lord's Autumn Ruby"
"The Sour Thread of Doubt"
"Quetzalcoatl's Conquistador"
"The Balance Between Strength and Wisdom"
"Of Dreaming and Destiny"
Reviewed by Adrian McCauley
The Blood of Four Gods is a collection of stories, written and selected by the author herself, and includes two previously unpublished tales: "The Balance Between Strength and Wisdom" and "The Value of Weakness." Lackey writes fantasy tales with strong spiritual themes, inspired by the mythology of the indigenous peoples of North and South America, Asia, and Africa. We visit Asia in the first story, "River Dragon's Curse," where a young girl sacrifices herself to a God in order to protect her village, and we remain in Asia for "The Steam Lord's Autumn Ruby," a steampunk fairy tale of a princess locked in a tower, complete with magical terra cotta golems.
"The Blood of Four Gods" is an adventure through the cloud forests of South America as Cozamalotl must seek out four great Gods so she may lift a curse from her lover, while "The Place of Fear" is another Mayan-inspired tale of a young woman who must travel to the underworld to rescue the soul of her murdered husband. "Of Dreaming and Destiny" is set in the Mongolian tundra and is about a girl who discovers she can communicate with animals and that, even more, she can see the destinies that await her beyond her choices.
"The Balance Between Strength and Wisdom" is a coming of age tale about Kele, a young girl who is her village's last hope. She must pass a deadly ritual to become a Water Seeker, an elemental sorceress with the power to feel and control water, who must guide her people through the hot, arid lands in which they live. But it is not enough just to be powerful or physically strong; Kele learns that the greatest strength can be the knowledge of how to use your talents effectively. It is a short, character-centric tale, evocatively written, carrying a melancholic tone throughout that mirrors that bleak landscape nicely.
"The Value of Weakness" is another coming of age tale. Hadiya, daughter of an enchantress, has no talent for magic and decides that, to prove her worth to her mother, she will ride off on her ostrich and seek out an apprentice to assist her mother. Instead, she meets and befriends a lion that was once apprentice to a cruel master, and as they journey through the drylands they discover that one's worth is not determined by their abilities, but by their actions and who they are as a person. I felt the end of this story was perhaps a little rushed, but otherwise I very much enjoyed it.
The Blood of Four Gods is my first exposure to Jamie Lackey's fiction and I enjoyed every story in her collection. She writes with a consistent style which bridges the simplicity of folktales with the complexity of modern literature, and by grounding her stories in mythology, despite their fantasy elements, they feel more believable. Her stories are not long and there is also a common theme of coming of age, making this a great collection for teen readers as well.