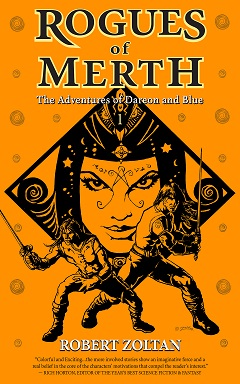 Rogues of Merth:
The Adventures of Dareon and Blue
by
Robert Zoltan
(Dream Tower Media, November 2018, pb, 328 pp.)
"One Night in Merth"
"Sails on the Scarlet Sand"
"Voyage to the End of Time"
"Citadel of the Seven Doors"
Reviewed by Tara Grímravn
Rogues of Merth is a single-author collection of ten sword-and-sorcery stories, nine of which are original to this volume, written in the style of Fritz Leiber's classic and much beloved Fafhrd and Gray Mouser tales. Following the derring-do of two adventurers, the sword-wielding poet Dareon Vin and the Indari warrior Blue, the book weaves tales that range from their first meeting through many of the mishaps and circumstances that led the two of them to become fast friends. Taken as a whole, the set of tales is really a continuous telling, each adventure flowing directly into the next. Make no mistake, however; every story in this collection stands alone as a complete adventure. In terms of style, Zoltan's writing was witty and easy to read. The stories are varied enough in content and fast-paced, holding the reader's interest throughout. I should also like to note that the small pieces of Dareon's poetry and diary entries lend a very nice touch, helping to bring the world of Plemora alive.
In "One Night in Merth" Dareon Vin is given an ultimatum by his lady-love—obtain wealth to win my heart or be forsaken. Elsewhere in the city of Merth, an Indari warrior meets a woman who claims to be a priestess seeking the return of a precious artifact. As the two meet for the first time, each in their own attempt to steal the mutually sought-after prize, a creature blacker than shadow appears and takes it for its own. Dareon and the warrior he calls Blue take off after it, intent on recovering the stolen item together.
In the "The Hanged Man" Blue and Dareon come across a corpse hanging from a tree at a fork in the road. The dead man tells them to "take the right path," and their interpretation of that direction leads them to a strange town filled with unnatural-looking dogs—a town they must escape before sunset or suffer the same curse.
"Delta of the Damned" sees the two friends as hired bodyguards aboard a cargo ship deep-sailing along jungle rivers. After the crew finds an ancient skeleton, they see a black pyramid rising from the thick vegetation. As often happens, the captain's greed gets the better of him and he orders the crew ashore, Dareon and Blue included, to explore the pyramid in hopes of finding riches. Unfortunately, it's not treasure that they find.
On to their next adventure in "Sails on the Scarlet Sand" Blue and Dareon have their fortunes told by an old man rumored to be a mystic. He tells them of a strange ship captained by a golden princess and warns them of danger to come. The pair leave, following an old, dry riverbed known as the Dhal as they continue their journey home to the city of Merth. All too soon, however, they encounter the strange ship, having found themselves caught, at least momentarily, in another time.
Dareon and Blue are found still trying to make their way back to Merth in "Voyage to the End of Time." Once again, the heroes find themselves caught in another place and time; or perhaps a place beyond time. The story opens with the pair treading sea water as what was left of their ship, destroyed by pirates, floats around them. They're soon rescued by a passing vessel with no captain, only a mystical blind woman known as "the pilot" (whose singing steers the boat) and few other passengers. One such passenger, a strange golden man named Morion, tells them they have met before (in another time, of course) and tells them that the ship itself is on a course to reach a city at the end of time. Despite this seemingly mundane objective, however, they soon discover that there are multiple otherworldly parties who would stop them.
In "The Black Beach" Blue and Dareon find themselves washed up on an uninhabited island of black sand and jungle. Upon exploring, they find longships belonging to the pirates who'd destroyed their boat in the previous tale. Unfortunately for them, they also find an ancient temple that is home to something not very happy to see them.
"The Blue Lamp" finds our poet swordsman Dareon and Indari warrior Blue finally having reached Merth. Drawn into a curious shop filled with tiny statues, Blue suddenly finds himself in a type of limbo, surrounded by people who had surely served as models for the statues. Meanwhile, Dareon searches for his Indari friend, missing for three days. Finally tracking his last known whereabouts to an odd little shop on Curiosity Lane, he finds that his friend's fate is somehow tangled up with a suspicious shopkeeper and his strange blue lamp.
Revenge is the name of the game in "Citadel of the Seven Doors." Dareon is called upon by the Duke of Sarros, father of his late patron Kell Movantian, to capture his son's murderer alive. Thus, Blue sets off with Dareon to fulfill the request, finally arriving at a citadel where their quarry supposedly hides. But the entrance exasperatingly leads to room after room of illusions with seemingly no escape.
In "The Farmer's Daughter," Dareon and Blue, once again on the road, decide to beg a night's rest at a farm they happen to pass. Although their hosts insist there's only two of them, Dareon meets a lovely young woman who claims to be the farmer's daughter, Gleondra. After spending a night of passion in her cold embrace, he and Blue learn the following morning that Gleondra had been dead for a year. They soon discover that her revenant shade has placed on Dareon a powerful curse and they have only hours till midnight to undo it.
The final story, "Stronger than Blood," opens with Blue and Dareon having wandered into Varga territory, enemies to the Indari, with Dareon severely injured. With the poet caught between life and death and the pair hunted by Vagash warriors, much-needed help comes from an unexpected source.
With all said and done, Zoltan's Rogues of Merth reminds me of everything in my youth that caused me to fall in love with fantasy in the first place. Lovers of the genre, especially of the classic sword-and-sorcery sub-genre, are sure to enjoy this lively collection.