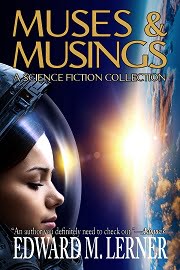 Muses & Musings
by
Edward M. Lerner
(Phoenix Pick, September 2019, pb, 268 pp.)
"My Fifth and Most Exotic Voyage"
"Copywrong"
"Judy Garland Saves the World (And I Don't Mean Oz)"
"Soap Opera"
"Tour de Force"
"Turing de Force"
"Unplanned Obsolescence"
"There's an App for That"
"The Pilgrimage"
"I Clink, Therefore I Am"
"Anti Claus"
"Nothing to Lose?"
"Too Deep Thought"
"I've Got the World on a String"
"A Case of Identity"
"The Torchman's Tale"
"Harry and the Lewises"
Reviewed by Victoria Silverwolf
Edward M. Lerner has published science fiction, alone and in collaboration with Larry Niven, since 1991. With a professional background in the aerospace and computer industries, it's no surprise that his work reflects a deep understanding of science and technology. (Lerner has also written many nonfiction articles on these subjects.)
This collection of previously published stories proves that the author also has the ability to create a wide variety of fully developed characters and believable backgrounds, whether in the past or the future. Written in a clear, readable style, the best of these stories are compelling, while others are mere bagatelles, often making use of the author's fondness for puns. Lerner discusses the inspiration for each work, offering an interesting look into the mind of a writer.
The book starts strongly with the novelette "My Fifth and Most Exotic Voyage." The narrator is none other than Lemuel Gulliver, from Jonathan Swift's classic satire. He winds up in the year 2022, in a universe that thinks of him as no more than a fictional character. This clever pastiche offers a scientific explanation for a seemingly impossible situation, as well as a convincing narrative voice.
Notable also are "Judy Garland Saves the World (And I Don't Mean Oz)" and "Soap Opera," both of which offer vivid portraits of the 1930s, combined with science fiction premises. This pair of nostalgic visions prove that the author has as clear a vision of yesterday as tomorrow.
After a number of stories that depend on plot gimmicks, and several very brief pieces intended as jokes and satires, the collection ends with its longest tale, the novella "Harry and the Lewises." This version of the mysterious death of explorer Meriwether Lewis in 1809, and its aftermath in the modern world, reveals the author's care when writing about historical events. The story's science fiction content is familiar, but the informal narrative style carries the reader along.
Overall, this volume is sure to have something to appeal to almost every reader of science fiction, from those most interested in novel ideas to others searching for light entertainment.
---
Victoria Silverwolf read and reviewed one of these stories before.