Judgment Day and Other Dreams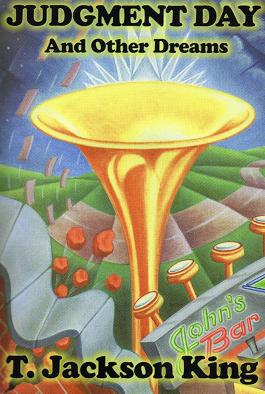 by
T. Jackson King
Fantastic Books
(2nd edition, 2012, 240 pp.)
On Earth
"Judgment Day At John's Bar"
"The Totem"
"Litter Control"
In Space
"Tears for Ozymandias"
"The Fire Rains"
"The Memory Seller"
"The Tides of Fear"
"Paladin"
"False Contact"
"Lex Talionis"
"Endless Summer"
"Sumiko's Hope"
Back On Earth
"The Fellowship of Manzanar"
"A Lesser Michaelangelo"
"The Gate of Ishtar, From Babylon, In Berlin"
Reviewed by John Sulyok
Judgment Day and Other Dreams collects fifteen short stories by T. Jackson King, and would make a valued addition to any science fiction or fantasy library. There is a satisfying and engrossing attention to detail within the varied stories, which encompass an array of foci, such as: religion, anthropology, archeology, astronomy, astrology, and speculative engineering. The common thread amid all works is the intimate human element at the heart of each piece. King's prose displays a mastery over these myriad subjects without alienating the uninitiated, thus providing the reader with a smooth, coherent, and altogether enjoyable experience.
The anthology is divided into three sections: On Earth, In Space, and Back On Earth. Of the three, On Earth is arguably the weakest and least coalescent. The three stories in this first section range from "Judgment Day At John's Bar" (the collection's namesake), about a man obsessed with a particular and undeniably talented jazz singer, and which veers off in an unexpected direction, setting up recurring themes of religion's impact on individuals and society; "The Totem," which follows in a similar, though more spiritual vein, but lacks climax, relying instead on the reader's emotional response; and "Litter Control," a curious tale regarding Uncle Jack's Home for Retired Space Beings, which is better matched with the space-faring middle section of stories. These stories are not without their charm, but it is when the setting moves off terra firma, as we know it, that the collection begins to take shape in a powerful way.
The second section, entitled In Space, brings greater attention to detail as the genre moves towards a hard SF style. The use of recurrent concepts like memory crystals, a memorynet, Suspense (stasis), certain aliens, and an epoch system referred to as the Fluorescence develop a commonality between these stories, creating a thread, but not a dense mythos requiring indoctrination. King is able to initiate the reader naturally through plot and precise prose, as if being eased into a warm bath.
The nine stories set In Space can be categorized in three ways as follows.
Satisfying in and of themselves are: "Tears for Ozymandias" about an enslaved human clone serving aboard a mining ship captained by his insectoid master, who happens upon a chance at finding the humanity he seeks within himself while surveying a derelict asteroid-ship. "The Fire Rains," which is set on and above the water-bare planet Halcyon, follows a pilot tasked with bringing water-ice into orbit, a life-endangering process, and his wife waiting on the surface below for the life-giving rains to come. "Endless Summer" is the story of the man with the secret of immortality and takes the gamble that he may pass on his gift so that he would not live alone in eternity. And "Sumiko's Hope," a heartbreaking tale of adolescent siblings desperately surviving the effects of a life of poverty amid the stars.
Worthy of expansion are: "The Tides of Fear" regarding a captain so obsessed with charting an exceptionally massive black hole that he endangers himself and his crew. The outcome stirs the imagination with the possibilities of confronting the unknown. And "Paladin," about a human-cyborg vigilante bonded with an alien vessel, as he seeks employment, but finds far more. It expands the created universe greatly if only through few words and concepts. This could easily be novelized and broadened into an exciting, hard SF space-adventure.
Slightly lacking are: "The Memory Seller," "False Contact" and "Lex Talionis." While each of these fill in gaps to establish the universe, they either lack strong and interesting characters, like the protagonist in "The Memory Seller"; telegraph the ending a la "Chekhov's Gun," as in "False Contact"; or fail to push the limits in questioning humanity in "Lex Talionis."
The third and final section, Back On Earth, is disconnected from the hard SF universe present In Space. These final three stories are arguably the strongest and most concerned with the human condition, as explored through elements of dark fantasy and dystopia. In "The Fellowship of Manzanar" America is ruled by ecclesiastical zealots who serve a homophobic, Christian ideology. The actions of a man, who gives refuge to the last free, AIDS-carrying homosexual man in the country, will either damn or save them both. "A Lesser Michaelangelo" explores the boundaries of art and the relationship between a man and woman as they perform deviant acts of physical stimulation upon each other. And finally "The Gate of Ishtar, From Babylon, In Berlin" crosses the search for lust of power and lust of flesh at the nexus of modern science and ancient mythology, as two University students are confronted by an ancient evil from a lost civilization.
If Judgment Day and Other Dreams is anything to go by, T. Jackson King should be a household name. There is a dedicated unity amongst some of the entries in this anthology that begs to be explored in longer formats. And the works which stand apart are just as notable and exemplify King's grasp of human emotions and interactions. This collection displays the qualities of fine writing backed by a knowledgeable hand and a vivid imagination.
I wonder if my dreams will be about old lives, or new ones? Old memories, or new ones? White whales and blue seas?
Perhaps I will dream of tachyon horses that canter across the jade-green pastures of Kentucky. Perhaps I will dream of white sparkling streams tumbling through the ancient forests of the Smoky Mountains. Perhaps I will dream of a friend, now lost forever.
I know I will dream of my fears.
The weight of our human geas is forever upon us, but with friends, with love, it can be sustained. Even into eternity.
…from "The Tides of Fear" — p. 112