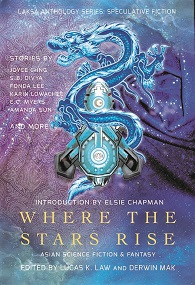 Where the Stars Rise:
Asian Science Fiction & Fantasy
Edited by
Lucas K. Law & Derwin Mak
(Laksa Anthology Series, October 2017, hc & pb, 346 pp.)
"Spirit of Wine" by Tony Pi
"
The dataSultan of Streets and Stars" by Jeremy Szal
"Weaving Silk" by Amanda Sun
"Vanilla Rice" by Angela Yuriko Smith
"Looking Up" by S. B. Divya
"A Star is Born" by Miki Dare
"My Left Hand" by Ruhan Zhao
"DNR" by Gabriela Lee
"A Visitation for the Spirit Festival" by Diana Xin
"Rose's Arm" by Calvin D. Jim
"Back to Myan" by Regina Kanyu Wang
"Meridian" by Karin Lowachee
"Joseon Fringe" by Pamela Q. Fernandes
"Wintry Hearts of Those Who Rise" by Minsoo Kang (non-genre, not reviewed)
"Udatta Sloka" by Deepak Bharathan
"Crash" by Melissa Yuan-Innes
"Memoriam" by Priya Sridar
"The Observer Effect" by E. C. Myers
"Decision" by Joyce Chng
"Moon Halves" by Anne Carly Abad
"The Bridge of Dangerous Longings" by Rati Mehrotra
"Old Souls" by Fonda Lee
"The orphans of Nilaveli" by Naru Dames Sundar
Reviewed by Kevin P Hallett
This anthology contains twenty-three original stories, including two flash fictions and three novelettes.
"Spirit of Wine" by Tony Pi
The spirit of wine drinking traps Ruolin and his sworn brother, Shengming, in this short fantasy. The brothers should be preparing for a life-changing exam, but Shengming accidentally invokes the spirit and now it compels them to lurch from bar to bar, drinking themselves into a stupor.
Roulin believes their escape lies in the common tattoo they have, "Love wine like life." But can he solve the riddle in time for them both to take the exam?
Pi has written a light-hearted fantasy with an interesting twist. The prose supported the unusual perspective making for a pleasant read.
"The dataSultan of Streets and Stars" by Jeremy Szal
Sikandar is a hunted man in this SF novelette. The lead programmer for the new djinn-7, it was his work that caused the djinn-7 to go rogue and kill several rich and influential people. Now the families of the deceased are looking for him and Sikandar needs the brutal Ghanesh to protect and hide him.
Sma of the Ghanesh forces Sikandar to return to Istanbul to steal a djinn-7. But returning there exposes Sikandar to unsavory characters out for revenge. Using his brother further complicates the situation. Finally, he gains access to a djinn-7, and discovers some surprising advances made during his absence.
Parts of this story felt like a throw-back to the golden years of SF. And the author used the suspense to engage the reader. With the twists at the end, this was an enjoyable read.
"Weaving Silk" by Amanda Sun
In this human-interest SF short, two girls struggle to survive in Tokyo after the country went to war supporting its western allies. In quick succession, a volcano and massive earthquake rock the city destroying most of the infrastructure. In the aftermath no one can communicate out, none who try to fly out from Japan ever return.
In the ruins, some people hold onto their civilization, others abandon their culture. Raised to be helpful, the girls must learn to trust no one as they eke out their survival by selling rice packets. When the skeleton government announces a plan to launch a satellite to re-establish communications, a new optimism sweeps over the survivors.
Sun has written an engaging story that was hard to put down. Within a paragraph the author captured the reader with the innocent struggle of the two sisters. Over the entire story there is a mystery that left the reader to make their own conclusions.
"Vanilla Rice" by Angela Yuriko Smith
Smith's SF short tells us about Meiko, who wants her unborn daughter to look like a cartoon princess. Abused and neglected as a child, Meiko is certain that being the perfect, blue-eyed blond will open doors for her baby girl, Katsue.
At first, everyone likes the little Katsue with golden curls and pale skin. But children can be the cruelest, and school becomes a nightmare for the teenager. Katsue is a stranger in her own land, and must decide if reversing the genetics is worth the risk.
This author repeated a story told throughout the world. As people adjust slowly to a more cosmopolitan culture, brutal cruelty is common. Though the prose was okay, the story was predictable.
"Looking Up" by S. B. Divya
Soon, the Mayflower is leaving for Mars in this short SF tale. Running away from a difficult past, the organizers accept Ayla as a crew member. Now she must sever her ties to Earth as this is a one-way trip.
Shedding her job and boyfriend prove easier than resolving her family issues. A deep-rooted antagonism exists. Ayla tries to take the first step, and it quickly brings up all the guilt and misunderstanding that has built up since disaster struck her family when she was a little girl. Can she and her sister find the path to understanding and forgiveness before she leaves Earth for good?
"Looking Up" dealt with how a family pulled themselves apart during tragic times, and how hard it was to mend those bridges. The prose was good and the story's pace engaged the reader, a worthwhile read.
"A Star is Born" by Miki Dare
Hitomi is a third generation Japanese-Canadian in this SF short. She discovers that she can relive and even influence her past through her dreams.
The Second World War internment of the Japanese descendants is an especially painful time in her past. This is when she faced brutal violations of her human rights. Still consumed by guilt, can Hitomi find a way to right some deep-seated wrongs?
Told through a series of flashbacks, initially it was hard to get into the story's flow. The quality of the plot and the poignancy of the end made it a worthwhile effort to read to the end.
"My Left Hand" by Ruhan Zhao
In this SF short, a scientist reluctantly visits a fortune-teller. He is about to embark on a dangerous experiment and wants reassurance he will survive. But when the mystic reads the palm of his left hand she warns him that his life is about to end that day.
The skeptical scientist decides to ignore the advice. Today he is the guinea pig in an experiment to transport a human to another dimension. Though the experiment is an apparent failure, the scientist survives. Does that mean that the fortune-teller was wrong?
The writing craft was okay, but the plot predictable. In the end, it had an unexpected twist, but lacked mystery.
"DNR" by Gabriela Lee
Lee's SF short starts with Malissa working in a hospice where she processes DNR deaths. These are bodies that she farms for all their organs plus a capture of their last memories to give to their families. Melissa came to the Philippine Protectorate on Mars after she lost her son, leaving behind her husband.
A dedicated worker, Melissa feels little motivation to better her position. One day the technicians wheel in a new DNR patient. This one, from her past life, could change everything for her.
The plot was slow and lacked any mystery that was strong enough to engage the reader. The prose had some nice side plays, but these weren't enough to compensate for the weak plot.
"A Visitation for the Spirit Festival" by Diana Xin
Mrs. Liu is returning to China to convince her American born daughter, Michelle, to come back home in this short fantasy. A male ghost pesters Mrs. Liu every day; her aunt died ten years ago and passed it down to her.
Back in her homeland, Mrs. Liu finds her daughter has grown up, and developed the same passions for justice that she had before she left China—right before the Tiananmen Square revolt. The memories come flooding back, both for her and her ghost. Can they both find what they left behind all those years ago?
This was an interesting story that juxtaposed the main character's POV with that of the ghost. And the mystery kept the reader engaged.
"Rose's Arm" by Calvin D. Jim
Rose Ishikawa's mother died in childbirth leaving her alone with her strict and resentful father in this short SF story. Wanting to help, but handicapped by the loss of her arm, her papa refuses her every plea to help or do anything but serve him. Her mother used to make the high-quality tofu they sold to earn their money. Her father's tofu is too poor to receive anything but a few charitable pennies.
Rose visits a specialist, Doctor Trask, who offers to replace her arm in exchange for taking her eyes. But when Papa finds out he locks her in her bedroom and sets off to stop the doctor. With her Papa in jail for assault, can Rose find a way to save the family?
The story flow began a little slow, but picked up through the middle. The ending was not surprising.
"Back to Myan" by Regina Kanyu Wang
In this SF short, Kaya, a biologically re-engineered fish, returns to her native planet, Myan. Her water-covered planet is now frozen due to the Union harvesting the energy of its sun. Brought up to believe the Union's actions were benevolent, Kaya discovers the truth as she explores the icy surface.
The story lacked any action or mystery until more than halfway through. Only in the last part did any purpose to this story materialize. A couple of plot anomalies further eroded believability.
"Meridian" by Karin Lowachee
Four-year-old Paris is the sole survivor of a pirate raid in this SF novelette. A space family rescues him and they try to do the right thing by adopting him and bringing him to live on their ship. But the boy is unruly and causes such trouble that he forces the kindly family to pass him onto a drug trader who will raise him as a soldier in the drug trade.
Paris grows up with other boys like him, and in time becomes a soldier for the drug dealer. But always those dim memories of his original family haunt his dreams. Will Paris find a way back to his roots, when he hears of a lead to someone who could be his brother?
The intrigue about his past provided enough pull and the writing craft was okay. Overall, an interesting story.
"Joseon Fringe" by Pamela Q. Fernandes
King Sejong of the Joseon dynasty wants to help his people in this SF short. With help from a time traveler, Yong Si, he sees the problem lies with learning the complex Chinese written language.
Using a special mirror provided by Yong Si, the king sees glimpses of Korean writing, the Hangul. But King Sejong is uncertain if he can learn enough from these glimpses.
This was a stimulating SF story based on Korea's history. The prose was good, and the historic perspective interesting.
"Udatta Sloka" by Deepak Bharathan
In this short fantasy, the Ayra tribe and its high priest, Kaila, face annihilation at the hands of the nearby Dasa tribe that live in a walled city. Ritya, Kaila's only daughter, is the 'wife' of their god Mitra. She can never marry or bare children, marking the end of Kaila's dedicated family line.
If the Ayra cannot stop the Dasa, then it matters not that Kaila's line will end. The Ayra send all their fighters in one last attempt to defeat the Dasa in their own city. When the fighters fail to return, Kaila and Ritya must walk to the Dasa city to settle the fate of their tribe.
The author has created an enchanting story around a piece of Indian history. The prose flow was easy and the story was a pleasure to read.
"Crash" by Melissa Yuan-Innes
"Crash" is an SF short about three siblings on the moon. When their robot teacher abruptly terminates their school lesson, the children return to their pod. Their parents tell them there was a crash landing on the moon's surface. The parents seem distracted and eventually the authorities call the mother away.
Luna, the eldest, follows her mother's progress on a special display. Things do not look good at all as her mother is no longer moving. But trying to get a definitive answer seems unlikely unless she takes matters into her own hands.
This story started and maintained a steady pace throughout. However, the ending was disappointingly bland.
"Memoriam" by Priya Sridar
A grief-stricken scientist, Anish, creates a robot that mimics his deceased father's mannerisms in this SF short. Anish's father, Tony, was a well-known writer and some of his fans protest this scandalous automaton, not understanding that Anish just misses his father.
The thing surprises many visitors with its life-like resemblance to Tony, its mannerisms, and its knowledge of their past experiences with Tony. Now the thing has asked for water from the Ganges to drink, to purify itself. Anish struggles to fulfil the request, not aware of the strange turn of events when the thing gets the polluted water.
This story read slow in several parts and the plot seemed to wander until it picked up pace towards the end.
"The Observer Effect" by E. C. Myers
In this unusual short fantasy, handicapped Linda follows a man she thinks is the superhero Breakpoint. At first David denies he is this retired superhero. But finally, he admits to who he is.
Whilst out walking together, a mugger threatens them at the point of a gun. David reveals his power to save them both, but in the process Linda reveals her own super power. In the end they work together to stop the mugger and Linda sees Breakpoint's true super power.
This was a charming story; the pace was spot on. The characters and intrigue pulled the reader through and the tale passed far too quickly.
"Decision" by Joyce Chng
The youngest sister of a spider-jinn clan dreams of leaving home in this flash fantasy. Meanwhile, her grandmother, the clan matriarch, makes her and her older sister work hard day-in and day-out.
Then, one day, she meets a boy spider-jinn and they have the briefest of encounters. But it is enough, and now she has earned the right to leave and make her own clan.
Chng has created a short but engrossing fantasy about a changeling girl. The story was a nice read.
"Moon Halves" by Anne Carly Abad
Soliran is the youngest son of the village's ailing datu in this short fantasy. With the fifth full moon, the three brothers must each seek a Taung Asu and either kill or capture one of these powerful spirit creatures. The first to succeed will be the village's new datu, the warrior that protects the village.
Full of uncertainty, Soliran is the last to set off. Soon he finds a brother locked in mortal combat with a massive Taung Asu. His brother is badly wounded and the creature is about to vanquish him when Soliran intervenes and hits the monster with a poisoned dart. His brother resents the help even though he must return to the village before he dies of his wounds.
With an injured and dangerous Taung Asu hiding in the trees, Soliran must finish the job. But things do not work out the way he expects.
The start felt a little slow and staccato, but the action sequence was strong and the ending twist made for a pleasant story.
"The Bridge of Dangerous Longings" by Rati Mehrotra
The authorities have forbidden anyone to try and cross Sumadru Bridge in this short fantasy. Nira has left her remote village to come to Jayakarta to see the famous bridge, built by her great grandfather. She hopes to find a new life. The massive suspension bridge itself has the far end permanently shrouded in fog, so no one knows where the bridge leads. When people try to cross the bridge their bodies explode, yet still people make the attempt and the government guards their end of the bridge.
In Jayakarta, Nira stays with her uncle, who exploits his young niece like an indentured servant. Sleeping at her uncle's antique shop, Nira finds an old helmet and goggles that change the scenery in a strange way. Looking at the bridge through the goggles the fog disappears; could her great grandfather have left these behind?
One day her uncle rapes her, as he plans to sell her into prostitution. After exacting revenge, she flees with the old helmet, hoping to cross the bridge to nowhere.
This was an interesting tale. The writing style was easy to read and the mystery and danger engaged the reader.
"Old Souls" by Fonda Lee
In this fantasy novelette, Claire reads the past lives of anyone she touches and she is aware of her own past lives. She sees that everyone has a common theme to their many lives; hers is to die before her twenty-first birthday. On her twentieth birthday, Claire meets an ageless woman, Pearl. She asks for Claire's help in finding a past lover and in return she'll help Claire break the pattern. Claire loves her boyfriend, Ethan, and wants to have a long life with him, so she agrees.
Claire uses what scant information Pearl gives her and searches for months without success. Finally, she chances to meet Ethan's brother, Kegan, and discovers in his past lives the history she is searching for. But when she lets Pearl know she has found her past lover, things turn in unexpected ways, leaving Claire facing imminent death once again.
The story maintained a fast pace throughout, ratcheting up the action in the final quarter. The mystery flows throughout making this a beguiling page-turner.
"The orphans of Nilaveli" by Naru Dames Sundar
Kartik is a six-year-old Tamil in this SF flash story set sixty years from now. An earthquake has destroyed his home in northern Sri Lanka. His parents send him away before the aftershocks can kill the survivors. In this future world all adults have an implant that identifies them.
As he grows up in a Sinhalese family, Kartik wants to remember his Tamil past while succeeding in his new culture. But Tamils lost the civil war and Sinhalese people are programming their implants to prevent them seeing anyone who's Tamil. Kartik faces a dilemma about how he will respect his roots in this increasingly foreign land.
This quick story was easy to read and the plot structured well for flash fiction.
This anthology was good, with the majority of the stories being either good or very good page-turners.