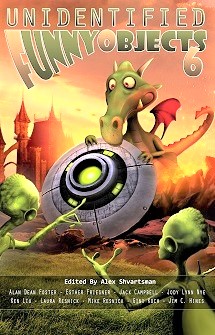 Unidentified Funny Objects #6
Edited by
Alex Shvartsman
(UFO Publishing, October 2017, pb, 383 pp.)
"A Game of Goblins" by Jim C. Hines
"The Breakdown of the Parasite/Host Relationship" by Paul R. Hardy
"From This She Makes a Living?" by Esther Friesner
"Twenty-nine Responses to Inquiries about My Craigslist Post: Alien Spaceship for Sale. $200, You Haul" by Tina Connolly
"Tyler the Snot Elemental Scours the Newspaper, Searching for Change" by Zach Shephard
"Agent of Chaos" by Jack Campbell
"Display of Affection" by P. J. Sambeaux
"The Great Manhattan Eat-Off" by Mike Resnick
"An Evil Opportunity Employer" by Lawrence Watt-Evans
"Common Scents" by Jody Lynn Nye
"A Mountain Man and a Cat Walk into a Bar" by Alan Dean Foster
"Lost and Found" by Laura Resnick
"A Crawlspace Full of Prizes" by Bill Ferris
"Return to Sender" by Melissa Mead
"The Friendly Necromancer" by Rod M. Santos
"An Open Letter to the Sentient AI who has Announced its Intention to Take Over the Earth" by Ken Liu
"Approved Expense" by David Vierling
"Alexander Outland: Space Jockey" by Gini Koch writing as G.J. Koch
"Dear Joyce" by Langley Hyde
"Impress me, then We'll Talk about the Money" by Tatiana Ivanova / translated by Alex Shvartsman
Reviewed by Chuck Rothman
Unidentified Funny Objects is an anthology series with a mission: to be a place for humorous science fiction and fantasy. (I am now obligated by the Reviewers Code to point out that humor is subjective and so on and so forth, so consider that point covered.) This year's offering has 20 stories.
The title of "A Game of Goblins" gives away what Jim C. Hines is doing: a parody of Game of Thrones. Golaka is a goblin cook whose life is upended when humans arrive and bring her to join the Conclave to determine who will sit on the Onyx Throne. I haven't seen or read Game of Thrones (I met George R.R. Martin once, if that counts for anything), so I'm sure I didn't get all the references, but I knew enough of them through osmosis to understand a few. But what makes the story work is Golaka, who is tough, ornery, and ultimately smarter than anyone else in the various houses. A strong start overall and probably even funnier if you know the source.
Paul R. Hardy contributes "The Breakdown of the Parasite/Host Relationship." It's a series of conversations between Uchell—captain of a starship—and Chen, who's having a problem with the symbiont that uses his body rather carelessly. Kirireg refuses to accede to Chen's wishes and it becomes a battle between the two beings. The story starts out strongly, but starts to fade as the plot begins to resolve. Some funny lines and situations, but it can't keep up the level it started.
"From This She Makes a Living?" by Esther Friesner is an exploration of the town of Chelm, famous in Jewish folklore as a village populated entirely by fools. But the town has a problem: a dragon has come by and has begun devouring the populace. The story covers how the town tried to deal with the crisis, as the people bicker and argue all over the place, until Barbi shows up. She's a modern woman who has been transported the Chelm, a fate she is not happy with. The story movies along with some great twists, but the real strength is the characters (which is often the strength of comedy). Also, Friesner's footnotes explaining Yiddish words in the story are hilarious.
The plot of Tina Connolly's "Twenty-nine Responses to Inquiries about My Craigslist Post: Alien Spaceship for Sale. $200, You Haul" is described by its title: someone has found an alien ship and is answering questions about it. It's mildly amusing, but is just an excuse for a bunch of jokes, with a little bit of story attached.
"Tyler the Snot Elemental Scours the Newspaper, Searching for Change" by Zach Shephard is more story oriented, telling about Tyler, who works as a guard at a lighthouse and is bored with his life. A fortune teller suggests he makes a change. Not laugh out loud funny, and tries too hard to juice up the tale.
"Agent of Chaos" is about Suzanne, an author of fantasy—well, rather an author in a world that's part fantasy, part NYC publishing. She is forced by her muse and a magic compulsion to help Gothlack the God of Chaos get his novel published. With the catch that if anyone reads it to the end, it will be the end of the world. Jack Campbell takes a semi-satirical look at the publishing process. The story requires some cleverness to work, but that is supplied nicely.
"Display of Affection" by P. J. Sambeaux satirizes the social network culture. Guy's mother has died, and people think that their Facebook reactions are enough to soothe him. He turns off his connection to try to get away from it all, but that only makes things more complicated. The satire here is muted and the story, while light, is only so-so.
Mike Resnick's "The Great Manhattan Eat-Off" is subtitled "A Harry the Book Story." I'm not familiar with other stories with that series, but it was quickly clear that the character is an homage to Damon Runyon. This particular story is clearly inspired by Runyon's "A Slice of Pie." Harry is a cheap crook and gambler with an eye toward making a buck. He gets one of his flunkies, Gently Gently Dawkins, to enter the contest that gives the story its name in order to beat the perennial champion, Priscilla Nibbles. Of course, magic is needed to give Dawkins an edge. It's hard to compete with Runyon, but Resnick acquits himself honorably. It's a clever idea to mix Runyon's humorous lowlifes with fantasy elements in a story that stands on its own even if you don't know what inspired it.
"An Evil Opportunity Employer" by Lawrence Watt-Evans tells about a superhero whose regular job is that of a lawyer. He gets a client who wants out of his contract as a supervillain's henchman. But the lawyer reads it to discover he's not signed up as a henchman, but as a lower status minion. It's an amusing concept, and had a nice twist on the superhero genre.
Jody Lynn Nye's "Common Scents" is about police detective Dena Malone who is given an alien symbiont, Dr. K't'ank. Dena is not happy with the situation, but K't'ank has abilities—notably his sense of smell—that turn out to be important. Though the story has a light tone, its humor mostly comes from the typical "alien doesn't understand human culture" well that's been around for ages and it seems pretty routine.
"A Mountain Man and a Cat Walk into a Bar" is subtitled "A Mad Amos Story." I'm not familiar with this Alan Dean Foster series, but I don't think it makes a difference. It's an old fashioned tall tale, where Malone walks into a Wild West bar to get a drink of whiskey in peace when a loudmouth named Gustavus Eyvind Hudiksvall begins to harass him about the bar's cat. Hudiksvall is the master of dogs—all dogs, in all forms—and Malone, who doesn't care for the cat, but cares for Hudkisvall less, begins to defend the animal. The story is filled with bigger-than-life events to go with the two bigger-than-life characters in it. It has the feel of legend to it.
Laura Resnick contributes "Lost and Found," a series of vignettes about an alien spaceship coming to Earth. It tries to satirize how various people would react to the news, which takes a twist when they learn the reason for the voyage. The satire is a bit mild for my taste.
"A Crawlspace Full of Prizes" by Bill Ferris sets up a situation where you start to get tickets—like those you get from playing Skee-Ball at an arcade—from your various home appliances. You learn that these actually can be redeemed for various prizes, most of which are things from your past, like "perfect recall of your high school prom." This is magic realism that's more strange than funny, but I think overall the story works well, and gets extra points for succeeding while being written in the second person.
Melissa Mead has made a name for herself with her twisted takes on fairy tales. "Return to Sender" is flash fiction set in a series of letters from one giant to another. Bert is having problems with a human who climbed up a beanstalk and is causing trouble, and his brother Barney sympathizes and starts to get worried. It's a subtle story that requires close attention, but works by implying things without describing them, a type of humor writing I always appreciate.
"The Friendly Necromancer" in Rod M. Santos's story has its hero starting out on a quest, in order to retrieve the Umber Urn of Unresting after the death of D'reer the Deathless. He becomes part of a group who use their talents to find the Urn—which brings the dead back to life—before it can get into the wrong hands, and facing various threats in the process. This is a strong story that hangs the humor on an interesting quest plot, making it a winner all around.
"An Open Letter to the Sentient AI who has Announced its Intention to Take Over the Earth" by Ken Liu describes its plot in the title. The letter describes how the writer can be useful to the mechanical overlord. I don't feel the series of jokes really hangs together as a story.
David Vierling writes about an action-packed expense account in "Approved Expense," written as a series of emails where J. C. Zeitgeist is questioning some odd expenses on the account of the agent Morgan Graymael, with Graymael showing how they are justified. This could easily be a dull call-and-response, but reading between the lines we see the outline of what Graymael is doing, with a kicker at the end.
"Alexander Outland: Space Jockey" by Gini Koch is part of a series of humorous SF she's been writing as G. J. Koch. Outland is the Captain of a ship of smugglers who are looking for a new Weapons Chief and find it in Slinky, a sexy woman—and Outland always appreciates sexy women (the words "charming horndog" come to mind). This leads to some trouble with the authorities. It's fast paced with a lot of action but it didn't seem particularly outstanding.
"Dear Joyce" is an advice column for people in a fantasy world. Joyce gives advice mostly dealing the Mnabapt, who, when not abducting young maidens, is replying to her column. Langley Hyde has a clever conceit and the story is cute.
"Impress Me, Then We'll Talk about the Money" by Tatiana Ivanova is a letter from Gideon Gorsky, a smart (he thinks) pharmacologist, to his wife. Gideon has come up with a new type of mood enhancer and convinces his boss Sergey Nicolayevch to manufacture them. The drugs are a hit, except they start to have some strange side effects. The story is a funny concept but goes on a little too long.
Overall, the anthology does exactly what it set out to do: put forth a slate of humorous stories that are something of an antidote to more serious fare. I enjoyed most of the stories here and you might like some of them better (or worse) than I do (see first paragraph). But everything here is worth the time and will, at the very least, provide a few chuckles.
---
Chuck Rothman's novels Staroamer's Fate and Syron's Fate are available from Fantastic Books.