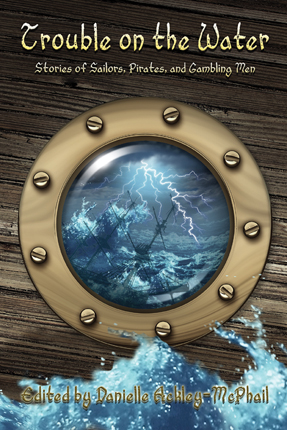 Trouble on the Water
edited by Danielle Ackley-McPhail
(Dark Quest Books, September 2014)
"Sailor of Kannar" by Phoebe Wray
"Trouble on the Water" by Danielle Ackley-McPhail
"Vest of the Pecos" by David Sherman
"Unsinkable" by Jeffrey Lyman
Reviewed by Chuck Rothman
Dark Quest Books is a small press publisher that has started putting together short story anthologies. Trouble on the Water is subtitled "Stories of Sailors, Pirates and Gambling Men" and contains four nautical-themed adventure fantasies.
Phoebe Wray starts things out with "Sailor of Kannar," the story of a strange plague in the country of Kannar, where the female children of the country fall into a mysterious coma, and no more are being born. In order to put an end to this curse, King Alreed tries to use the mystic Oracle stone, which is held by the Baasti, a despised native group. Darcy is a young Baasti woman who decides to help out the king despite his ill-treatment of her people, simply because it's the right thing to do. I felt the story went on a bit long for the concept and found it hard to be engaged in the subject.
The anthology's editor Danielle Ackley-McPhail contributes a story from her series (all published by Dark Quest) of stories on the world of the Silver Moon. Inventor Cael Axton is traveling by ship with his wife Rishima Blacque and son when they are attacked by pirates in airships, looking to steal his latest invention. The ship is wrecked and Rishima has to use the invention to let Cael rescue her. This is a basic adventure tale and also runs a bit long for the concept. I never got the feeling that Rishima was ever in any real danger, nor does the story hold many surprises.
We move to rivers — most notably a riverboat — in "Vest of the Pecos." Cheyenne Walker is a riverboat gambler (an honest one) who finds his old friend (and Pinkerton agent) Kitty Belle aboard the Samuel Clemens. Kitty enlists his help to solve a mystery: gamblers have been mysteriously robbed of their chips on the way to cash them out. There's more than a simple robbery afoot, with a fantastic explanation. David Sherman's story is a nice little adventure romp, with strong characters and situations. It's certainly not a deep story, but is very entertaining.
Jeffrey Lyman contributes the final story, "Unsinkable," about Princess Cordolya, who reads romances and dreams about adventure. When she is sent off to be married to a faraway prince, she gets to find some first hand, and discovers a talent for adventuring — and maybe more — that stands her in good stead. The story makes a misstep in the very beginning by starting out with Cordolya returning in triumph, then telling the rest in flashback. Since we know what happens, this removes the suspense and weakens the story. The adventure is also weighed down by a bit too much philosophizing which is also made pointless by the fact we know the end result. Overall, the story is all right, but could have been better.
"Could have been better" really fits all the stories in the anthology. None are bad, but none are compelling. They show potentially talented writers still finding their way.
---
Chuck Rothman's novels Staroamer's Fate and Syron's Fate were recently republished by Fantastic Books. His story, "Ulenge Prime," will appear in an upcoming Analog.