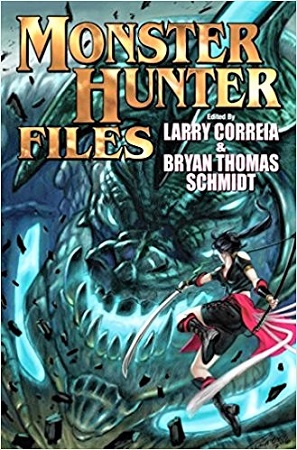 The Monster Hunter Files
Edited by
Larry Correia & Bryan Thomas Schmidt
(Baen, October 2017, hc, 336 pp.)
"Thistle" by Larry Correia
"Small Problems" by Jim Butcher
"Darkness Under the Mountain" by Mike Kupari
"A Knight of the Enchanted Forest" by Jessica Day George
"The Manticore Sanction" by John C. Wright
"The Dead Yard" by Maurice Broaddus
"The Bride" by Brad R. Torgersen
"She Bitch, Killer of Kits" (a Skinwalker Crossover Tale) by Faith Hunter
"Mr. Natural" by Jody Lynn Nye
"Sons of the Father" by Quincy J. Allen
"The Troll Factory" by Alex Shvartsman
"Keep Kaiju Weird" by Kim May
"The Gift" by Steve Diamond
"The Case of the Ghastly Specter" by John Ringo
"Huffman Strikes Back" by Bryan Thomas Schmidt & Julie Frost
"Hunter Born" by Sarah A. Hoyt
"Hitler's Dog" by Jonathan Maberry
Reviewed by Rebecca DeVendra
This anthology collects stories set in the world of Larry Correia's best-selling Monster Hunter International series. It is a world where smart and capable heroes (usually packing quite a bit of heat) make a living exterminating the things that do more than go bump in the night (monsters from myth, legend, and B-movies are real, with Monster Hunter International being the premiere eradication company in the business). This collection features some very talented authors and the result is downright fun and entertaining, bloody but not nauseating, intelligent but not overwrought, and approachable to those not familiar with the original books (I have never read them, and was no worse for it.) Fans of this world will be satisfied, I don't doubt, and I daresay new readers will gleefully discover a new series in which to indulge.
"Thistle" by Larry Correia opens with an intriguing hook: a recently orphaned child is talking to a social worker about the monsters that killed her parents. The scene switches to Arizona and we're with the Monster Hunters at a gruesome crime scene littered with body parts. While macabre in subject and rife with violence, the narrative is never bogged down. It's downright entertaining and shot through with enough intrigue to keep the reader interested. Correia's style is bold and unhindered by heavy prose, like he's ripped a quill open with his teeth and splattered the page with ink buckshot. His humor is approachable and effective: we're shown an Orc that tries to fit in with humans by "carrying only one sword." During an intense fight scene, the main character decides to start a brush fire with the line, "you never know when you'll need to commit arson." The ending has a good and unpredictable twist that is both tantalizing and satisfying.
Jim Butcher's "Small Problems" is told from the perspective of a janitor named Sid who can take care of himself: he defeated a zombie with nothing but his fists and put a few Monster Hunter trainees in their place, after all. He's got a dirty job, cleaning up after the Monster Hunters, especially when the corpses of the creatures he's mopping up after become an unexpected threat. Sid has to take on a scary adversary, and the help he gets along the way is small but mighty. Fun, well written, with enough twists to keep the reader guessing.
"Darkness Under the Mountain" by Mike Kupari is set in Afghanistan, a place the author has experienced firsthand. A Chinese mining company runs into supernatural trouble: diabolical creatures that prey on women and children, especially pregnant ones, are on the loose. The Chinese government denies the existence of paranormal instances, so a freelance Monster Hunter is called in to do the job. There are fights in dark tunnels and conspiracies to throw a wrench in the hero's plans, but all ends well.
Jessica Day George's "A Knight of the Enchanted Forest" starts with a literal bang: the protagonist, Glad, is expelled from school for blowing up her biology classroom. She had good reason—her teacher was a werewolf! Nobody believes her, so her dad decides to homeschool her in a rural area. But things don't return to normal at all, because what looks like garden gnomes are actually alive. The story is charming and entertaining, but the werewolf thread at the beginning is dropped and forgotten in favor of a new concept, making the overall narrative punch ineffective.
"The Manticore Sanction" by John C. Wright presents a man, Scrope, with a dilemma: he must kill his fiancée by order of Her Majesty's government before New Year's. It's an understandable request, as the woman is Ankhesenamon reincarnated. Scrope isn't quite on board with this plan, so he recruits the help of Imhotep to protect her. Like most Faustian deals with supernatural terrors, there's a cost, and at the end there's an unexpected winner.
"The Dead Yard" by Maurice Broaddus features a chemistry teacher turned Monster Hunter named John Jermain Jones. A blood-drained baby acts as the impetus for an investigation, so Jones goes to Jamaica to do some digging. He enlists the help of Monster Hunting veterans Holly and Owen and they go to the child's funeral. There are strong family themes in this narrative, and they overshadow the supernatural effect in a way that's not at all detrimental.
"The Bride" by Brad R. Torgersen features none other than Benjamin Franklin himself: it's a story with some chutzpa, that's for sure. Franklin's attention is called to a diabolical creature causing mischief, and he's expected to take care of it with his protector, Baron Von Steuben. The threats are real and Franklin is no fighter, so he owns the day with his words even when bested physically.
"She Bitch, Killer of Kits" is a crossover tale by Faith Hunter about Jane Yellowrock, who is known to star in urban fantasy novels, here revealed to be a Monster Hunter all along. The story opens with a little girl given a bad diagnosis: she's probably going to turn into a werewolf. There's plenty of background information dropped in to give readers unfamiliar with Yellowrock a foothold, and the resulting story is intense and entertaining.
"Mr. Natural" by Jody Lynn Nye opens with heroine Bobbie Hubert hacking down a demon-infested forest for Monster Hunter International. The foliage appears to be influencing a commune, a group of back-to-the land green advocates harvesting large vegetables. Killer peas, hatching pods, and plenty of adrenaline rushing scenes with bazookas keep interest in this lighthearted romp, and the story ends with a satisfying punchline.
"Sons of the Father" by Quincy J. Allen opens with two cocky brothers shirking their mother's advice. They go to the Goblin Hills. They run into a crime scene at a campsite, finding a slashed up tent and enough blood to put any CSI primetime drama to shame. Of course, they decide to investigate, and find themselves in over their heads in the lair of giant spiders. While the concept is cool, the pacing of the story is so fast as to leave one breathless.
Alex Shvartsman's "The Troll Factory" takes place in Russia with a Monster Hunter Newbie. He's assigned to investigate a Troll revolt at a data center, due to his background in IT and gaming. If you chuckled like I did, this is the story for you. The protagonist takes the trolls on in a game of Counter-Strike, and his dominance there is only the beginning of his trials. This one is entertaining, funny, and full of surprises.
"Keep Kaiju Weird" by Kim May is about a kitsune with a PUFF exemption (beings with monster powers/traits that don't get hunted, basically.) She stumbles on cultists prepping a site for a summoning and calls it in. There's lots of kitsune sword-wielding and magic, not to mention some wholesome demon butt-kicking in this one. Flashy, diverting, and fun.
"The Gift" by Steve Diamond sets the scene at a church, where something is wrong. A Knight of the Secret Guard accompanies the protagonist Fedele. Fedele is sensitive to the supernatural because the bones of a saint have been grafted onto his own, and he follows the orders of the Vatican to help the world. They end up thwarting cultists in service to the Old One, and Fedele reconciles with an identity crisis. There are so many complicated threads in this story that Fedele's inner narrative doesn't quite get the attention that it deserves.
"The Case of the Ghastly Spectre" by John Ringo takes place during an English winter, and everyone is concerned about an influx of supernatural beings from other continents. A student linguist is recruited to learn the language of the otherworldly gnolls, and get to the bottom of some mysterious killings. The prose is hypnotically good. Ringo's dialogue manages to be engaging and delightful, delivering a truly pleasant and immersive reading experience.
"Huffman Strikes Back" by Bryan Thomas Schmidt and Julie Frost stars Glen, the brother of a werewolf killed by Owen Zastava Pitt. Glen vows revenge and decides to take out one of MHI's Star Hunters. A gory mess ensues, and while the ending is a bit predictable, it's a fun ride.
"Hunter Born" by Sarah A. Hoyt is a throwback piece about young Julie Shackleford, dealing with parents who are Monster Hunters. Poor Julie just wants to go to her prom but, of course, nothing goes well. The story smacks of an episode of Buffy, full of angst, blood, and fun.
"Hitler's Dog" by Jonathan Maberry takes us to an Internment camp in France in 1941. Karoutchi expects death, his family all imprisoned or taken away. A scientist, his talents are discovered and he is offered a bargain: to work with the enemy in exchange for the lives of his family. The tale is engrossing and creepy, as the true nature of the scientist's work is revealed. The expert pacing and tense, slow horror make this one a standout in the anthology.
---
Rebecca DeVendra is a figure artist and speculative fiction writer living in Boston. Her fiction can be found at Starship Sofa. She's also a mom to three cacophonous, early-rising children. She's probably in her pajamas, but she has an emergency collar shirt for video calls. Check out her blog.