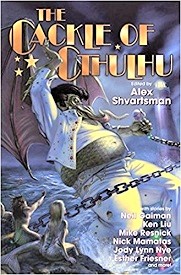 The Cackle of Cthulhu
Edited by
Alex Shvartsman
(Baen, January 2018, tpb, 265 pp.)
"The Shunned Trailer" by Esther Friesner (reprint)
"The Captain in Yellow" by David Vaughan
"My Little Old One" by Jody Lyn Nye
"Tales of a Fourth Grade Shoggoth" by Kevin Wetmore (reprint)
"Friday Night at Brazee's" by Mike Resnick
"To Whatever" by Shaenon K. Garrity (reprint)
"The Doom that came to Providence" by Brian Trent
"Explaining Cthulhu to Grandma" by Alex Shvartsman (reprint)
"The Call of the Pancake Factory" by Ken Liu (reprint)
"The Innsmouth of the South" by Rachael K. Jones (reprint)
"In the Employee Manual of Madness" by G. Scott Huggins
"Shoggoth's Old Peculiar" by Neil Gaiman (reprint)
"H. P. and Me" by Gini Koch
"The Greatest Leader" by Aidan Doyle
"But Someone's Got To Do It" by Konstantine Paradias (reprint)
"The Call of Uncopyrighted Intellectual Property" by Amanda Helms
"Cthulhu, P.I." by Laura Resnick
"A Stiff Bargain" by Matt Mikalatos (reprint)
"The Shadow Over My Dorm Room" by Laura Pearlman
"The Tingling Madness" by Lucy A. Snyder
"The Girl Who Loved Cthulhu" by Nick Mamatas
[Editor's note: Reprints are not reviewed.]
Reviewed by C. D. Lewis
Brought to you by the editor of the Unidentified Funny Objects anthologies, The Cackle of Cthulhu celebrates the funny side of Lovecraftian nihilistic cults bent on feeding the world to a long-slumbering monster octopus. Twenty-two stories let readers soak in the weird energy of hungry gods while inhaling the mystic vapors of their lavender-scented bubble-baths (the readers' not the gods; if they've got lavender-scented bubble baths this has not yet been reliably reported to your reviewer). Read. Your sacrificed ancestors will roll laughing in their graves.
David Vaughan's "The Captain in Yellow" journals opens on a new ensign disembarking a shuttle form New Innsmouth for his first deployment to a Brotherhood starship. At-the-expense-of-the-new-guy humor colors the ensign's tour through the ship; we see its weird denizens and bizarre operations and catch a glimpse of what the nihilistic servants of the elder gods have in mind for interstellar expansion. And we see what the call of Cthulhu looks like in the communications room of a space-octopus starship. Look for names of types of cheese inserted in lists of planets with Lovecraftian names. At under three thousand words, the work is a quick romp that clothes in Lovecraftian regalia its nods to fandoms that include Dune and Star Trek, while building toward a conclusion that combines Lovecraft's looming horror with the optimistic outlook that characterizes so much classic SF.
In "My Little Old One" Jody Lyn Nye offers a modern mashup of old switched-at-birth fairytales, Lovecraftian horrors, the crass commercialism of everything aimed at parents for children, and the real-world horror of trouble with toddlers. It's the first work in the anthology presented in third person, and works against the impression the main character has any insight into the Lovecraftian world she inhabits. Nye's descriptions perfectly capture modern urban-parent culture, the healthy/organic fixation so common with respect to developing children, and the need to find baby-friendly outings and meeting-places. Superimposing on this is the unexpected supernatural element of a cult spreading its seductive grip through My Little Old One™ dolls (only $24.99, and I take credit cards) doesn't immediately reveal how funny this turns out as a Day In The Life Of A Berkley Parent rolls into a new day. But this is a story you really should give time to build the momentum it needs: Nye knows where the crazy driver needs to go, and how to fuel the bus. This might not have the same horror vibe for non-parents, but how glorious it is for those in the know.
Mike Resnick's "Friday Night at Brazee's" depicts an Old One bursting in on a card game in his search for a mortal who'd invoked his power to manipulate commodities market losses, and learning cards while he waits to exact his vengeance on his delinquent victim. The humor combines Stranger Sees Normal Things As Alien with Vengeful Fantasy Monster Comes For Tea before the backdrop of the Old One's dark vengeful purpose, which is entertainingly out of place in a handful of buddies' Friday night poker game. Short and fun.
"The Doom that came to Providence" by Brian Trent is set in Providence in the Thirties after a Cthulhu attack, and features a cadaverous (and abjectly terrified) Howard Phillips Lovecraft as a victim in a mobster's scheme to profit from the apocalypse. The humor leads with the indefatigable mobster's absolute confidence he can build a new scam in the aftermath of the Old Ones' return, and depends principally upon the absurdity of mobster tropes as the source for an effective response to the collapse of civilization. But Lovecraft isn't interested in profiting from the apocalypse—and he's got some peculiar ideas about what constitutes the soul of the civilization he wants to re-establish.
Yvonne Navarro's "WWRD" features a protagonist who reacts badly to unsolicited boyfriend advice from a talking Cthulhu doll (named R'yleh, after the city, hence the title) in an Elvis outfit. It's as enjoyable to see the protagonist warned off weirdos by the doll's supernatural powers as it is to see the doll working out what kind of date she needs. If you've never read about a Cthulhu doll matchmaker, this is your chance.
About G. Scott Huggins' "In the Employee Manual of Madness" I am tempted to say two words and stop: Domunüs Pizza. But more is owed the reader of reviews, so I will add that if you wish to learn how to advance within the firm, and avoid such punishments as Management is wont to mete upon transgressors, fail to heed the manual not. Hard to discern whether the warnings are better, or the instructions. Read it and get back to me.
Set in the world of Gini Koch's Necropolis Enforcement Files, "H. P. and Me" describes H. P. Lovecraft's first day giving class as a professor at Necropolis University, where his undead students prepare to police planes of existence not fit for the living. The tale establishes the world and quickly shifts gears to a thrill ride: the protagonists alternately chase and flee through an alien landscape. An action-driven romp.
"The Greatest Leader" by Aiden Doyle returns The Cackle of Cthulhu to first-person narration for a tour of Pyongyang's Victorious Fatherland Liberation War Museum and its exhibits suggesting Kim Il-sung personally defeated the Old Ones in hand-to-hand combat in the climactic victory of the Eldritch Wars. Doyle makes light of such offensive horrors as the 1984-style big-lie media of North Korea and the Windows operating system, while dropping puns and setting up a traditional eaten-protagonist horror climax.
Amanda Helms' "The Call of Uncopyrighted Intellectual Property" narrates the tale of Chastity, legal counsel to Brightdark Productions, who on page one is interrupted responding to a cease-and-desist letter from another firm that also made a movie titled Booty Call of Cthulhu. The density of laughs in Helms' work is outstanding. Sure, much of it is sexual innuendo, but the absurdity of the Great Old Ones appearing in a skin flick adds to the gag. Turns out, it's hard to edit film of objects the sight of which drives men mad, and losing editors makes it tough to keep contract deadlines—and you see why the studio needs a lawyer. With fonts that can render the Great Old Ones' language. And access to Google Translate. Absurd humor (a Great Old One caring about a mortal contract?) and just desserts provide entertainment through the last words.
Laura Resnick employs first-person narration and hardboiled detective scene tropes to get giggles from the first line of "Cthulhu, P. I." Like Helms' work, this one plays with the intellectual property disputes that have circled Lovecraft's work and the physical description of Cthulhu, which Resnick avoids through the simple expedient of making Cthulhu the narrator: in a first person story, you needn't describe yourself to make the world's impact on you clear to the reader. Ever wonder what images Cthulhu wished he could unsee? Read Resnick. Like a real hardboiled detective tale, "Cthulhu, P. I." delivers plots and twists and double-crosses and right up to its funny end.
Laura Pearlman opens "The Shadow Over My Dorm Room" with a dire portent in the heavens: Chicken Little announces the sky is falling. Narrated by a marketing student at Miskatonic University, the modern-day tale riffs on familiar college-student problems: peculiarities about one's roommate, tension with parents about choices in career path and school, struggle to fund college education—a comic goldmine. The reader, familiar with the Lovecraftian mythos, sees much sooner than the characters where seemingly attractive decisions impel the story into the realm of horror, but the feeling is more Three Stooges than Hitchcock. Laughs are shoehorned into so many details. The narrator's indefatigable naïveté is a gift that keeps on giving. Pearlman delivers enough creepy danger that the narrator's climactic solution feels like it brings relief, and the denouement ends the piece on a nice creepy note that blends the story's existing conflicts with a traditionally Lovecraftian sense of inevitable doom.
Told largely in flashback, Lucy A Snyder's "The Tingling Madness" features a narrator whose internal monologue and workplace priorities provide enough fodder by themselves for a comic short; one almost needn't introduce eldritch horrors trying to design online course materials for their enslaved minions when her reaction to boredom is to graduate from reading slash fiction on the clock to writing it. Right? When she loses her job, expense-cutting leads to the discovery of broadcast television and the Ia! Channel. Snyder inserts comic elements at high density, with digs against the HR department, cable television billing practices, you name it. Come see the world saved by smut writers united against the forces of darkness. When will you get such a chance again?
Nick Mamatas' "The Girl Who Loved Cthulhu" opens on a Lovecraftian writer recently out of a mental hospital (where she finished a manuscript) as she attends a Lovecraft convention as a guest of honor. Hounded by fans and critics alike, the protagonist suffers mundane horrors without hope of escape. Bonus points for use of the word occult in its original sense, that something has been hidden (the registration desk). By degrees we learn more about her stay in the mental hospital, its reasons, and the forces arrayed against her in the real world—things much darker than the boys club of Lovecraft's character roster.
---
C. D. Lewis lives and writes in Faerie.