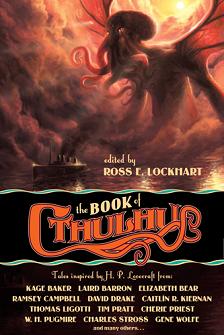 The Book of Cthulhu
Edited by
Ross E. Lockhart
Night Shade Books
(Sept. 2011, 529 pp.)
"Andromeda Among the Stones" by Caitlin R. Kiernan
"The Tugging" by Ramsey Campbell
"A Colder War" by Charles Stross
"The Unthinkable" by Bruce Sterling
"Flash Frame" by Silvia Moreno-Garcia
"Some Buried Memory" by W.H. Pugmire
"The Infernal History of the Ivybridge Twins" by Molly Tanzer
"Fat Face" by Michael Shea
"Shoggoths in Bloom" by Elizabeth Bear
"Black Man with a Horn" by T.E.D. Klein
"Than Curse the Darkness" by David Drake
"Jeroboam Henley's Debt" by Charles R. Saunders
"Nethescurial" by Thomas Ligotti
"Calamari Curls" by Kage Baker
"Jihad Over Innsmouth" by Edward Morris
"Bad Sushi"by Cherie Priest
"The Dream of the Fisherman's Wife" by John Hornor Jacobs
"The Doom that Came to Innsmouth" by Brian McNaughton
"Lost Stars" by Ann K. Schwader
"The Oram County Whoosit" by Steve Duffy
"The Crawling Sky" by Joe R. Lansdale
"The Fairground Horror" by Brian Lumley
"Cinderlands" by Tim Pratt
"Lord of the Land" by Gene Wolfe
"To Live and Die in Arkham" by Joseph S. Pulver, Sr.
"The Shallows" by John Langan
"The Men from Porlock" by Laird Barron
Reviewed by John Sulyok
H.P. Lovecraft's Cthulhu mythos is among the most cherished by gothic literature fans and has pervaded into the mainstream of geek-culture, in such works as Mike Mignola's Hellboy series, for one. With a book entitled The Book of Cthulhu, certain expectations are created which this anthology does not deliver. Firstly is the presence of Cthulhu himself, and unfortunately there is only one cameo appearance within the collection, and no story is directly concerned with the titular priest of the Elder Gods. Secondly is the feel of Lovecraft: a sense of dread; the development of a rich, aberrant atmosphere; themes questioning sanity, reality, and perception – Once again, this collection is mostly void of these expectations, making it feel more like the collected works of a fan-fiction site than a strong addition to a Lovecraft lover's library.
The disappointments delivered by these stories can largely be grouped into a few main points. As stated above, there is little-to-no dread or foreboding created by these stories, replaced instead by the reliance on quick shocks of grotesquery or violence that, ultimately, feel superficial. While only a few works attempt to emulate the style of Lovecraft's writing, the ones which do end up with over-long sentences in blocky paragraphs, creating walls-of-words with little variation to the flow of prose. But most troubling is the reduction of the Lovecraft mythos to little more than wayward aquatica, strange geometry, and vague references to abject cults.
Although the majority of these twenty-seven stories are mediocre, and some altogether pointless and a stretch to be related to Lovecraft's work at all, there are a few notable additions which are worth seeking out individually.
"The Unthinkable" by Bruce Sterling is about two former soldiers reminiscing about the state of the world now that various countries have weaponized their folkloric monsters. It's imaginative in a Neil Gaiman-esque kind of way, with a quirky-ending. I would love to read a novelization built on the concept.
"Some Buried Memory" by W.H. Pugmire has little to do with Lovecraft's mythos, but is a truly dark-fantasy-style story, written to absorb the reader into the world's narrative, which is macabre and relishing of sin. The characters are miscreants and the story unwholesome. It's a delight to read and does well to build atmosphere, but does not have a very satisfying end.
"Fat Face" by Michael Shea revolves around a high-class prostitute in Hollywood, making it standout from the majority of works. The relationship between the working-girls is well-established and the writing gives it a good horror feel, making the character of "Fat Face" that much more discomforting.
"Shoggoths in Bloom" by Elizabeth Bear probably does the best to advance the Lovecraft mythos through the lens of science. Professor Harding, an African-American scholar in pre-WWII America, is looking to secure tenure and a grant through his research on resting Shoggoths – gelatinous, be-tentacled sea monsters. Bear's style is easy and engaging, and does well to utilize war – a common theme within the collection – symbolically, which other stories fail to do.
"The Oram County Whoosit" by Steve Duffy is set in the 1920s and follows a journalist and photographer covering the story of a strange artefact found in coal mine. The characters are fleshed-out and enjoyable, making it worth reading despite a predictable outcome.
"To Live and Die in Arkham" by Joseph S. Pulver, Sr. is one of the high points in the collection, despite a few flaws. An academic hires a thug to kill a competing colleague, but just as the action draws to its conclusion, new facts are learned and the story veers off in a new direction. The turn of events is a little too quick, making it feel like a plot device, and the final paragraphs are confusing, but solid writing through most of the story makes it a worthwhile read.
A few notables:
"Bad Sushi" by Cherie Priest is one of the best written works here. A good variation in sentence and paragraph structure combined with strong detailing make it a joy to read. Ex-Soldier, Baku, is 76 and working as a sushi chef. But when the restaurant's supplier of meat changes, bad things start to happen around Baku. There isn't much wrong with this story, but it is predictable and the turn of events is questionable.
"Lost Stars" by Ann K. Schwader gets points for including women's issues of self-esteem and image. The story is about the friendship of two women trying to work out one's troubles, but they inadvertently turn to cult for answers, which ultimately leads them down a worse road. It's an okay read, but isn't satisfying and the relationship feels flimsy.
"The Crawling Sky" by Joe R. Lansdale breaks the mould by setting itself in the Wild West. Beyond that, however, the story of a self-appointed demon-slaying Reverend is uninteresting with clichéd characters and a simplistic prose style.
Original to this collection:
"The Dream of the Fisherman's Wife" by John Hornor Jacobs is short to a fault. Maebe, an old-fashioned, broad-hipped waitress is wooed by a wealthy sailor in a port town. But his love affair does not go as planned. Bland and predictable every step of the way, it's not worth even the few minutes it takes to read.
"The Men from Porlock" by Laird Barron is the collection's finale and only reasserts many of the troubles throughout the book. A group of loggers are tasked with hunting deer for a feast for a visiting photographer. Within the woods, the men tell spooky stories and the events of the following days are formulaic and cliché. The writing is overly concerned with small details and over-descriptiveness. There are too many characters that are given too much history for such a short story, making it difficult to tell them apart and reducing the readers sympathy for any of them. The finale is strange and awkward, leaving the entirety a mess.
The remainder of stories vary between the lower end of bland to bad. Overall The Book of Cthulhu is a disappointment and will not quench the thirst of the Lovecraft lover or the average gothicist.