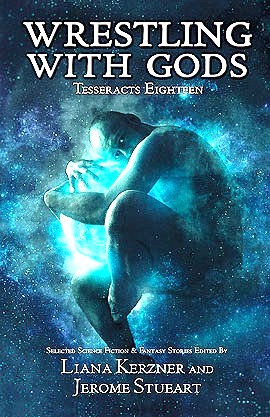 Wrestling with Gods: Tesseracts 18
Edited by
Liana Kerzner & Jerome Stueart
(Edge, April 2015, 280 pages)
"Mecha-Jesus" by Derwin Mak
"Come All Ye Faithful" by Robert J. Sawyer (reprint, not reviewed)
"The Queen in the Poplar Forest" by S. L. Nickerson
"A Cut and a Prayer" by Janet K. Nicolson
"Under The Iron Rain" by John Park
"The Shadows of Gods" by Mary-Jean Harris
"Burnt Offerings" by Mary Pletsch
"Ascension" by Jennifer Rahn
"The Faith Circus" by Alyxandra Harvey
"The Seven Creations – Book One" by Halli Lilburn
"The Harsh Light of Morning" by David Jon Fuller
"Summon the Sun" by Carla Richards
"So Loved" by Matthew Hughes (reprint, not reviewed)
"The Moral of the Story" by J. M. Frey
"Soul Survivor" by Steve Stanton
"Chromatophoric Histories of the Sepiidae" by James Bambury
"Ganapati Bappa Moriya" by Savithri Machiraju
"Abominatio" by Jen Laface and Andrew Czarnietzki
"The Last Man on Earth" by Suzanne M. McNabb
"Where the Scorched Man Walks" by Megan Fennell
Reviewed by Jason McGregor
Tesseracts 18 is another in the long-running series of Canadian anthologies, this one with the theme of speculative theology, or "wrestling with gods." There are eighteen reviewed stories, two unreviewed reprints and five unreviewed poems.
"Mecha-Jesus" by Derwin Mak
This is an extremely catholic Catholic story which describes a sort of fusion between Christianity and Shintoism through the lens of Father Ito, a Japanese Catholic of the Pontifical Institute of Robotics and Artificial Intelligence. He's in Shingo to take a look at the humaniform robot Jesus who has become the center of a tourist attraction which purports to be the real place Jesus went off to before he died. The dramatic tension is provided by a conflict with The Protectors of Humanity, an anti-"android" group that makes no exceptions even for Mecha-Jesus.
There are odd aspects to the writing such as a simple tone which may be appropriate for evoking a "parable" feeling but could also be seen as a somewhat amateurish style. There are also odd bits such as Norman Richmond (the small-minded character in this Canadian tale set in Japan who is naturally a Protestant American) being portrayed as being surprised by the Shinto/Christian combo yet having been coming "once a week for two years" as well as this example of much repetition in a very small space regarding Mayor Fukuda and Enoki the Priest:
Enoki came and took Fukuda away to meet a garlic farmer. Some more tourists came to Mecha-Jesus. Ito looked around for Fukuda. She had gone away with the Shinto priest.
Aside from that, this ecumenical tale was somewhat interesting and the bit about "pasta" (which I won't ruin by explaining) struck me as very funny.
"The Queen in the Poplar Forest" by S. L. Nickerson
The Queen in the Poplar Forest is a figurehead, though a spoiled and imperious one, at loose ends in her city, but she loves the forest even if she does not quite "understand" it at first. But then, while hunting the Bronze-Backed Bear, she spears what presents as a wild-man named Leinu. Very little plot takes us to the obvious thematic issue of nature vs. artifice and despoiling vs. appreciating. Other than the Queen claiming to be able to see in the dark (and apparently being able to) and some trace issues open to interpretation (only one of which is useful to interpret as fantastic) there's little fantasy here, though little reality either.
"A Cut and a Prayer" by Janet K. Nicolson
This story isn't quite about a woman who's lost her faith in Allah going to a quick'n'easy outpatient neurosurgeon (the Barber) to have her faith put back in by computerized brain manipulation but it's close. It reminds me of a somewhat paler version of a Greg Egan or Nancy Kress story (though, unlike Kress, the main familial trauma is the mother rather than the sister) but, despite some specificity (or perhaps due to narrow third person narration vs. first), the POV character's internality is somewhat vague. Perhaps this is appropriate for a clinically depressed protagonist but she didn't quite capture me the way a character by those authors might. Still, it has a slim but sufficient plot and an interesting theme, so was worthwhile.
"Under The Iron Rain" by John Park
This is a poorly exposed story with little initial drama and I'm still not sure what the scenario really was. An apparently somewhat crazed artisan gets into a city on a mission to repair a semi-mobile construct used in a goat sacrifice which is supposed to strengthen the shield that prevents what may be old spaceship fragments from hitting the city. But he's really on a mission to pull his daughter out of the sacred brothel – instead, she volunteers to restore the old sacrifice – a woman such as herself. What he does at this point, what comes out about what he had done in the past, and what happens after is handled very quickly but, despite what might have been a fascinating milieu, by that time it was too little, too late for this reader.
"The Shadows of Gods" by Mary-Jean Harris
To some this tale of a boy in search of truth will seem overwritten and plotless. To others, it will seem idiosyncratically conceived and freshly written. To yet others, including myself, it's a bit of both. To give some of its flavor, the boy (Toulouse), his father (Kristeur), a donkey and their snakes and the Sufi poet who uses his body for a scroll are making their way through the Arabian desert.
An Asian man had joined them a few hours ago before they had entered the desert, and he was speaking with Kristeur in Chinese about some grand metaphysical ideas. Toulouse could only understand fragments of their speech, but he enjoyed listening all the same. The man was bald and wore a dark robe that dragged behind him in a long trail which two hairless cats lay resting on even as he walked, and a creature with creamy white plumage was curled on his shoulder.
(I wish that said "in a long trail on which two hairless cats lay resting even as he walked" as I think it would flow better but I knew what she meant and loved the image.)
"Burnt Offerings" by Mary Pletsch
In this very busy and intermittently good and less-than-good story, centuries after Christianity has split into the Crusaders and the apparently syncretist Humanist Empire and the former make interstellar war on the latter (as well as the Sultanate of the Crescent and perhaps with aliens), a soldier breaks into the Lattice Sacristy of the Vendetrix Avengelis (or the VR) of our narrator who is a Shaman of the High Ones. The soldier has sought him in desperation as she and her unit are about to die in a Crusader assault. He, being an agnostic of a low caste (who has risen to high places due to his experiences), helps this low caste warrior, drawing the ire of a Pater Donner – an insincere schemer – and the fallout between them carries the bulk of the rest of the conflict.
On the plus side, while VR stories are very tired, the author's commitment to describing it from inside and out and the quality of her imagination make for a very gripping read for the most part. On the downside, there's a well-timed but unfortunately executed infodump that doesn't clarify matters much. Also, while I understand that the soldier is desperate, I find it hard to believe that she thought breaking into the big religious honcho's place of business and smashing the chain of command (and the virtual windows of the virtual cathedral) was the best plan. And, on a trivial note, the author makes an easily avoided mistake I see too often, regarding the artificial and clumsy use of a thing and its acronym together: "…it originates from a Mercury-class MCC (Mobile Communications Center)…" Just describe it as "a Mercury-class Mobile Communications Center" the first time and then (as she does) refer to it in subsequent uses as "MCC".
So these blemishes take it out of the running for an unequivocally good story but it was certainly an interesting read.
"Ascension" by Jennifer Rahn
In a future in which our protagonist is locked into a life contract to fight death matches in an orbital (which could mostly be written as a non-SF Fight Club story), we get a confused and not very compelling lightweight tale of the guy's dalliance with Buddhism in his effort to get out from under. It also has annoying spellings like "bidch" and "bedgeezus" for words of that sort.
"The Faith Circus" by Alyxandra Harvey
In an odd editorial choice (worried we'd feel cheated there wasn't much fighting in the Fight Club story, perhaps) we get a second personal combat story in a row. A ruler with a grudge against gods makes devotees of various faiths come to fight before him in "the Faith Circus" ("circus" in the Roman sense) and the faiths that had been opposed to each other figure another way. A little too obvious and easy for my taste.
"The Seven Creations – Book One" by Halli Lilburn
An "Apostle" can control "the seven creations" (life, death, matter, energy, etc.) and his time is coming (when 6,900 years old you reach, look as good you will not) and this is the rather heavily didactic tale of his apprentice and the rebel leader who is fighting to take the power out of the hands of the old guy.
"The Harsh Light of Morning" by David Jon Fuller
Strangely for a Canadian anthology, this may be the first to explicitly feature Canada and Canadians. A confused Canadian Christian vampire has been caught and is trying to escape from the cell an Indian Mountie has her in. Reasonably exposed and fine on a line-by-line basis but with an unsatisfactory conclusion.
"Summon the Sun" by Carla Richards
In another odd editorial choice, we get our second particularly Canadian story in a row. If you like competent quirky humorous "ordinary fantasy," this might suit; if not, not. A contemporary Wiccan tired of the Canadian winters summons Ra, the Egyptian sun god and mild humor ensues.
"The Moral of the Story" by J. M. Frey
This is an overwritten intragender interspecies fairytale about what happens When the Technology Goes Away and a mermaid/siren moves into the lake above a post-climate-change-flooded town and talks a young woman into a deal. It contains many effective elements such as a powerful image of a church steeple in an unusual context (and some hot sex in cold water) but arrives at a very old-fashioned ending while employing an impossible, flawed narrative strategy (first person doesn't work here) and slips tenses in an effort to get that "fairytale" feel:
I was sure, the first time I finally see more than just a shadow under the water, that I am as good as dead.
"Soul Survivor" by Steve Stanton
This is a tale of a ragtag fleet (actually, just the one ship) fleeing a dying Earth and meeting up with space demons who like to possess folks – but are they good or evil? The story doesn't always convey the impression of being fully conversant with SF modes. Examples of infelicities: when the ship powers back up after a shutdown, "hard drives whirred with activation," when I'd hope an interstellar craft would have solid state drives or something even more advanced; there's an assumption the aliens have "every scrap of DNA;" and there's a probability problem with the fates of the alien ships — like having eight coins, wanting a trinity of them to come up heads, and exactly those and no others doing so. Most importantly, the religious theme seems to go one way, then be jettisoned, rendering much of the story pointless, before going another way with far too much ease.
"Chromatophoric Histories of the Sepiidae" by James Bambury
This is a timelapse story, apparently of the far future, of neo-squid (or octopi or some such) with plenty of smeerping in which winters becomes "freezes" and perhaps 1/2 hours become "arcs" which is really unnecessary, as the story is exotic enough in a superficial way. However, much of it is a retelling of Moses or other lawgiver/messiah figures and a pretty plain Jacob & Esau tale and the usual fall from the golden age and a rather trite ending. It wasn't bad by certain criteria but I had a hard time staying interested.
"Ganapati Bappa Moriya" by Savithri Machiraju
Ganesha belatedly perceives his devotees do not esteem his physical appearance, so goes to Earth to get a fashionable makeover and Learns Better. For those who find this funny, it may perhaps be entertaining though it spends five pages on what should have taken less than five paragraphs and the rest of the story is not much tighter. For those who don't find it funny, there's nothing here.
"Abominatio" by Jen Laface and Andrew Czarnietzki
This is a post-apocalyptic science fantasy about a plague brought about by the Abominatio (aliens, angels, demons?). We briefly follow a band of scavengers led by a guy using religious leadership as a lever of power as they seek out a crashed ship for what some for some reason think will be deliverance. The weak-willed but merciful doctor is the pivot as well as POV character. This isn't too bad in some ways but one scene's stiff dialogue and awkward conflict put me in mind of the "sign of the shoe" scene in Monty Python's Life of Brian, except that this was supposed to be serious. Also, while it would be a spoiler to detail, I say this is a "science fantasy" partly because it seems to want to be possible in most ways but seems unaware of its presumption about exo- or deo-biochemistry.
"The Last Man on Earth" by Suzanne M. McNabb
For at least the third time the editors put two similar stories in a row with this second post-apocalyptic tale. In this case it seems to be some sort of nuclear war rather than some type of impossible planet-wide power station meltdown, even though we learn through our naive narrator that her "castle" is a nuclear power station. It also meets the theme by the thinnest of margins, being utterly secular but having the kid make the movies she's seen into a sort of mythology, which hardly takes an apocalypse or SF/F to do. Still, it's one of the better tales in terms of being felt, well-paced, and ending without excess simplicity (or complication).
"Where the Scorched Man Walks" by Megan Fennell
This bit of creative mythology is among the most skillfully written in the volume. It is also one of the more unabashedly fantastic or magical ones, though quietly so. In a desert a people have an entity, called the Scorched Man, they summon to guide their dead away. The protagonist is a young woman who was orphaned as a child and who is now the "Witch Daughter" of the tribe, learning from the "Witch Mother," but her path and her peace are unexpected despite being cryptically foretold. The woman and her briefly sketched friend are solid, the milieu and mythos feel "old and true" yet fresh and imaginative, and the line by line writing, while not glitzy and spectacular, is full of nice details and touches.
This is a surprisingly science fictional anthology given its theme, but there's plenty of fantasy, too. It is also surprisingly short on uncomplicated "hallelujah" stories a strongly orthodox Christian could really revel in. There's a range of belief, doubt, and disbelief covering real religions from Christianity to Islam to Hinduism and a variety of invented religions and/or deities as well. It's not a bad anthology if you're interested in the theme, though probably not too compelling if you're not, especially if all stories being 9-15 pages, or many being in present tense or two of the top five being reprints bothers you. There's certainly nothing on the level of George R. R. Martin's "A Song for Lya," Arthur C. Clarke's "The Star," or other such classics of theological speculation but the Fennell, Pletsch, and Harris are at least interesting.