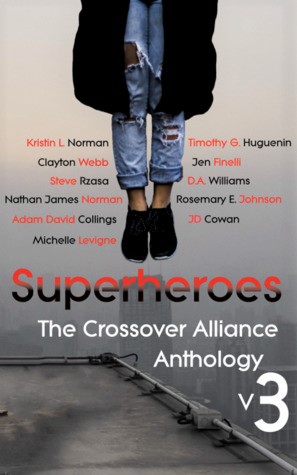 Superheroes:
Edited by
David N. Alderman
(The Crossover Alliance, March 2017, pb, 234 pp.)
"The Bald Man" by Timothy G. Huguenin
"
The Last Call" by Kristin L. Norman
"sinEater" by D. A. Williams
"Hierro" by Jen Finelli
"Living Proof" by Michelle Levigne
"Airfoil: Hotspots" by Steve Rzasa
"Someone is Aiming for You" JD Cowan
"Without Blemish: A Philosophy of Preaching" by Nathan James Norman
"The Trojan Initiative" by Clayton Webb
"Fly Like a Bird" by Rosemary E. Johnson
"Chronostream's Father" by Adam David Collings
Reviewed by Kevin P Hallett
This anthology contains eleven original stories. These include six shorts, four novelettes, and one novella.
"The Bald Man" by Timothy G. Huguenin
Sam is a well-educated janitor in this short fantasy, having chosen his life style to avoid stress and involvement. When he discovers he has extraordinary strength his sole concern is keeping it secret, hoping to never use it.
It isn't long before something tests his resolve. He chooses to watch a bald man get murdered rather than reveal his power. It's a decision that haunts him as he sees the murder over and over in his dreams. But when his chance for atonement comes, he elects to take a strange path.
A little slow in the beginning, the story picked up the pace towards the end. The author presented some thought provoking ideas and overall it was a pleasant read.
"The Last Call" by Kristin L. Norman
While staffing the 911 lines, Glenn gets a call from a young woman in this short fantasy. Mesmerized by her voice, the blind operator guides her in escaping from her assailants. But when the emergency vehicles arrive, they find her car on fire, and no sign of her or any others. It is Glenn's last call for his shift and he leaves the center, uncertain of her fate.
Plagued by a feeling that his life is meaningless, Glenn feels his way home. Then a woman knocks him down. When she apologizes, he recognizes the voice as the woman in the car. Men are still chasing her and he helps to hide her in his apartment. Here he reveals his deep secret about his eyes and she tells him that she too has a special gift. Could she represent the calling that Glenn has longed for all his life?
This was a short sprint of a story. It started with an intriguing scene set and quickly jumped into the story's mysteries. It was over too quickly, but really it was just the right length.
"sinEater" by D. A. Williams
In this intriguing short fantasy, Shifty lives in a town that is a magnet for super heroes. Her ability is to absorb the sins of another so they can come to their own terms with what they have done. Few understand her ability or how it helps a sinner. Furthermore, the local priest, Brother Duncan, sees her as the anti-Christ believing she absolves people of their sins.
One day, Shifty feels Brother Duncan's overwhelming feelings of sin. Though he hates all the superheroes, she sets out to play her role. But helping such a hateful man proves to be much more of a challenge, one that puts her very life at risk.
This was one of those stories that was hard to define. Williams introduced many thought provoking ideas that kept the reader engaged. But the prose struggled at times in the early and middle sections. Overall, it was worth the extra effort to read through to the story's surprising conclusion.
"Hierro" by Jen Finelli
Finelli's SF novelette introduces the reader to Carl, a young man whose strength is being destroyed by MS. Trapped between a need to work to pay for his tuition and increasing MS attacks, Carl develops a body suit that he can wear and control through his thoughts.
Carl enjoys helping others, but when he agrees to be a big brother to his foreman's son, he discovers the local gang is pulling the boy into their way of life. Can Carl, with his easy disposition and a fearsome suit of armor, find a way to help?
This was a character based story, in which the author quickly hooked the reader into Carl and his many dilemmas. The prose was engaging, the story passed quickly and overall it was a most enjoyable read.
"Living Proof" by Michelle Levigne
The town of Neighborlee is unique, even weird, in this SF novelette. That would help to explain the prevalence for semi-pseudo superheroes. One such superhero is the school teacher Lanie who has telekinetic abilities. She and two childhood friends patrol the town each Senior Night to rescue any teenagers that get over zealous in their pranks.
This Senior Night they hear that some kids are planning to borrow the town's cherry picker and garbage truck to steal the bell from Taco Bell. But the night is lashed by a cold, sight depriving, rain. Fearing the kids will hide the vehicles at the local quarry the superheroes go there to make sure they don't get lost and fall into a pit. Lanie uses her power to float through the air looking for the kids.
She sees the garbage truck heading down a steep slope towards a cliff, the kid has lost control. She selflessly flies in to rescue the high school senior. The truck is almost at the edge when she pulls the boy off. The rocky ground is unforgiving. In the aftermath Lanie will learn that God can work in mysterious ways.
After a steady start the story picked up steam halfway through. It quickly turned into a tale that the reader must finish there and then. The reader should persevere through the opening pages to get to the beautiful nuggets in the second half.
"Airfoil: Hotspots" by Steve Rzasa
Brando Tusk, librarian, is superhero Airfoil in this fantasy novella. Owner of the medallion that allows him to control gravity waves, Brandon uses his ability to save people, but he's tormented by the reality that he can't save everyone. The town he lives in is recovering from his recent clash with a supervillain. And there are agencies in the town that want to find and arrest him.
Into this semi-hostile environment, a new villain appears. Cinerate uses a flamethrower to set fire to sail boats and hot air balloons to kill people. But really, he is intent on killing Airfoil for some mysterious reason. Airfoil must battle his own doubts, the town's law enforcement, and Cinerate to carry out his mission of saving people.
Rzasa's novella was a relatively straight forward superhero story. With little in the way of an intriguing plot, or strong character for Brandon, there was little excitement to engage the reader.
"Someone is Aiming for You" JD Cowan
In this dark fantasy novelette, a nighttime crusader, Seeker, is hunting for DeLuca. DeLuca is a murderer who's lost his soul to the Magician's Inner Light. And the Seeker needs information if he's ultimately to eliminate this Magician.
The Seeker can read minds and change his appearance. He uses these strengths to get ever closer to DeLuca, who has hidden in an abandoned hotel. Despite the bodyguards, the Seeker moves closer. Floor by floor he uses his powers to confuse his enemies, ruthlessly eliminating the obstacles. But can he keep his own humanity intact as he hunts through the hotel?
This story had abundant mystery and action to keep the reader engaged. However, the story left the reader wondering what was it all about as the story just died at the end.
"Without Blemish: A Philosophy of Preaching" by Nathan James Norman
Norman tells his short fantasy through the eyes of a chimera dogman. The chimera works with Michael, the Sculptor, who can change the composition of any living tissue. Together they fight each night against the bad dogmen who ravage the local humans.
Michael's wife is perfect in his eyes and her looks also attract the chimera. But when the chimera discovers that Michael is altering his wife's looks to remain perfect, it loses interest in her.
Together, Sculptor and chimera, search for the leader of the bad dogmen. When they find its lair, they discover how powerful it is. Within minutes they are fighting for their lives.
The prose was engaging and easy to read. The plot was predictable and didn't add to the fantasy genre.
"The Trojan Initiative" by Clayton Webb
While solving a domestic dispute, C-8 has its programming changed in this short SF tale. A Trojan horse has released a virus into its code and C-8 is acting erratic. First it 'decommissions' another robot in its team, then kills the deranged man in the domestic dispute. C-8 escapes before the authorities can capture it.
Believing it must seek answers from the maker, it travels to the home of the man who developed it. But the maker tries to trick it into powering down. Finally, as the software program replacement completes, C-8 becomes self-aware and empathetic to humans. It must learn how to use its abilities to be a superhero.
The story was relatively predictable doing little to add to the SF genre of robotics. The prose was okay but the plot was weak.
"Fly Like a Bird" by Rosemary E. Johnson
Ava is planning to celebrate her twenty-first birthday in this short fantasy. But her plans fly out the window when her father throws her off the cliff she has had nightmares about since she was a child. He saves her, using his gravikinesis ability, explaining that she too should have this talent to manipulate gravity.
Upset over her near-death experience, Ava returns home. But when she wakes she finds herself tied up and held hostage by one of her father's enemies. The woman wants to force her father to watch as she kills Ava. Ava and her father must find a way to work together.
The action and prose were okay, but the plot was predictable and followed a common line in this genre.
"Chronostream's Father" by Adam David Collings
In this unusual fantasy novelette, a father discovers his five-year-old son, Flynn, has the power to control time. At first the parents are in denial, but then Flynn turns back time to save a stranger. The father is conflicted over how to do what's best for his young son.
An explosion in the local town, that kills many, adds to the drama. Flynn wants to use his powers to save the people, his father wants to keep Flynn safe and far away from the incident. Compounding the father's fears is the presence of a stranger who is following Flynn. Can the father find the right path between safety and his son's determination to be a superhero?
This story's unusual perspective gave it an original feel that pulled the reader through. The prose was engaging and the combination of unusual plot and prose produced an appealing fantasy.