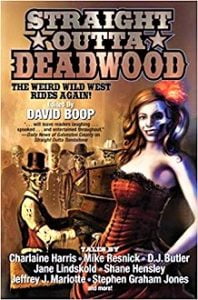 Straight Outta Deadwood
edited 




by 






David Boop





(Baen, October 2019, 288 pp., tpb)
"Cookie" by Shane Lacy Hensley
"A Talk with My Mother" by Charlaine Harris
"The Greatest Horse Thief in History" by D.J. Butler
"The Doctor and the Spectre" by Mike Resnick
"Doth Make Thee Mad" by Jane Lindskold
"Sunlight and Silver" by Jeffrey J. Mariotte
"Pinkerton's Prey" by Frog and Esther Jones
"The Relay Station at Wrigley's Pass" by Derrick Ferguson
"Not Fade Away" by Cliff Winnig
"The Spinners" by Jennifer Campbell-Hicks
"The Stoker and the Plague Doctor" by Alex Acks
"Bigger than Life" by Steve Rasnic Tem
"Dreamcatcher" by Marsheila Rockwell
"El Jefe de la Comancheria" by Mario Acevedo
"The Petrified Man" by Betsy Dornbusch
"Stands Twice and the Magpie Man" by Stephen Graham Jones
"Blood Lust and Gold Dust" by Travis Heermann
Reviewed by Chuck Rothman
Straight Outta Deadwood is part of an ongoing series of anthologies of horror in the Old West, and is a direct followup to Baen's 2017 anthology also edited by David Boop, Straight Outta Tombstone. It's a clever concept, and this version shows a wide range of first-rate stories.
The book starts out with "Cookie" by Shane Lacy Hensley, shown from the point of view of a cook who is in town to feed a group of Old West heroes, They are in Deadwood for a meeting, in an alternate US where the Civil War is still being fought and appears to be part of a series Hensley has been working on. While there, a woman wanders in from the desert, lost and malnourished. She is given a job helping Cookie with preparing the meals. But Cookie realizes there's something not quite right about the girl. I liked the story a lot. Cookie is an engaging character and his motivation for taking on the girl goes right to the heart of who he is.
Charlaine Harris next contributes "A Talk with My Mother." Lizbeth comes by her mother's house to talk. We slowly learn about their history, how her mother had been raped and gave birth to her. She's remarried now, but Lizbeth tells her that her father—a wizard—is back in town. A revenge tale that really doesn't do much other than reveal the situation, but the characterizations make it all work.
"The Greatest Horse Thief in History" is set outside the time period we usually consider the Old West—1932. Hiram Woolley is an itinerate worker, who learns about McRae, who has falsely been accused of stealing horses. Woolley takes his side and learns from him that the horses were taken by Indians—but not from any Indians who still lived. D.J. Butler's story deals with Native American myths and ghosts. I liked the fact it was set in the 1930s, but the solution seemed too easy.
"The Doctor and the Spectre" by Mike Resnick features Doc Holliday on his deathbed and delves into his last words, "This is funny." It flashed back to six months earlier where the Spectre of Death, who isn't there to come for him, but rather to gather Katie Elder. Holliday offers to make a trade. It's a bit talky and doesn't really amount to much overall.
Jane Lindskold contributes "Doth Make Thee Mad," telling the story of Prudence Bledsoe, who is hired on to be schoolmistress of Cooper Creek, New Mexico. The previous schoolmaster, Samuel Hale, was a martinet, whipping his charges for the slightest mistake. He was fired after beating a boy to death, and then killed himself in the schoolhouse. But Prudence discovered that he left a ghost, whose desire for punishment carried beyond the grave. A very good story that builds its horror well and comes to a strong conclusion.
"Sunlight and Silver" by Jeffrey J. Mariotte follows Caleb Willows, an itinerant photographer, who travels to the town of Naciemento to take death photos—pictures of corpses arranged as though they were alive. The town has been reeling under an influenza epidemic with many deaths, and a good deal of business for him. But when he reaches home, the images have changed, the people in them disappearing. He returns to figure out the mystery. I did like the basic concept a lot, but, alas, the story turned out to go exactly where you expected it to go.
Frog and Esther Jones contribute "Pinkerton's Prey" following George Hoinschauffer, who is carrying the payroll for the South Mountain Mining company, which has had trouble delivering it due to robbery. Leonard Neilson is the Pinkerton Agent assigned to the case, and when the train is robbed, he goes after the culprit, Randall Lorents. George insists he go along despite Neilson's warnings. But it turns out that neither Neilson nor Lorents are what they seem. I liked the mix of western and fantasy, and Neilson is a wonderful character.
"The Relay Station at Wrigley's Pass" by Derrick Ferguson tells the story of Sebastian Red, who is headed to do business at the title station. He finds a couple of Easterners, Melody and Harry Finch, who have been robbed and need help getting to the same destination. The station is not the usual one, with only one stagecoach arriving each month, on the night of the full moon. When the man who robbed the Finches shows up, things get tense, but he's not the biggest problem they face. Nice characters, especially Red, and the story keeps up the tension and mystery throughout.
Cliff Winnig is next with "Not Fade Away." Joan Stark is on the road in Arizona, running from a monster set upon her by her jealous husband, when she finds the town of Lost Valley, which is empty except for chalk images on the walls. In a church, she finds Margaret, a little girl who is dealing with the monster who had turned the population to the chalk drawings, and another monster created to defend the town from it, but which is uncontrollable. Lots of action and I liked the clever way Joan manages to deal with the situation.
Eloise needs a special favor from "The Spinners" in the story by Jennifer Campbell-Hicks. Her husband is dead and the Spinners can bring him back—for a price, of course. Eloise is ready to pay it—she thinks. A strong variation on a three wishes story.
The title of "The Stoker and the Plague Doctor" by Alex Acks refers to Leon, a train stoker who is being held for murder, and Theodore, who needs to travel via train to combat a plague in the town of Owlwood. He frees Leon, and, reaching the town, begins to learn the source of the plague, which, of course, has a magical solution. The story concentrated more on the relationship between the two men learn about each other. Decent story, but not outstanding.
Steve Rasnic Tem's "Bigger than Life" is about a tall tale that Dawson is told while in the mountains, about a giant creature called the slide-rock bolter, which throws itself down the mountain to catch its prey, then laboriously climbs back up. Dawson is looking for a wife, and ineptly tries to attract a woman in the town of Rico, leading to a lynch mob. The ending is clear from the setup, and though there's a parallel to Dawson's story, it's not strong enough to make it work.
"Dreamcatcher" by Marsheila Rockwell follows Father Grady, who travels to Minnesota to serve parishioners on the frontier. He notes that the people are using Native American dreamcatchers, on the urging of Morning Star Woman, the Ojibwe who is making them for protection, He removes them as being pagan nonsense and tells her not to use them again, but on their next visit they are back, something he puts a stop to in no uncertain terms. But it turns out there's a reason to keep them up and Morning Star Woman knows far more than Father Grady. This could have been a standard "religious figure is proven wrong" story, but the concentration on Father Grady—whose reactions are all based on his faith and character—makes it one of the better stories in the book.
Mario Acevedo's "El Jefe de la Comancheria" introduces Malachi Hunter and Felix, two bounty hunters who are given a strange assignment to capture Ambrosio Zamora, a con artist who has proven to be too slippery for anyone to bring to justice. Ambrosio and his wife Elsa are hidden away in a mine, but Felix—who happens to be a vampire—manages to capture him. Others have plans to keep him from being brought to the marshal, however, and Malachi decides to bring Ambrosio to the Comanches. I liked this story a lot, partly because Felix's vampire powers were useful but not central to the plot, and because the story is filled with surprises and twists. Definitely a top effort.
There's something wrong in the town of Creed, Colorado, in "The Petrified Man" by Betsy Dornbusch. General David Cook is summoned by Soapy Smith, an old and somewhat shady acquaintance, whose attraction, the Petrified Man, has disappeared. There's also the death of a Maggie Maslow, but Smith insists there's no connection. It's hard to build a mystery on something like that, and the story just shows there's a dangerous menace that is promptly dispatched. The story goes along a fairly predictable path.
Stands Twice of "Stands Twice and the Magpie Man" is a Native American man who is the only survivor of a massacre by the white soldiers. Stephen Graham Jones shows him taunted and haunted by a magpie. I found it hard to get involved with the story which seems to be making some sort of point, but it's lost in the cryptic comments.
"Blood Lust and Gold Dust" by Travis Heermann introduces Charlie Utter, who comes to town finding that Wyatt Earp and Calamity Jane are in town. Charlie sees two woman fighting in the main street and he's shocked when one bites off the ear of the other. Soon he comes upon Shorty Muldoon, who is also indulging a sudden taste for cannibalism. The story is about discovering what was going on and dealing with it. But the voice of Utter and the various cameos from western lore make the story a decent read.
Overall, the anthology hits the right notes, with plenty of top-notch stories. Nothing is really a dud, and the best of them are extremely impressive. The most notable things are the larger-than-life characters that crop up in every story to excellent effect.
---
Chuck Rothman's short story, "Her Old Man" will be appearing in the anthology Horror for the Throne.