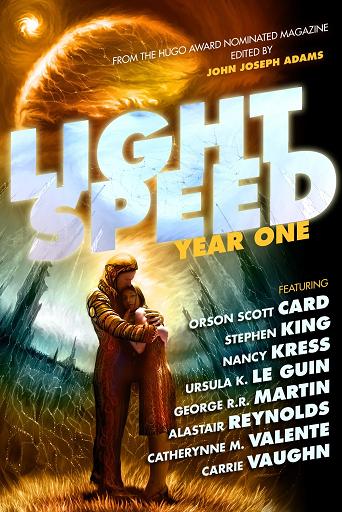 Lightspeed: Year One
Edited by John Joseph Adams
(Prime Books, November 2011)
"I'm Alive, I Love You, I'll See You in Reno" by Vylar Kaftan
"The Cassandra Project" by Jack McDevitt
"Cats in Victory" by David Barr Kirtley
"Amaryllis" by Carrie Vaughn
"No Time like the Present" by Carol Emshwiller
"Manumission" by Tobias S. Buckell
"The Zeppelin Conductors' Society Annual Gentlemen's Ball" by Genevieve Valentine
"…For a Single Yesterday" by George R.R. Martin
"How to Become a Mars Overlord" by Catherynne M. Valente
"Patient Zero" by Tananarive Due
"Arvies" by Adam-Troy Castro
"More than the Sum of His Parts" by Joe Haldeman
"Flower, Mercy, Needle, Chain" by Yoon Ha Lee
"The Long Chase" by Geoffrey A. Landis
"Amid the Words of War" by Cat Rambo
"Travelers" by Robert Silverberg
"Hindsight" by Sarah Langan
"Tight Little Stitches in a Dead Man's Back" by Joe R. Lansdale
"The Taste of Starlight" by John R. Fulz
"Beachworld" by Stephen King
"Standard Loneliness Package" by Charles Yu
"Faces in Revolving Souls" by Caitlin R. Kiernan
"Hwang's Billion Brilliant Daughters" by Alice Sola Kim
"EJ·ES" by Nancy Kress
"In-Fall" by Ted Kosmatka
"The Observer" by Kristine Kathryn Rusch
"Jenny's Sick" by David Taucrum
"The Silence of the Asonu" by Ursula K Le Guin
"Postings from an Amorous Tomorrow" by Corey Mariani
"Cucumber Gravy" by Susan Palwick
"Black Fire" by Tanith Lee
"The Elephants of Poznan" by Orson Scott Card
"Long Enough and Just So Long" by Cat Rambo
"The Passenger" by June E. Czerneda
"Simulacrum" by Ken Liu
"Breakaway, Backdown" by James Patrick Kelly
"Saying the Names" by Maggie Clark
"Gossamer" by Stephen Baxter
"Spider the Artist" by Nnedi Okorafor
"Woman Leaves Room" by Robert Reed
"All That Touches the Air" by An Owomoyela
"Maneki Neko" by Bruce Sterling
"Mama, We Are Zhenya, Your Son" by Tom Crosshill
"Velvet Fields," by Anne McCaffrey
"The Harrowers" by Eric Gregory
"Bibi From Jupiter" by Tessa Mellas
"Eliot Wrote" by Nancy Kress
"Scales" by Alastair Reynolds"
Reviewed by Chuck Rothman
In just over a year, Lightspeed has established itself as one of the premier magazines in the science fiction field, with five Nebula nominations (including three this year), nine stories reprinted in "Best of the Year" anthologies, plus several Hugo nominations (for story, semi-prozine, and editor). Editor John Joseph Adams clearly has a talent for picking top stories and he's collected all the fiction for the first year of the magazine into one volume for those who like a book where they can actually turn the pages. It's a massive work with 48 stories, including reprints.
Adams is extremely busy; he's also been putting out anthologies and has one of the quickest response times in the business. But he clearly knows a good story. The new stories in the anthology include some familiar names like Jack McDevitt, Carol Emshwiller, Tanith Lee, Robert Reed, and Nancy Kress, along with a bunch of up-and-coming authors like Genevieve Valentine, Yoon Ha Lee, Charles Yu, Ken Liu, An Owomoyela, and Cat Rambo.
The stories include a wide range of SF. Some are set on Earth, others in the far planets. If there's a general theme, it's that hard SF can take forms that John Campbell would never have thought of. There also seems to be an influx of authors of non-European descent, who often draw upon their cultures as a way to show worlds that are far different from what is standard in the genre.
There are so many stories here that it's hard to pick favorites. Some of the new stories I liked best included:
· "The Cassandra Project," by Jack McDevitt, where a mysterious discovery on the moon leads to a musing on the fate of civilization. This is the type of Big Idea story that hard SF excels in, and McDevitt excels himself in raising a question.
· "Cats in Victory" by David Barr Kirtley, in a far future world where humans are extinct and intelligent cats fight dogs for supremacy. It sounds silly, but most assuredly is not.
· Carol Emshwiller's "No Time Like the Present," which shows her at her top form in a small town with some mysterious visitors.
· An alternate history, "The Zeppelin Conductors' Society Annual Gentleman's Ball," where Genevieve Valentine portrays a very different world of Zeppelins that is far from standard straight-line extrapolation.
· "The Taste of Starlight," a nasty little tale by John R. Fulz that takes a hard-choice situation similar to that in "The Cold Equations" and doubles down on the horror.
· Corey Mariani's "Postings from an Amorous Tomorrow," which extrapolates the Facebook phenomenon into a horrifying future.
· Ken Liu's "Simulacrum," about a maker of virtual reality people, and how it affects his relationship with his daughter over the years.
· "All that Touches the Air," An Owomoyela's portrayal of life on a planet with dangerous — though not unfriendly — aliens and how they and the humans come to terms with their threat.
· "The Harrowers" by Eric Gregory, which shows a fascinating dystopian society and ever overcomes my usual lack of interest in zombie stories.
Even with these, it boils down to personal preferences; I think anyone reading the book will find favorite stories among them all.
The reprints are also well chosen. I was delighted to finally be able to read Joe R. Lansdale's "Tight Little Stitches in a Dead Man's Back," a title I loved for years, and a story that was nothing like what I had expected. Other strong reprints include "Patient Zero" by Tananarive Due, "The Elephans of Posnan" by Orson Scott Card, "Maneki Neko" by Bruce Sterling, and "Spider the Artist" by Nnedi Okorafor.
Ultimately, this is a first-class anthology that shows that Lightspeed's accolades are well deserved.