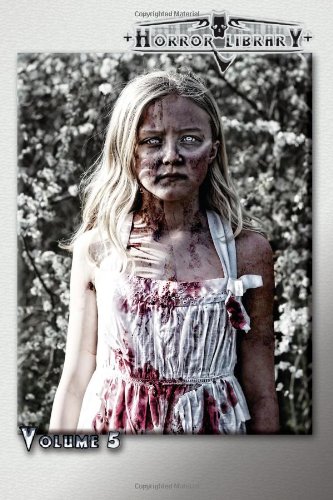 Horror Library, Volume Five
Edited by R. J. Cavender & Boyd Harris
Cutting Block Press, An Imprint of Nightscape Press
"Jerrod Steihl Goes Home" by Ian Withrow
"The Immolation Scene" by John F.D. Taff
"A Body at Rest" by Lorne Dixon
"By the Time I Get to Five" by J.S. Reinhardt
"Notes for an Article on Bainbridge Farm" by Bentley Little
"Open Mind Night at The Ritz" by Shane McKenzie
"Almost Home" by Kevin Lucia
"Pillars of Light" by Michael A. Arnzen
"Footprints Fading in the Desert" by Eric J. Guignard
"The Vulture's Art" by Benjamin Kane Ethridge
"Activate" by Boyd E. Harris
"Snow Globe" by Adam Howe
"Intruders" by Taylor Grant
"The Boathouse" by Stephen McQuiggan
"Bath Time!" by Jeff Strand
"The Happiness Toy" by Ray Garton
"The Oldest Profession" by Tracie McBride
"The House That Sang" by Andrew Stockton
"Bad Seed" by Anne Michaud
"Gourd" by P. Gardner Goldsmith
"Silent Stones" by Steve Vernon
"The Emu in the Sky" by Mark Farrugia
"Ambrosia" by Dev Jarrett
"Follower" by Danny Rhodes
"Catacombs" by Kristin Dearborn
"Whispers in the Wax" by Tonia Brown
"The Mirror Box" by Charles Colyott
"The Local Haunt" by Janine Langley-Wood
Reviewed by Lillian Csernica
This volume of the Horror Library series is a mixed bag of style and content. Most of the stories follow familiar plotlines without doing much to make them fresh or even scarier. There are a few gems in here, all too few out of a total of thirty stories. What more can I say about an anthology where the author bios are frequently more entertaining and better written than the stories themselves?
"Blown" by Pat MacEwen
A crime scene photographer faces horror daily as she's forced to look into the blown pupils of the dead bodies she must photograph. The victims often include children. The horror doesn't end when the bodies are taken away. What makes this story so effective is the use of real world detail both in the forensic knowledge and the raw human emotions of the characters. The unbearable truth is there are children out there who suffer and die just as these three children suffer and die. This story shows how the reality behind who inflicts that suffering upon them can be the greatest horror of all.
"Jerrod Steihl Goes Home" by Ian Withrow
Jerrod is a bully magnet. With the exception of one boy named Mitch, everyone in his third grade class torments him. On this day Jerrod doesn't mind. He's got the Book. The Voices told him where to find it. He has one thing left to do, and then he's going home. The viewpoint switches to Jerrod's teacher, who leaves the classroom just long enough for Jerrod to do that one last thing. The climactic imagery of the story is creative, grotesque, and just plain nasty. I found it both freaky and reassuring to know Jerrod lives in a different reality, but it's just as real as ours. He hasn't gone insane, he's just settled accounts before moving on.
"The Immolation Scene" by John F.D. Taff
Corey discovers his ex-girlfriend and co-worker Amy has something in common with him she never mentioned. Both of them have the ability to control and regulate spontaneous human combustion (SHC). Corey knew there were other people out there like him, a group that burned down old buildings. They are The Immolation Scene. Amy takes him inside their society, their strange culture. She's willing to hook up again, but at a rather high price. The fire imagery in this story is breathtaking. The colors, the use of fire, and the very idea of manipulating SHC as an art form. Corey and Amy are rather flat characters aside from the fire aspect. More backstory detail and stronger long term motivations might have given them the depth they need.
"A Body at Rest" by Lorne Dixon
Nelson is a paraplegic, stuck in bed reliving the night he swerved to avoid a buck, hit it, and the accident killed his wife Em. There's a flashback about Nelson and Em in grade school looking at the body of a road kill buck that seems to foretell Nelson's fate. The rest of the story is just one big gross-out that straddles the line between Nelson losing his mind and the grand finale of the punishment plot. There's no real story arc here, no character goal or dramatic change.
"By the Time I Get to Five" by J.S. Reinhardt
The story opens with little Teddy in his pajamas discovering his mother as she lies dying in a car wreck, pleading with him to help her. Before he can reach the car and see the horrible thing waiting there, a voice counts to five and the adult Teddy wakes up in his psychiatrist's office. Teddy is in treatment for the depression and OCD that developed as a result of some drastically dysfunctional family dynamics. The best element here is Teddy's OCD behaviors. They are realistic and convincing. The abusive parent element is too familiar. Shifting between present day, flashbacks, and dream states leaves the narrative choppy and confusing. Teddy's passive submission at the climax of the story contradicts the OCD behaviors he developed to protect himself.
"Notes for an Article on Bainbridge Farm" by Bentley Little
A reporter goes out to Bainbridge Farm to investigate some mysterious deaths. The story is written in the format of the reporter's notes. This is a nice touch, providing necessary exposition as the reporter follows the known movements of the people who were found dead at the farm. The disturbing details build up into a very creepy atmosphere. I was thoroughly enjoying myself when the story abruptly ended, leaving me feeling disappointed and cheated. It couldn't have been a matter of word count, because there are much longer stories in the anthology.
"Noise" by Sanford Allen
Rachel is on her way to work at the rundown local music store. A weird zombie-like guy hands her a flyer for a show starting at midnight. Rachel has a bad feeling about the whole situation, but her boss Rat talks her into going by offering to pay her cover charge. The warehouse in the middle of nowhere is filled with an oddball group of hipsters, punks, and loners. Security appears to be several more of the zombie men. When the show starts, the story really takes off into the strange and horrifying. What I really like about this story is the epilogue. Instead of leaving the reader hanging, Mr. Allen provides even more unnerving details that point to a truly unsettling conclusion.
"Open Mind Night at The Ritz" by Shane McKenzie
Caleb goes to a club that caters to "flesh-benders," people who can do all kinds of sick and twisted things with living flesh. He meets his idol Radical Raymond, the best flesh-bender of all. Raymond gives Caleb a few tips while they look on in admiration as the woman on stage puts on a show that's gory, grotesque, and perverted. When the conversation takes an unexpected twist, Caleb is motivated to follow in his idol's footsteps and give his all for his art. I can't say I've ever seen the like of this before. There's not a lot to Caleb other than his ambition which leaves him rather weak as a protagonist. He does make hard choices in the course of the story, so in the end it all works.
"Almost Home" by Kevin Lucia
Dirt poor mother Shelly and son Cody are on the run from their abusive, alcoholic, unemployed husband and father. It's raining, they're almost out of gas, and the only asset Shelly has is the pistol tucked into her waistband. They pull into a rest stop. From there the story gets confusing. Is Shelly caught in some slipstream reality? Is she hallucinating? There's no real plot here, just one more puppet show with shallow characters made to suffer nightmarish circumstances.
"Pillars of Light" by Michael A. Arnzen
Told in second person narration, three people are impaled on lightning rods by a madman determined to create a new Sermon on the Mount. Two are dead, and the third serves as the viewpoint character. When the lightning hits, there's an unforeseen resurrection. The bad guy here is well drawn, completely psychotic and the product of several lightning strikes himself. The narrator's details of his own suffering are enough to make hard core horror fans squirm.
"Footprints Fading in the Desert" by Eric J. Guignard
After the Cessna crashes, killing the pilot and leaving her husband to suffer a slow and agonizing death, Lisa waits in the shelter of the plane for some kind of help to arrive. She's out in the middle of desert terrain with a limited water supply and no cell phone. On Day Three she finds footprints in the sand leading away from the plane. When she discovers who's been making them, she soon discovers a whole new meaning for the word "hopeless." Once again, the story starts off with a disaster and the main character can't do much about it but slide deeper and deeper into the abyss. If I want to get depressed, I can read the daily headlines. Give me a story with real plot structure!
"The Vulture's Art" by Benjamin Kane Ethridge
Jeff takes baby Rose to a cabin out in a remote desert region near a state park. It's been five months since Kim died giving birth to Rose and Jeff is still grieving. A fat vulture keeps hanging around, watching Jeff and then attacking Rose. Jeff starts to notice some distressing changes in Rose, in objects around him, even in himself. The one vulture turns into three as the changes progress. Jeff does try to cope with the situation, but there's no real resolution of his main conflict, no effort to deal with the changes, and not even a suggestion of the purpose behind the changes. Too many questions are left unanswered.
"Activate" by Boyd E. Harris
Erick believes he is sensitive to evil, able to perceive who is and is not infected by a malignant force that turns people into perverts and psychos. He wants to take a proactive role in preventing such people from hurting anyone, especially his little girl Mindy. Every action in Erick's life is devoted to this pursuit of his targets, including his job at the DMV that lets him run background checks on his suspects. This obsession made me start to wonder if Erick is meant to be an unreliable narrator. When the key element in Erick's backstory is revealed, it sets up the climax of the story so it becomes both figurative and literal. Some great writing here, crafting a truly scary horror story.
"Snow Globe" by Adam Howe
An escaped convict turned hobo wanders into a new town, accidentally kills an old woman in the general store. The murder weapon is a snow globe with a tiny replica of the town itself inside. The convict lies low until nightfall, then tries to run for it. What happens next is downright annoying. It's an old idea and there's no new twist to it in this story.
"Intruders" by Taylor Grant
Mason shows up on Sara's doorstep all freaked out over something trying to kill him. Sara reflects on their failed two-year relationship while she coaxes the details out of him. Mason believes the voices heard by schizophrenics are in fact the voices of some alien life forms who are moving among us unseen, forcing us to participate in behavioral studies. Translation: hate crimes, violence, murder. This alarms Sara, all the more so when she finds out Mason has been spending a lot of time talking to one of the premiere serial killers, a psychiatrist who was onto the aliens' secret before he himself was taken over. I did not see the twist coming. That really is shocking, and throws the whole story into a new light.
"The Boathouse" by Stephen McQuiggan
Young Oliver develops an obsession with a dilapidated boathouse. It sits on the Medora River, a perilous waterway that's given rise to plenty of stories about unnatural deaths. Oliver ponders the true nature of the river, and why it has a woman's name. He goes looking for answers. There's no basement in a river, but this decision is the equivalent of going down into the basement without so much as a candle. What Oliver finds is fascinating in a horrible way. The tone of the story is quiet and dream-like. Oliver perceives the nasty events of the climax as beautiful, uplifting validation. The contrast there works very well. This is a good weird tale.
"Bath Time!" by Jeff Strand
Chester and Sasha's four year old Junior believes he'll go down the drain if he takes a bath. Chester tries everything he can think of, but Junior is totally convinced it will happen. When Junior's worst fears come true, the story rapidly degenerates into absurdity. It's not scary enough to be true horror, and it's not funny enough to be black humor. The result is a bad joke that falls flat.
"The Happiness Toy" by Ray Garton
A dildo that can become more than just life-like turns mousy Lisbeth into a hot babe. She now has a chance at a real life, something more than just being caregiver for her bad-tempered Bible-thumping crone of a mother. The woman who sells the dildo to Lisbeth warns her to make sure nobody else knows about it or finds it. I'll give you three guesses about what happens next. I was expecting horror of some sort. Nope. With too many unanswered questions and a rather limp ending, much to my disappointment the story left me unsatisfied.
"The Oldest Profession" by Tracie McBride
Wendy passes herself off as a prostitute, but she's really a magic-user. She foresees the illness of a client's newborn baby and tries to do something to help. Her efforts are thwarted by her own personal demon. This story feels like a chunk taken out of a larger work. I like Wendy as a character and would like to know more about the demon and how Wendy ended up being a sex worker. There's some good writing here, but the story feels incomplete.
"The House That Sang" by Andrew Stockton
Randolph and Eleanor, an elderly brother and sister, have lived their whole lives together inside the same house. In the evenings they enjoy sitting on the porch, listening to the house sing. No one else has ever heard the singing. Randolph and Eleanor are preparing for some unnamed but final event. Well-integrated flashbacks reveal the existence of two babies born from the incestuous relationship and the hard decisions made regarding the future of each baby. The pleasant, cheerful tone of Randolph and Eleanor's conversations and their happy anticipation of the final event make the truth about the singing even more horrible along with the gruesome climax.
"Bad Seed" by Anne Michaud
Ritzy is the new R.N. in the mental ward, which means she gets stuck with the night shift. A young woman referred to only as "29-A" is brought in claiming to have murdered several men who raped and beat her. Now their ghosts come back at night to torment her. Ritzy starts seeing things that lead her to believe what the girl claims to see and fight against is not just the hallucinations and delusions of schizophrenia. The characters have depth and the real source of the girl's problem is a good idea. Too bad the ending is weak, an easy out that's all too familiar.
"Gourd" by P. Gardner Goldsmith
This story has everything you'll find in a bad horror movie: the fighting couple, the car that breaks down in the middle of nowhere, a deserted farm with the usual creepy props and spooky noises, and a surprise ending that is no surprise at all.
"Silent Stones" by Steve Vernon
Deserted by a wife who cleared out his house before she left, the main character goes on a road trip from one hotel to the next until he's reduced to camping out in a tent. The story drags on until it reaches what is not so much a climax as simply the stopping point. Not much plot, very little genuine horror.
"The Emu in the Sky" by Mark Farrugia
Jack is a young boy living with his grandmother in the Outback, right next to the graveyard. Jack's father was a white man, but Jack's mother was one of the aboriginal people. Some mystery surrounds the circumstances of her death, a mystery Jack's Gran guards day and night. The local boys are excited about the rocket range the Americans are building nearby. The new kid in school, son to one of the Americans, offers to sneak them in one night. While they're out, they decide to go explore the graveyard. This is a really bad idea, according to Gran's vigilant instincts. She whips up a potion designed to keep the dead from rising and rushes out to keep Jack from solving the mystery of how and why his mother died. A wonderful story, full of strong characters and old secrets and a powerful climax.
"Ambrosia" by Dev Jarrett
Oliver is an empathic predator who feeds on emotions. He follows a lone woman and the gang of rapists stalking her into Central Park. The feelings of both predator and prey are described in terms of flavors, adding a fresh dimension to the narrative. As the rapists close in on their victim, Oliver steps in to turn the tables and spice up his personal menu. Lots of nice detail here, good suspense. Even though Oliver preys on humans, he becomes a sympathetic character if not quite a hero.
"Follower" by Danny Rhodes
Stephen Morris wants to complete the "50 Peak Challenge" in one season, so he has come to climb up to Fell's Edge. A strange man appears some distance behind him and continues to follow Stephen, who finds this rather unnerving. Things get worse when Stephen stays the night in the shelter built for climbers and hears spooky noises right inside with him. Anxiety and distraction become additional enemies as they threaten Stephen's safety during his climb. There are some good details here, definite creepiness and solid suspense. What a pity the ending is weak and familiar.
"Catacombs" by Kristin Dearborn
Rachel is an American woman in Alexandria, Egypt at the time of the uprisings. The commuter bus she rides with her friend Nayyirah is stopped repeatedly by soldiers checking everybody's papers. When Rachel is singled out for questioning, Nayyirah protects her by taking her place. Rachel starts asking the wrong questions of the wrong people. Despite repeated hints that this is not the smart thing to do, Rachel finds a way to go where Nayyirah was taken. The climax features some fancy special effects, but too many important questions are left unanswered. The ending leaves the story feeling incomplete.
"Whispers in the Wax" by Tonia Brown
The unnamed viewpoint character is a good fellow, a student much like the men who populate the stories of M.R. James. His best friend at university, Oliver Maxwell, has an inventive mind that extends into the realm of the occult. He approaches the main character with the design for a device that will permit him to talk to the dead. A combination of loyalty, guilt, and curiosity overcome the main character's reservations and he builds the device. Oliver himself will supply the wax cylinders that will record the "Wax Voice Phenomenon." Now this is brilliant. Steampunk ghost hunters armed with the equivalent of an EVP device. Oliver's hidden agenda begins to reveal itself. Even if the main character could bring himself to walk away, it's already too late. At last! A story to be read with the lights on, in the classic tradition of Poe and James and Manly Wade Wellman. Well done!
"The Mirror Box" by Charles Colyott
Two girls help each other survive abuse, trauma, and the resulting PTSD. Which girl has which set of problems gets confusing. The story feels too long. The viewpoint changes often don't advance the plot so much as just pile on more revolting detail. Plenty of gore and violence, not enough structure and resolution.
"The Local Haunt" by Janine Langley-Wood
A vicious, self-centered old lady offers tea and cheesecake to her male visitor. The narrative is mainly the old lady's thoughts about her life leading up to this moment, which she knows involves an important departure for an unknown destination. As the story progresses and more details are revealed about just how corrupt and selfish the old lady really is, the setting details around her begin to show signs of progressive rot and decay. There are some large pointers to who her guest is and why he's come to visit, so the ending is not that impressive a revelation.