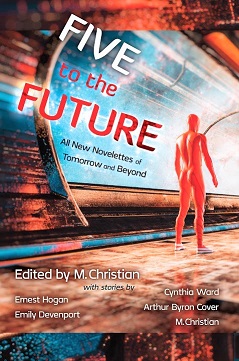 Five to the Future:
Edited by M. Christian
(Strange Particle Press, February 2017, pb, 170 pp.)
"Uno!…Dos! One-Two! Tres! Cuatro!" by Ernest Hogan
"Queen of the Cats" by Emily Devenport
"Follow Your Dream" by Cynthia Ward
"Dreamweaver" by Arthur Byron Cover
"Written on Ribs" by M. Christian
Reviewed by Colleen Chen
Five to the Future is an anthology with a somewhat unique premise. M. Christian, the editor, chose five science fiction writers with proven track records (including himself) and simply asked them to "write what you want," with no limits. He calls his introduction "Freedom to Be Yourself," which might have been a good subtitle for the anthology.
It could have been disastrous pre-accepting stories as he did, but the anthology works fairly well with its premise; all of the stories are polished and cleverly put together, and interesting as a study of writers trying to write in a way that expresses something inside them that wants to be heard. What the stories have in common is that they generally feel like they're a little less about the audience and its expectations and more of an attempt to express an inner vision. The result is a little less conventional structure, a few endings that are a little more open-ended, and plots that tend to more fragmentation or following of tangential trains of thought.
The anthology begins with a bang—and a mysterious apparition—in "Uno!…Dos! One-Two! Tres! Cuatro!" by Ernest Hogan. It takes place in the near future, with a President strongly resembling Trump, in an Unsecure Zone in Phoenix. The Zone, riddled by random military and law enforcement surveillance, Mexican fast food joints, colorful language, and political and performance art, is the featured location for a documentary by the charismatic celebrity Cha Cha Chavez. Cha Cha's "tour guide" is the famous lowrider, Xolo Garcia, who takes her on a crazed tour through the city that comes full circle back to the appearance of the mysterious apparition.
This story paints a chaotic tale of a possible future made out of "things that people say they want," as Hogan puts it in his brief introduction. The result, I think, is a satire of a mishmash of subjects—Trump supporters and campaign promises, liberal and conservative politics, alien conspiracies, stereotypical Mexican-American culture, and probably much more. It was hard to tell, as the plot was as frenzied as Xolo's driving. Lots of Chicano pop culture and subtle political references in a brash, colorful piece that readers will likely either find hysterical and clever, or annoying and confusing.
In "Queen of the Cats," by Emily Devenport, the first scene sets the tone for the rest of the story: a lightning storm, cats trapped out in the rain, Jean snuggling with her husband while watching her favorite movie, The Day the Earth Stood Still. Then Jean goes outside to let the cats in, and something happens—one moment she's standing in the rain at nighttime, and the next it's daytime, with a sun ten times its normal size, and all the people she knows have disappeared. Her husband and neighbors have been killed and replaced by good-looking humanoids who are wearing the clothes and living in the houses of the people who've disappeared. Grief-stricken and distraught, Jean takes up residence in an abandoned convenience store, with feeding her cats the only thing keeping her going—till she meets a teenaged alien who keeps her company, filling her days until what he tells her will be the impending and inevitable doom for every planet they take over.
I loved this story—it's touching, funny, and unique. Every character was likable, and all the main ones lovable. Inspired by a dream, many of the elements of the story feel like one—so it isn't meant to be realistic science fiction, but is a lovely fable about how there's wisdom in compassion that goes far beyond where technological development can bring us.
"Follow Your Dream," by Cynthia Ward, is a homage to the anime parody Project A-ko, and is a story in the same vein. It introduces a mysterious news item about a spaceship crashing into a volcano in southern Japan with one infant girl survivor, and another infant girl found in a vent in the volcano. Sixteen years later, two new girls show up at a private girls' school. The rich and popular Beniko becomes obsessed with Chiyoko, the smaller, louder of the two newcomers, whose voice is so powerful that her shrieks break glass. Unfortunately for Beniko, Chiyoko only wants her companion Akane. Beniko begins to scheme about how she'll destroy Akane and make Chiyoko hers. We soon see that both Akane and Chiyoko have superhuman powers (related to their appearance in the spaceship and volcano), and Beniko is a whiz with building giant machines and robots, complete with photon torpedoes and other fancy accoutrements. What follows are increasingly insane fights between these schoolgirls as Beniko continues to follow her dream of winning Chiyoko.
I'm not sure this story would be appreciated by those unfamiliar with Japanese anime, and Project A-ko in particular. Those who fall in that category would probably find this story unique and clever, a funnier parody than the original, its humor so deadpan it takes you by surprise when the schoolgirls start, for instance, tossing people a hundred feet into the air. Those who don't, though, might just find these three girls super annoying. Just kill each other already!
"Dreamweaver" by Arthur Byron Cover is the other story in this anthology that I really liked. The main character is Chess, a missing persons detective with the LAPD. He lives in a future in which doorways have opened up going to faraway times and spaces—which makes his job difficult, if not impossible. Following a lead, he goes to a fast food restaurant and meets a friendly blue-skinned gal named Sally who wears a mysterious charm. In the middle of a flirtatious conversation, pterodactyls attack (an unpleasant side effect of the time-space doorways), and in the ensuing stampede, Sally is killed. With her last breaths, she bequeaths her mysterious charm to Chess and whispers, "Find me." This catapults Chess on a strange interdimensional journey as he attempts to follow the nascent threads of a rare romantic connection even into death, going through doorways both external and within his own mind.
The story begins with solidity and humor, then fractures increasingly into what feels like a series of dreams, a stream of consciousness with no common thread except Chess and the spark he'd felt with Sally. It's an ambitious story, and done well, although for sure not a feel-good piece. The ending, although appropriate, was so disappointing that it almost ruined it for me.
"Written on Ribs" by M. Christian is composed of several vignettes tied together by the common theme of the Soviet-era practice of smuggling Western music by imprinting it onto discarded X-rays. An old man in a graveyard reminisces about that practice, his thoughts on x-rays and music and the dead. Another man, who used to be a successful musician, is dying of throat cancer in a care home when he's visited by a Russian woman who was inspired by his music, played over and over on her smuggled x-ray record. Another vignette shows the interactions between two Russians, one demanding more x-rays be filched to make the records, the other one trying his hardest to obey. The final one ties all these together in a dialogue, and throws the author into the scene for good measure.
This unconventional set of stories feels experimental, and is interesting but hard to follow and even harder to make sense out of it. It captured the tone of that era well—how precious something like music becomes when it's not permitted, and the meaning imbued in the unique way it's smuggled in. The rest of it, though, went over my head.