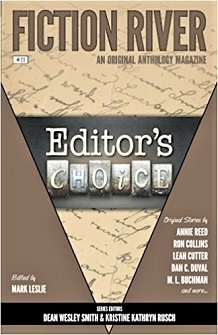 Fiction River #23: Editor's Choice
Edited by
Mark Leslie
(WMG publishing, June 30, 2017, pb, 274 pp.)
[Series editors Kristine Kathryn Rusch & Dean Wesley Smith]
"The Four Thirty-Five" by Annie Reed
"Bertie's Choice" by Jamie McNabb
"Mirror Skillz" by Dave Raines
"Holding the Door" by Elliotte Rusty Harold
"Trees" by Diana Benedict
"The Blood is on the Wall" by Felicia Fredlund
"The Glass Girl" by Leah Cutter
"Breaking Kayfabe" by K. A. Shire (non-genre, not reviewed)
"Lemonade and Larceny" by Lauryn Christopher
"First Day, Every Day" by M. L. Buchman (non-genre, not reviewed)
"Touch" by Michael Kowal
"The Rock of Ages" by Ron Collins
"He Saw" by Dan C. Duval
"Bad Dates Bite" by Kerrie L. Hughes
"No Further" by Laura Ware (non-genre, not reviewed)
Reviewed by Michelle Ristuccia
As Mark Leslie explains in his introduction, "Choosing Serendipity," Fiction River: Editor's Choice brings together gems that nearly fell through the cracks of the publishing world. Therefore, the anthology sports a wide variety of stories, including three that are not speculative fiction and therefore not reviewed below.
In "The Four Thirty-Five" by Annie Reed, a strange woodland dweller encounters an even stranger boy who doesn't seem to belong to any of the tourists in the area. As this paranormal story develops, readers learn the truth behind both characters, and our woodland dweller faces a choice of self-sacrifice. Reed develops her main character with precision, giving the reader a tangible overview of a seasonal workers' life—and death.
"Bertie's Choice" by Jamie McNabb opens with Bertie watching his sister Sally come home from the mage war in a coffin, followed by her subsequent burial. Military officials tell Bertie's parents that they need every son and daughter, and Bertie and his siblings wait for their 18th birthday and contemplate what magic power to ask for upon enlistment. McNabb follows each sibling and their parent's response with matter-of-fact detail, ending with Bertie. A gritty look at the cost of war, which even magic cannot prevent or heal.
In "Mirror Skillz" by Dave Raines, young Olivia suffers from imposture syndrome for a good reason: she automatically mimics the talents of those around her. When Olivia mimics the talent of a famous pianist at her recital and receives an offer of tutorship, she considers turning down the offer, but is not sure how to—or if she should—broach her secret with her parents. Raines pits the idea of a 'sensible' choice against that of the heart's desire and questions the notion of innate talent.
In the horror story "Holding the Door" by Elliotte Rusty Harold, the narrator describes the fallen state of his post-apocalyptic world in visceral detail as paranormal beings attempt to beat down the Door. An appropriate mix of known and unknown, plus the inevitable doom of the sentries, make this piece shudder in your bones.
"Trees" by Diana Benedict tells the story of Dierdre, a trauma survivor who can now see auras, as she starts a new life with new friend Lila. Benedict smartly addresses trauma issues such as grounding and intrusive memory as Dierdre reveals her traumatic experience to the reader. A local tree infested with borers serves as an analogy for Dierdre and Lila's perseverance in this tender piece.
"The Blood is on the Wall" by Felicia Fredlund is a horror story depicting the capture and torture of narrator Rox by vampires. Through flashbacks, Fredlund fleshes out the history of a world being overrun by vampires despite military response. Fredlund uses the classic definition of a vampire as evil and inhuman, combined with the equally classic question of personal agency under duress.
Teen Sakura finds herself turning to glass in "The Glass Girl" by Leah Cutter. When she discovers that the burning gem in her chest is hope, she gives hope to ease her sick brother's sleep, and from there her life changes as she finds others in need of hope. Cutter challenges the reader with big questions—who needs hope the most, and is hope always kind? A surprisingly deep urban fantasy story with a young protagonist facing a personal family crisis.
"Lemonade and Larceny" by Lauryn Christopher centers around grandmotherly southern belle Effie, also a clairvoyant, and her bizarre manipulations of her followers. Narrator Clara describes her and her fellow housewives' transformations into petty lawbreakers, and just when the reader wonders where the story could be going, the real fun begins.
"Touch" by Michael Kowal tells the story of Santi, suffering from her parents' recent divorce, as she discovers that she can heal by touching physically injured parties. Young Santi is terrified of her unexplained power, but as she explores it, she begins to empathize with her mother, whom she previously resented for the divorce.
"The Rock of Ages" by Ron Collins follows guitar player Jude as he clashes with band mate and singer Rix. Rix's controlling jealousy over girlfriend Ana surfaces in an ugly way when a glowing comet suddenly lands by the three of them, endowing Rix and Jude with dangerous powers that emulate their musical passion and teenage angst. A fun story about friendship and finding oneself.
"He Saw" by Dan C. Duval shows glimpses of the end of many lives, as experienced through a third party observer attempting to escape the eventual end of his own life. When the desperate experiment goes wrong, the reader must wonder—is it worth it to extend life at any cost? Duval uses an interesting work-around to the problem of time travel and preserving the time-line.
"Bad Dates Bite" by Kerrie L. Hughes is a spunky urban fantasy narrated by witch Nichelle as she fights her way out of a bad situation with vampires after being roofied on a date. While Hughes' vampires are indeed bad guys, the situation turns out to be more than it seems, giving this already entertaining story depth and chaos. Hughes opens and closes "Bad Dates Bite" with a professional wit that drives Nichelle's narration throughout.
---
Michelle Ristuccia enjoys slowing down time in the middle of the night to read and review speculative fiction, because sleeping offspring are the best inspiration and motivation. You can find out more about her other writing projects and geeky obsessions by visiting her blog.