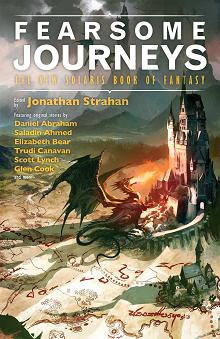 Fearsome Journeys: The New Solaris Book of Fantasy
edited by Jonathan Strahan
(Solaris, pb, May 2013, $7.99)
"The Effigy Engine: A Tale of the Red Hats" by Scott Lynch
"Amethyst, Shadow, and Light" by Saladin Ahmed
"Camp Follower" by Trudi Canavan
"The Dragonslayer of Merebarton" by K. J. Parker
"Leaf and Branch and Grass and Vine" by Kate Elliott
"Spirits of Salt: A Tale of the Coral Heart" by Jeffrey Ford
"Forever People" by Robert V S Redick
"Sponda the Suet Girl and the Secret of the French Pearl" by Ellen Klages
"Shaggy Dog Bridge: A Black Company Story" by Glen Cook
"The Ghost Makers" by Elizabeth Bear
"One Last, Great Adventure" by Ellen Kushner & Ysabeau Wilce
"The High King Dreaming" by Daniel Abraham
Reviewed by Dave Truesdale
Scott Lynch's "The Effigy Engine: A Tale of the Red Hats" sets the general tone for this all-original anthology in that it features many of the "mainstream" (to fantasy) elements such as magic, sorcerers or wizards, ingeniously contrived spells, a military conflict, and various manifestations of fantastical creatures. Not that all of the stories necessarily include all of these tropes, of course, but in some measure these iconic cornerstones anchor the tales in this solid, entertaining volume.
"The Effigy Engine" involves warring armies whose standard armaments are muskets and arquebuses, but who both employ powerful sorcerers whose spells will tip the balance of power one way or the other, depending on whose wizards can one-up the other with ever more powerful and deadly machines of war. Enter the Effigy Engine of the title and how one army must use its wits—when its magic isn't quite enough—to defeat the new threat. Colorful, action-driven, with just a whiff of humor to round things off at the end, this novelette is good fun.
Saladin Ahmed's "Amethyst, Shadow, and Light," unfortunately, is the only tale that disappointed, and that due to a pair of internal lapses which threw me out of the tale completely. I lost trust in the author because of these inconsistencies and it ruined the otherwise decent story. The first gaff occurs when the pair of rogueish bandits known as Zok and his rabbitwoman partner Hai Hai are casing a manor house to rob. They are kneeling thirty yards from the two-storey house. Without anything changing scene-wise, the next thing we know a man "dropped onto him [Zok] from the rooftop." Now you tell me how an ordinary man—with no magical aids or powers—can leap from a two-storey rooftop (say 16-20 ft. in height) and 30 yards (90 feet horizontally) and drop onto anyone who is looking at the manor to begin with, unawares. The second gaff occurs a few pages later, when Zok has been chained as a prisoner in the stable adjoining the manor. A priest, Gabrien, enters the stable to interrogate Zok with one man, a guard for protection. A mere few paragraphs later, we then read, "Gabrien's men opened the locks on his chains." Pffttt. The remainder of the story is engaging enough, as Zok and Hai Hai are drawn into a much larger and more dire adventure, with much at stake. But I couldn't flush these errors from the back of my mind and perforce found myself alert for more rather than focusing on the story. Too bad.
Trudi Canavan's "Camp Follower" injects a thoughtful twist into what might have otherwise proved a standard tale of the plight of the titular camp follower and the Captain who has ordered her to his tent after another day on the bloody battlefield. She and the stalwart, rather melancholy captain get on well enough, but there is much more to her than meets the eye, for ere long soldiers scavenging the corpses of the dead in the dark of night as they lay where they had fallen spy her there also, and rumors are quick to spread of what they think they have seen her doing. To reveal more would spoil the essence of the story, the nature of this particular woman, and a larger struggle she and her counterpart on the side of the enemy share. Suffice it to say that the revelations are dark and impact not only her own future existence but the fate of her captain as well, and in doing so says much on the nature of war and personal revenge. Nicely done.
A kindly old has-been knight is grudgingly cajoled out of retirement in K. J. Parker's "The Dragonslayer of Merebarton." A true dragon has come upon the countryside in Merebarton, and our knight succombs to the chivalrous emotions of his lost youth, those he has now gladly surrendered upon his retirement to a life of peace and quiet in his small village. A sentimental journey, we follow his thoughts and guilt for past sins as he hies forth with an adoring companion to do battle with the dragon. The resolution works on several levels, yet is grounded in the sadness of reality and choices made. Again, a cut above what some might have done with the theme.
With "Leaf and Branch and Grass and Vine" Kate Elliott weaves a fairly straightforward story of a king's mercenaries gone rogue and butchering the countryside, and how the king's favored general is sorely wounded in pursuit, then hidden and tended to by a village woman who risks all to save him—all of which holds the interest easily enough, but then delivers a pillow-soft but deadly punch at the very end—with but two words revealing everything—two words that give the tale a warm, emotionally satisfying resolution that leaves the reader feeling that in the hard, cruel world of kings and castles, poverty and hardship, and mercenaries turned bloody traitors, there can be kindness, the sort of kindness that also births justice. Another top-flight character-centered tale illustrating how fantasy tropes (war, a forest curse, horrible butchery, court intrigue, etc.) can ride the surface of a tale while its expertly wrought human undercurrents quietly take center stage in service to the real story, and by doing so raise the genre bar yet another notch.
Jeffrey Ford's "Spirits of Salt: A Tale of the Coral Heart" continues the string of solid successes encountered thus far, though this one is decidedly different than those preceding it—providing, of all things, a Martian myth tale of sorts and a little mother/son love/hate stinger that Freud would have felt compelled to devote at least a footnote in some obscure monograph.
Ismet Toler is rescued as an abandoned infant by a local hermit. Said hermit is in reality a highly paid professional assassin employed by the wealthy, and a woman. Toler wishes to learn swordsmanship and other arts from her so she sets him three levels of accomplishment. One is to return after five years of mastering the sword, after which he is to renounce its use. Out on his own, Toler comes into possession of a powerful sword named the Coral Heart. It turns its victims into red coral statues and none can stand before it. Except the one carried by a stranger who has come looking for Toler—a swordsman wielding a crystal sword, whose power outstrips that of the Coral Heart, and turns its victims into piles of salt. His travails when the inevitable showdown occurs – who has aided him and why, the macabre "appearance" of his mother's voice, and unforeseen treachery – all combine to raise this well told tale a cut above the norm.
Robert V S Redick's "Forever People" tells of the poor village of Chamsarat, and the man—or he who was once a man—who has come to destroy it on orders from his Master, who is running for office, need votes, and to insure those votes must obliterate Chamsarat, its few peoples, ruins, and lands, for these all are the pitiful vestiges of a horrendous past that would harm the Master's chance at election. Just what that past was, the thousands of years mystery of it, center on a strange and magical pool littered with many piles of ancient bones that now must be disturbed at great peril to the man who dares to break its surface and dive toward its secrets. The haunting back story was the highlight for me, of the ancient and terrible "Forever People" and how they came to ruination.
Ellen Klages's interestingly titled "Sponda the Suet Girl and the Secret of the French Pearl" is a welcome change of pace from some of the darker, more serious stories, its humor turning on a certain culinary "invention" sure to turn the corners of your mouth into a smile, and probably a simultaneous groan at what you tell yourself you might have seen coming. The story proper is one of who gets conned by whom conerning the French pearl of the title—with a twist, of course—which is all good fun and not without a dollop of drama, but the humor at the end tops off this lighthearted confection quite nicely.
Glen Cook gets us back into solid mainstream fantasy territory with one of his popular Black Company stories, "Shaggy Dog Bridge: A Black Company Story." The following excerpt should tell you what to expect with this one:
"We were on the run. Bad people were after us, in no special hurry. We were nuisances. They had bigger fish in the pan, like overrunning the unconquered civilized world. They pushed just hard enough to keep us from wriggling loose.
"We had been herded here, to be pinned against the Rip. We would cross only if we abandoned our wagons, animals, equipment, our crippled and sick. First, though, we had to find a way down this side, then up the other."
Enslaved sorcerers called the Taken, flying carpets, mages, wizards, a ruined fortress and more all figure in their desperate flight, and serve as raw meat for diehard rough and tumble fantasy fans as well as the legions of Glen Cook's Black Company followers.
Elizabeth Bear offers up one of the more intriguing stories with "The Ghost Makers." First we meet the Faceless Man as he enters the town of Messaline. All part before him. His figure is encased and armored in mirrored bronze, for he is an automaton (formerly, or still partly) human. His female Maker was known as Cog the Deviser. He has been sent to Messaline to track down the recent murder of a poet. While there he helps a Dead Man fend off multiple attackers and finds that their paths converge in an unusual manner. This particular Dead Man had been one of the sacred guards of the Caliph, though now he is on the run for desertion following the ascendancy of the new Caliph to the throne.
In short, the Faceless Man and the Dead Man discover that a Ghost Maker is the murderer they seek, Ghost Makers being those who murder those who produce art, be it sculpture, painting, or poetry, in order to steal their souls, the souls being the heart of their creativity. How it all resolves is satisfying on more than one level, and is to the author's credit (as are several of the stories here) that she skillfully exhibits how modern fantasy—in the right hands—can provide (and has for countless decades, the best of it) depth and insight far beyond its superficial trappings.
For those following Bear's first two novels in her Eternal Sky fantasy series (2012's Range of Ghosts and March 2013's Shattered Pillars), there is at least one reference common to the series here, so for fans of the ongoing trilogy, yet another reason to read this fine story.
Ellen Kushner & Ysabeau S. Wilce give us, while not the final tale in the book, "One Last, Great Adventure." This is a sendup of the Princess trying to find a suitable husband, and the suitor(s) trying to win her hand. She's a dolt, the story is clever-funny, dialogue- and situation-funny, and guaranteed to bring forth a few chuckles. I've read a scattered few of this nature over the years and this one holds its own very well and is in good company.
Daniel Abraham's story of "The High King Dreaming" is the final tale in this highly rewarding collection, and a fitting tale upon which to close. It recalls one of the first stories here, Trudi Canavan's "Camp Follower." Whereas "Camp Follower" shows why one man is drawn to fight—that being the death of his innocent family caught up in such ghastly enterprise—and how some seek to profit from it—the enigmatic camp follower and her counterpart on the opposing side, "The High King Dreaming" offers an alternative to war before it begins, as a young woman—now High Queen—disregards her advisors' (and dead father's ghostly, unheard in the realm of the living) advice at the cost of personal sacrifice in an attempt at reconciliation between the two parties at odds. But yet the High King still dreams, silent in his tomb, of a day when his services (and perhaps realistic philosophy for the necessity of war at certain times) might be needed again. Are there always alternatives to war, or is it, at times, inevitable?
Despite the internal flaws in a single story (which was otherwise a creditable entry) I found Fearsome Journeys to be a standout collection of core-genre fantasy stories, with several rising well beyond the expected fare, its authors exhibiting not only their considerable literary skills as might be expected, but employing these skills to higher purpose, in service to their creativity and insight into time-honored themes couched as "mere" entertainment. Well done.
---
Dave Truesdale has edited Tangent and now Tangent Online since 1993. It has been nominated for the Hugo Award four times, and the World Fantasy Award once. A former editor of the Bulletin of the Science Fiction & Fantasy Writers of America, he also served as a World Fantasy Award judge in 1998, and for several years wrote an original online column for The Magazine of Fantasy & Science Fiction. Now retired, he keeps close company with his SF/F library, the coffeepot, and old movie channels on TV. He lives in Kansas City, MO.