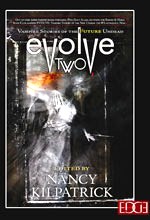 Evolve Two: Vampire Stories of the Future Undead, edited by Nancy Kilpatrick
(EDGE Science Fiction and Fantasy Publishing, August 2011)
Pre-Apocalypse
"The List" by Kelley Armstrong
"Nosangreal" by Ivan Dorin
"A Puddle of Blood" by Silvia Moreno-Garcia
"V-Link" by Eileen Bell
"Six Underground" by Michael Lorenson
"Outwitted" by Sandra Wickham
Toothless by Peter Sellers
"Symbiosis" by David Beynon
Post-Apocalypse
"Forest-Bathing" by Heather Clitheroe
"The Deal" by Erika Holt
"Homo Sanguinus" by Ryan T. McFadden
"Out With the Old" by William Meikle
"Chelsea Mourning" by David Tocher
"Blood That Burns so Bright" by Jason S. Ridler
"Survival of the Fittest" by Leanne Tremblay
"The Faith of Burning Glass" by Steve Vernon
New World Order
"Soulglobe" by John Shirley
"Red Planet" by Bev Vincent
"Beacons Among the Stars" by Anne Mok
"The Big Empty" by Thomas Roche
"Beyond the Sun" by Tanith Lee
"The Slowing of the World" by Sandra Kasturi
Reviewed by Rena Hawkins
In the introduction to her latest anthology, Evolve Two: Vampire Stories of the Undead, Nancy Kilpatrick offers a very telling explanation of the difference between a "stereotype" and an "archetype." She says: "A stereotype is not an archetype. In fact, a stereotype is a dead archetype, one with the life sucked out (sounds like a vampire's victim!). An archetype is the original, a vibrant energy that is a pulsing template on which whatever comes after is formed. It's the spirit of the original. All that follows and emulates the original incorporates that spirit and is like it but also unique." This definition is the essence of the 22 stories encompassing Evolve Two. Each story has at its heart the fanged, coffin-sleeping monster we all grew up with, then manages to twist, distort, and refine that image into something dramatically different and new. Some of this new cast of vampires fight for justice, some struggle for survival in a drastically changed world, while others leave the confines of Earth and take to the stars. Kilpatrick presents the stories in three parts; Pre-Apocalypse, Post-Apocalypse, and New World Order. One story builds upon another, moving the vampire archetype farther into the future where vampires encounter situations and challenges Dracula never considered.
I thoroughly enjoyed reading Evolve Two. I feel the middle selection of stories set in the Post-Apocalypse are the strongest and they best convey the idea that vampires are predators to fear, yet in a future where the rules dramatically change, they may also offer us hope. Kilpatrick's Evolve Two is that rare anthology where every story is good, and many of the stories will stay on your mind long after the book is closed. I highly recommend it.
Pre-Apocalypse
The anthology opens with "The List" by Kelley Armstrong. In a world full of vampire wannabes, what happens when Zoe, a real vampire, doesn't make the list?
Next is "Nosangreal" by Ivan Dorin. When a vampire who survives only on the blood of suicides bites a living young girl, it might not be the girl who is turned.
In "A Puddle of Blood" by Silvia Morena-Garcia, a vampire on the run from a rival gang, her faithful dog, and a street kid befriend each other on the back alleys of Mexico City.
When a group of young people are unintentionally turned into vampires as a result of an experimental implant meant to link their thoughts, they'll need to use their new abilities to plot an escape from the hospitals where they're imprisoned in "V-Link" by Eileen Bell.
Are a group of men guilty of a young woman's murder if she was a vampire when she died? A lone vampire juror fights to expose the truth about the murder in "Six Underground" by Michael Lorenson.
Although still haunted at being forced to leave her family when she was turned decades earlier, a vampire who always plans ahead uses her superior cunning and strength to escape capture in "Outwitted' by Sandra Wickham.
In a world without an ozone layer, the sun becomes everyone's worst enemy in "Toothless" by Peter Sellers.
After a pandemic has devastated the human population, a desperate vampire tries to reciprocate the unexpected kindness shown to him by a grief-stricken farmer in "Symbiosis" by David Beynon.
Post-Apocalypse

A Japanese vampire offers a man an escape to the misery of dying from an incurable virus in "Forest Bathing" by Heather Clitheroe.
Two best friends who make a deal to take each other out before allowing each other to become a vampire have no idea how very hard keeping their pact will be in "The Deal" by Erika Holt.
In "Homo Sanguinus" by Ryan T. McFadden, a dying woman shows a captive vampire his true nature and he learns he has nothing to fear from the dark.
Set in a town dying of starvation, a dark stranger becomes a savior until he calls in a horrible favor for his services in "Out With the Old" by William Meikle.
A vampire colony makes an abandoned girl with a special gift the creature her enemies will most come to fear in "Chelsea Mourning" by David Tocher.
In an underground vampire fight circuit, a more-than-human young woman battles to make history and possibly spark a revolution in "Blood That Burns so Bright" by Jason S. Ridler. My favorite story of the collection.
When faced with a superior species, will humans even realize we might not be the ones to come out on top? Find out in "Survival of the Fittest" by Leanne Tremblay.
A vampire roams the post-apocalyptic earth desperately searching for his next drink in "The Faith of Burning Glass" by Steve Vernon.
New World Order
To be memorialized within a work of art sounds like a beautiful thing–unless vampires are the curators. Discover the secret of "Soul Globe" by John Shirley.
"Red Planet" by Bev Vincent poses the question, "What do humans have to fear from vampires in space?" Nothing, unless the vampires want to return to Earth.
A good-guy vampire space traveler discovers a lone survivor on a colony ship who mirrors his own desperate will to survive in "Beacons Among the Stars" by Anne Mok.

In "The Big Empty" by Thomas Roche, a terrified post-human negotiates for her life with a pack of genetically created vampires.
A vampire who creates sunlight in space forever mourns her lost love in "Beyond the Sun" by Tanith Lee.
The last story in the collection is "The Slowing of the World" by Sandra Kasturi. Vampires sleep through a new Ice Age in order to awaken in a quieter, cleansed world. Very short, yet beautifully written.