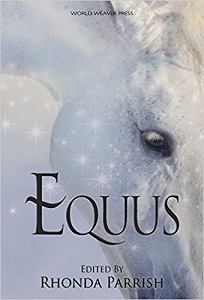 Equus
Edited
by
Rhonda Parrish
(World Weaver Press, July 18, 2017, pb, 319 pp.)
"Stars, Wings, and Knitting Things" by J. G. Formato
"Eel and Bloom" by Diana Hurlburt
"A Complete Mare" by Tamsin Showbrook
"Neither Snow, nor Rain, nor Heat-Ray" by M. L. D. Curelas
"Rue the Day" by Laura VanArendonk Baugh
"Riders in the Sky" by V. F. LeSann
"Above the Silver Sky" by Dan Koboldt
"A Mother Unicorn's Advice to Her Daughter" by J. J. Roth
"Ladies Day" by Susan MacGregor
"The Boys from Witless Bay" by Pat Flewwelling
"The Horse Witch" by Angela Rega
"Eli the Hideous Horse Boy" by Michael Leonberger
"Different" by Sandra Wickham
"To Ride a Steel Horse" by Stephanie A. Cain
"The Last Ride of Hettie Richter" by Cat McDonald
"We Us You" by Andrew Bourelle
"Scatter the Foals to the Wind" by Chadwick Ginther
"Lightless" by K. T. Ivanrest
Reviewed by Victoria Silverwolf
This anthology is the fifth in the Magical Menageries series from editor Rhonda Parrish. Each volume contains fiction dealing with a particular type of fantastic creature. In this case, the stories involve magical horses and other equine animals of myth and legend.
The narrator of "Stars, Wings, and Knitting Things" by J. G. Formato is a young woman, a foundling as a child, who is now in an unhappy marriage. She has visions of a spectral visitor in the night sky which lead her to discover the truth about her past. Although the narrator is said to be thirty years old, she acts more like a teenager, and the story reads like the fantasy many young people have of being an adopted orphan with a special background.
Set in what seems to be a very different version of the middle of the twentieth century, "Eel and Bloom" by Diana Hurlburt creates a complex background which requires careful reading. The protagonist races amphibious horses. She faces a dilemma when her mother makes a deal with mysterious, sinister men. If her daughter wins the race, she will be sent to work for them. If she loses, they will take possession of her mother's corpse flower, which produces a substance which can raise the dead. The heroine must use all of her skill and intelligence to avoid both outcomes. The story is imaginative and compelling, but might benefit from a little more clarity.
"A Complete Mare" by Tamsin Showbrook takes place in an apocalyptic near future, when humans who share the bloodlines of gods have taken on the characteristics of their ancestors, leading to chaos and war. The narrator, a descendant of Loki, transforms slowly into a monstrous horse from Norse mythology. She must combat powerful evil beings to protect her pregnant sister. It's a fast-moving, violent, often bizarre tale.
A tribute to the works of H. G. Wells can be found in "Neither Snow, nor Rain, nor Heat-Ray" by M. L. D. Curelas. Set during the Martian invasion of 1900, the heroine delivers messages on horseback when other forms of communication have been disrupted, risking life and limb to the alien war machines. Mention is also made of the beast-men created by Doctor Moreau, who are allied with the humans against the invaders. Unfortunately, not much is done with this intriguing addition to the classic story.
Unicorns are used on the battlefield in "Rue the Day" by Laura VanArendonk Baugh. The heroine is one of the warriors who ride them to war. After she is wounded, she is assigned an aide until she recovers. The man turns out to be other than he seems. The plot involves a theme which may be disturbing to some readers.
"Riders in the Sky" by V. F. LeSann, like the story by Tamsin Showbrook, takes place in a violent future. Here, however, the gods have disappeared, allowing the damned souls of Hell to emerge on their steeds and bring chaos. The protagonist is one such spirit, but she has chosen to fight against the others. Combining elements of fantasy, horror, and Weird West fiction, this story is intense, if sometimes difficult to follow.
Set in a fantasy world of constant rain, "Above the Silver Sky" by Dan Koboldt shows what happens when the water stops falling, threatening the inhabitants with starvation. The heroine rides one of the flying horses which emerge from beyond the clouds from time to time in order to solve the problem. Like the story by J. G. Formato, this tale has the feeling of the adolescent wish to discover one's special identity.
"A Mother Unicorn's Advice to Her Daughter" by J. J. Roth is a very brief piece which takes the form of a series of maxims, ranging from poetic to cynical. By the end it becomes clear that much of this advice could apply to human daughters as well.
We return to England during the early part of the twentieth century in "Ladies Day" by Susan MacGregor. Instead of a place under invasion from the red planet, however, this is a society in which magic is accepted as real. The narrator is a young woman who has visions. Her cousin uses magic in order to ensure that her horse will win a victory over a hated rival, an action which is both illegal and dangerous. The rival's horse turns out to be something quite out of the ordinary. The story is a light, pleasant one which has the flavor of both romantic comedy and a comedy of manners. Some readers may be interested in the extremely detailed descriptions of the women's hats and gowns.
"The Boys from Witless Bay" by Pat Flewwelling takes place in modern Newfoundland. Two old friends investigate the disappearance of several people near a pond where a childhood acquaintance vanished many years ago. They discover that toxic waste has been illegally dumped there for decades. Before they solve the mystery of the disappearances they also discover something much more extraordinary. Written in an informal, slangy style, this story combines fantasy and suspense with a touch of dark comedy.
The reader leaves Canada and journeys halfway across the globe to Australia to encounter "The Horse Witch" by Angela Rega. A young girl befriends one of the feral horses which run wild over the countryside. Considered by some to be a threat to agriculture, the horses face the possibility of being hunted down by angry farmers. The girl enlists the aid of a mysterious older woman who runs a carousel in this sentimental tale which may remind some of Bradbury.
"Eli the Hideous Horse Boy" by Michael Leonberger starts off as a realistic story set in modern times, but soon introduces an element of fantasy in the form of the title character, a sideshow freak who is the son of a winged centaur. His half-human mother was falsely blamed for the death of a child before the story begins and was killed by a mob. The boy was mutilated but allowed to live a miserable existence in a carnival. Once a year he is tormented by being chased through an abandoned mine. The protagonist becomes his friend and together they plan their escape from the cruel townsfolk. Although an effective and emotionally powerful story, certain scenes involving the protagonist seem less than relevant to the plot.
"Different" by Sandra Wickham is a parable set in a world where people wait in long lines to be healed by a unicorn. The narrator brings her young daughter, who is mentally and physically disabled, in the hope that she can be made normal. Instead the unicorn offers her words of wisdom. The tale could have ended at this point and remained a gentle fable, but instead it becomes a more typical fantasy story.
"To Ride a Steel Horse" by Stephanie A. Cain involves a woman who has lost both her mother and her sister to the dangers of the magical powers her family possesses. After her beloved motorcycle is damaged beyond repair, she calls upon a mythical spirit to restore it. The story's main interest is in its combination of ancient legend and modern technology.
The backwoods of Kentucky during the days of moonshine and bloody feuds form the background for "The Last Ride of Hettie Richter" by Cat McDonald. A young woman's anger comes to life in the form of a demonic horse in this story full of violence and dark emotions.
Much quieter is "We Us You" by Andrew Bourelle. A high school boy in Montana meets a girl from Las Vegas whose family has come to open a refuge for wild horses. He takes her to her first rodeo, where she reacts with shock to the suffering of an animal. The story starts off as a realistic account of the clash of cultures, bringing in a touch of fantasy only near the end. The boy encounters something incredible; as an adult, he looks back on how he reacted to it, and how that decision changed his life. This is a thoughtful look at the road not taken.
Like the story by Tamsin Showbrook, "Scatter the Foals to the Wind" by Chadwick Ginther also features a woman who is a descendant of Loki, and who changes into a horse from Norse myth. In this case, her current boyfriend turns out to be her trickster god ancestor, and the woman learns to control her transformations. Together they fight off a pack of Valkyries who aim to enslave the legendary horse. This story is full of action, and is possibly intended to be somewhat tongue-in-cheek.
"Lightless" by K. T. Ivanrest takes place in a world where aristocrats glow with magical light given to them by flying horses. The protagonist is a prince whose light is fading, much to his shame. Hidden away with only a slave for a companion, he makes a desperate attempt to regain his light by racing a chariot drawn by the horses, eventually learning painful truths his family has kept hidden. The concept is an original one, and the story always holds the reader's interest.
An anthology with this kind of theme will inevitably involve some repetition among the stories, as has been noted above. Fortunately, the authors provide a wide variety of settings and tones. It may be best to read this book over a period of time instead of a single sitting.
It might also be noted that, although an anthology of fantasies about horses may sound perfect for children, most of the stories involve strong language, violence, and sexual themes. It may not be appropriate for very young readers.
---
Victoria Silverwolf does not own a horse.